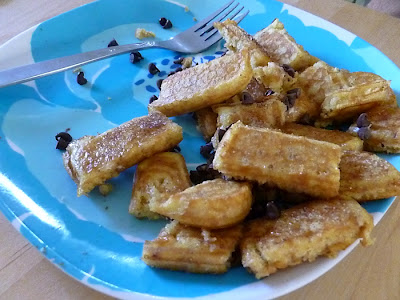 Sarah made her own breakfast this morning.
We're not talking hand-scrambled eggs or anything here. We're talking frozen french toast sticks heated in the toaster, then buttered, sprinkled with cinnamon-sugar and chocolate chips, and cut.
But that's big. Other than pouring cereal and milk into a bowl, it's probably the first time Sarah's gotten her own breakfast in almost 12 years. And when she took the first bite, she said, as if surprised, "Hey, I did a good job!" We talked about how sometimes food tastes better when you know you've made it yourself. Then she said, "And I also made my bed and folded my pajamas!"
It kind of made me a little philosophical. I'm not entirely the "enabling mom" type, but I've been known in the past to be efficient to a fault. When your kid has to get out the door exactly 30 minutes after getting out of bed to catch a school bus at the crack of dawn, while you're trying to get out the door to an office job yourself, you don't exactly grab the teachable moments at breakfast. In fact, in those days, I was just proud that she GOT a hot breakfast, even if I was making it myself while checking my email and making sure her lunch was in her backpack.
I think that's OK. I mean, I'm not beating myself up or anything. But I wonder how many other real-life skills Sarah has missed out on because of our scripted routine? I'm not deluding myself that homeschooling is the magic pill by itself. It's going to require being intentional on our part as parents – and that would be true no matter what her school situation. But I hope that this day-to-day time spent with my daughter will give me a chance to see what she knows and what she doesn't, and I hope and pray I'm going to do a good job adapting to that!