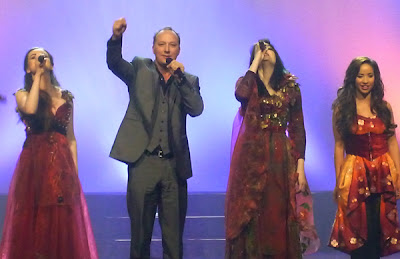 Yesterday's Celtic Nights concert at Penn State York's Pullo Center was probably the highlight of Sarah's week. Not because of the singing, though she really enjoyed that. (One of the lead male vocalists, Peter Corry, is above with two of the female singers and one of the dancers.) No, Sarah loved the show because of this guy:
That lovely "spiky-haired" gentleman at right is Owen McAuley, who was one of two Scottish male dancers in the show. (The other was Gavin Boyle, who I also thought did a lovely job, but Sarah only had eyes for Owen.)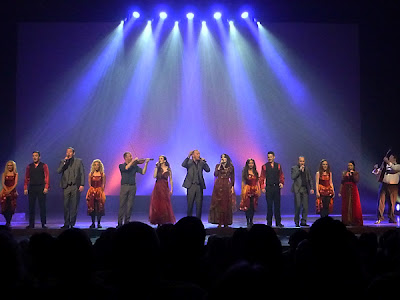 Here's a look at the whole lineup of performers. The vocalists were Peter Corry, "Little" Derek Collins and "Big" Derek Ryan, as well as Sarah Gannon, Colette Lennon and Naoise Stuart Kelly. "Big" Derek was an INCREDIBLE bass with a deeper range than almost anyone I've ever heard. The dancers were Owen and Gavin, who I mentioned above, as well as Mariam Elbadri, Nawl Elbadri, Siobhan O'Connor and Tanya Baird. One side note: "Siobhan," pronounced Sha-VAHN, is how my name – Joan – would be translated in Gaelic. So, go Siobhan!
And then there are my two favorites. While I loved the singing and the dancing, I'm a musician at heart, and the two instrumentalists, Ben Gunnery (fifth from left) and Stephen O'Connor (far right), won my heart. Ben just ripped it up on the fiddle, and Stephen played everything from the tin whistle to the guitar to the Uilleann pipes. Those gentlemen were the show-stoppers in my book!
Today's been quiet – Sarah's done a lot of reading (YAY!), helped with the laundry, and did her math workbook page with no fuss, which is always good. I'll take it!