The Philadelphia Museum of Art, which is about 3 hours from our home, is only about 15 minutes from my sister Carol's house in southern New Jersey, and this weekend marked the end of a special exhibit of Van Gogh's "close-up" paintings.
Sarah has loved for Van Gogh for years – for a long time, her bedroom was even decorated in a Van Gogh theme – and so when my sister said she'd like to see the special showing, Sarah (and I) jumped at the chance to go along!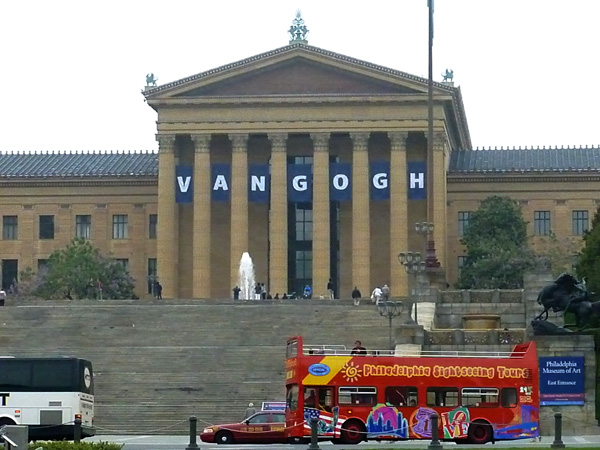 This was our first view of the front of the Philadelphia Museum of Art building. Sarah says double-decker buses are awesome, so we were lucky to be able to include one in our picture!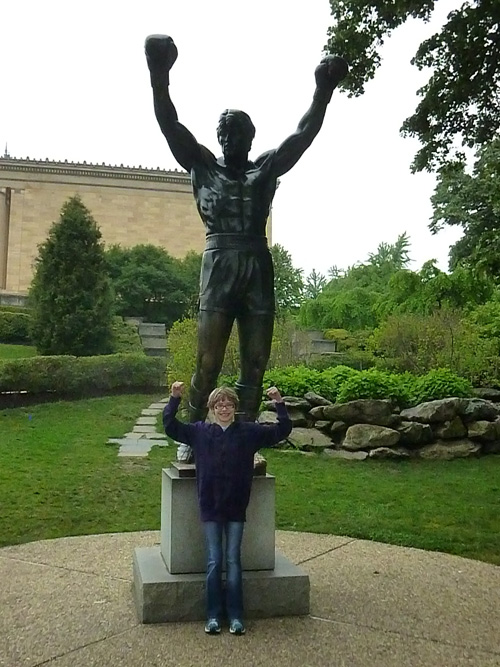 Sarah says: "Well, you and Aunt Carol asked me if I ever heard of Rocky. And I think I said no. Then you told me that there were movies about him and that he was a boxer that basically went through training and that he ran up the stairs and threw his arms up because he was proud."
Indeed, and Sarah did a great job posing like Rocky! (More on this at the end of today's post, so keep reading!)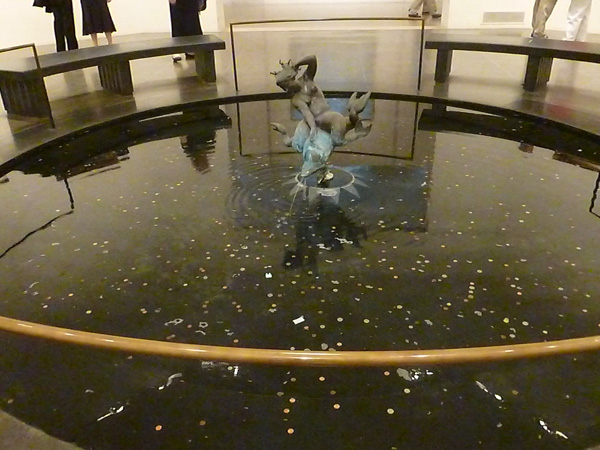 Sarah absolutely LOVED this fountain in the Impressionists' section, the first part of the museum we visited. Sarah actually went through this part twice – once with Carol, while I was working (yes, I worked in the museum lobby!) and then they took me back through it again.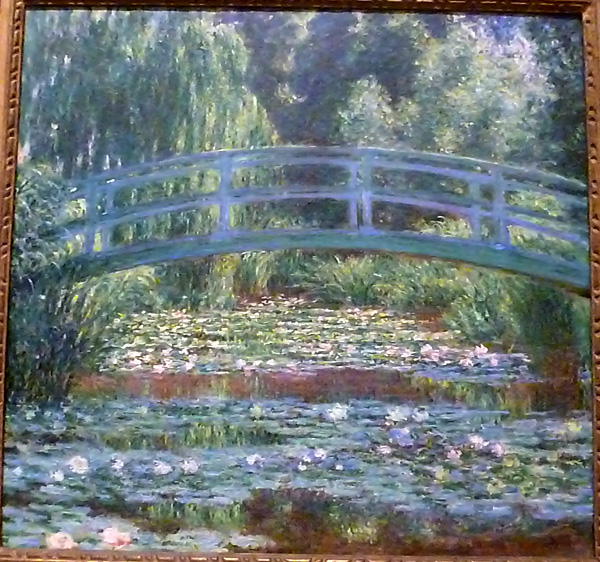 My favorite Impressionist has always been Claude Monet (thank you, Cindy Snyder and Mom, for supporting that love!!), and this is one of his most famous works, "The Japanese Footbridge and the Water Lily Pool, Giverny," an oil painting from 1899. I think everyone has seen this painting or others from the same series in some form, but seeing the original was an entirely different experience from seeing it as a print – the texture, the color… it's hard to explain but it really does make a huge difference in your appreciation of the work!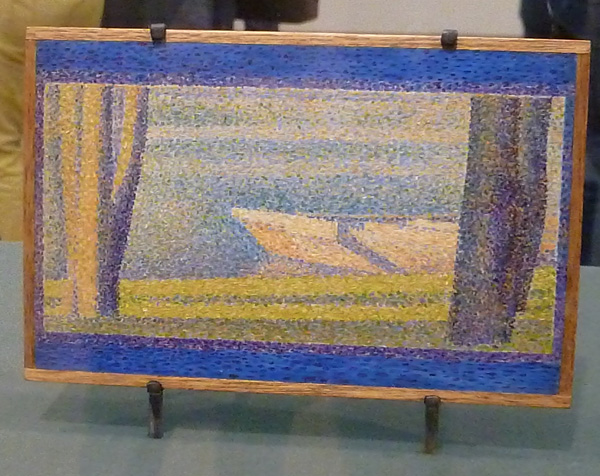 This is "Moored Boats on Trees," an 1890 oil-on-wood work by Georges Seurat. Sarah and I talked about how, in Impressionism, the individual "dots" don't necessarily create a picture on their own up close, but when you step back, you get the "impression" of the picture. I, by the way, originally liked a tighter crop of the picture of this work, but Sarah was adamant that we show it on its wood frame, "because it's important that it's on wood, not canvas." So. Here you go. (I'm tempted to show her the scene in Ferris Bueller's Day Off where they look at another well-known Seurat work from various distances, but I can't get her hooked on that film just yet!)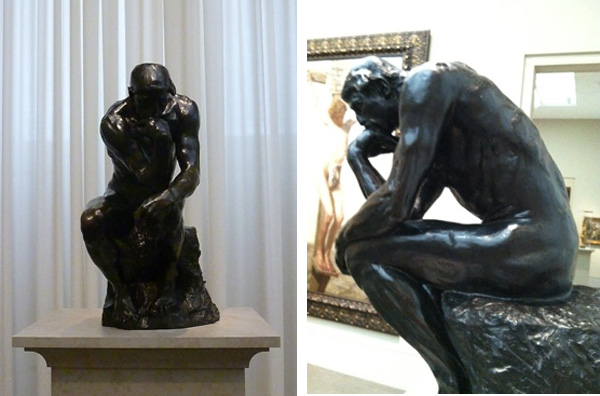 Probably one of Sarah's favorite parts was this 1926-ish cast of The Thinker by Auguste Rodin. I admit this is in large part due to her seeing "Night at the Museum II: Battle for the Smithsonian," which happens to feature him going, "I'm thinking… I'm thinking… I'm thinking…" but still, she really loved seeing it.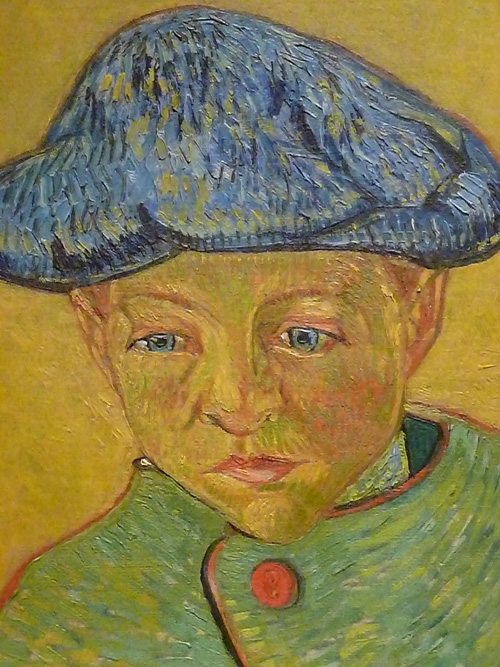 One of the last items we saw before going into the Van Gogh exhibit was actually another Van Gogh work in the museum's collection, this oil portrait of Camille Roulin done in 1888 or 1889.
After the Impressionists, we veered toward modern art. I'm the first to admit that some of it is kind of beyond me… I like my art to look like something I couldn't make myself in 5 minutes. Sorry. I know there's a lot more to it than that, but… a black canvas with a white line across it, well, I'm not going to spend hours enjoying it.
Sarah, though found something she ABSOLUTELY loved. I wish I had taken a picture.
She was fascinated by the Brillo Boxes by Andy Warhol. Yep, the boxes he painted painstakingly to look exactly like real boxes with BRILLO stamped on them. (You can see them and read more about them here.) Sarah is definitely a "realist," and so to see that he could make them look exactly like real boxes, well, she was super-impressed. At first she thought he painted them to look 3D and then I explained that, no, he took REAL wood, made it into REAL boxes, and painted them exactly like the other boxes. So she started sketching an Avon jewelry box that my mom had laying around and trying to figure out how to "make" it. That was pretty cool!
Next, we headed to the Van Gogh Up Close special exhibit. No photographs there – but I can say that surprisingly, my favorite paintings of Van Gogh's now are not any of his more "famous" ones; one that I really liked was a view of sunflower heads up close and this one of a single tree in the forest undergrowth. These, too, it's almost impossible to get a true impression of via an online photo; when you see it in person, it's got so much depth that it's just amazing!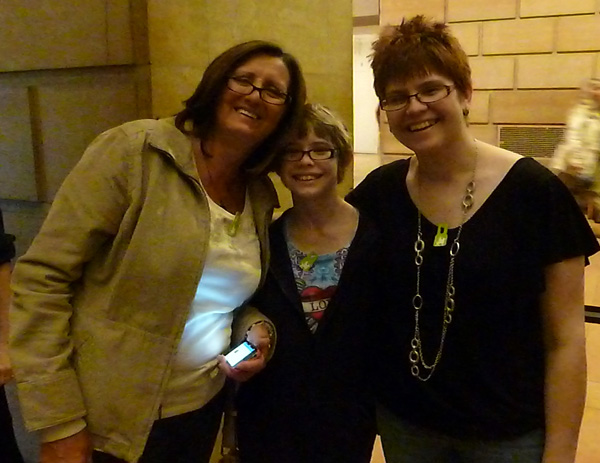 While we waited in line to get into the special exhibit, a wonderful fellow visitor took our picture; that's Carol at left, Sarah, and me.
Following the Van Gogh exhibit, we headed upstairs to … arms and armor, at Sarah's request.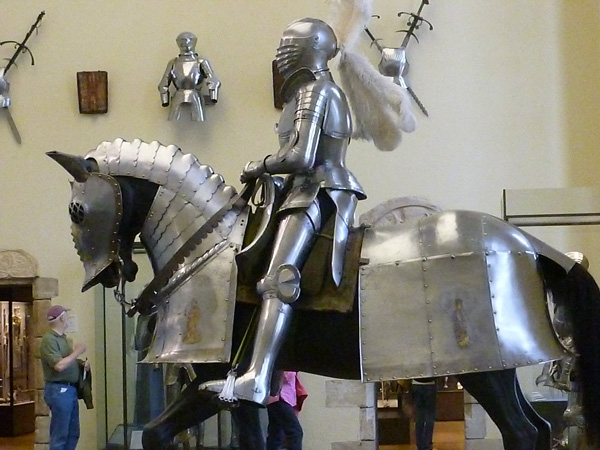 She LOVED this of a knight and his horse, both in armor. (She hadn't known that horses also wore armor, and we talked about why!) We also talked about the different styles of armor, and why it had to be in pieces (so that people could bend and move) even though that seems to leave weak spots.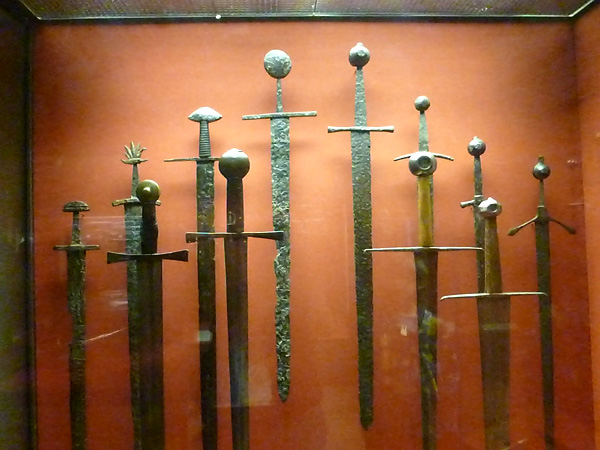 You might remember that Sarah was VERY interested in Vikings earlier this year. Well, we found her an ACTUAL viking sword, the one at the left, which was from about 900 AD. It was pretty amazing – and Sarah loved seeing the other old swords too!
At the end of the day, we went back to Carol's house and met up with my niece, Colleen, and her daughters, who are younger than Sarah. Because I'm by far the family baby, we're kind of "off" a generation; my niece is actually just a few years older than me. Sarah loves her girls and is always glad to see them. (This photo, by the way, gave us a chance to look up what these girls actually "are" to Sarah – we thought maybe second cousins, but it turns out they're her first cousins once removed. Who knew?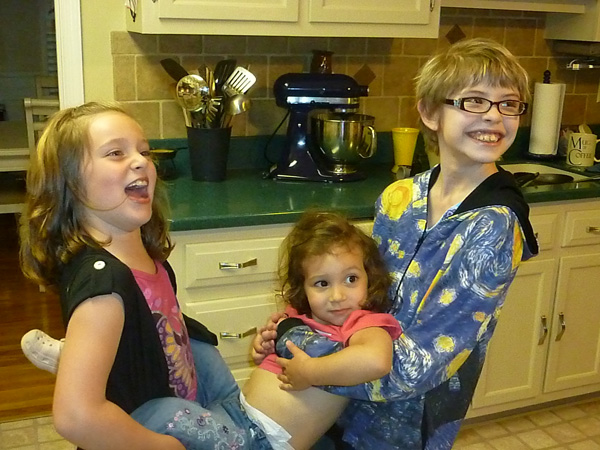 Here you can also see Sarah modeling her gift from me, a $60 – yes, you read that right – hoodie with Van Gogh's Starry Night design all over it. At least she let me get it for her in a larger size, so she can wear it for quite a while. As her daily "uniform" almost always includes a hoodie, I know she'll get lots of wear out of it!
So I said earlier that there was a follow-up to this day's experiences, which were awesome. On Monday, after we got home, we went to the library, and guess what they had for rent?
ROCKY!!
We rented it, and we watched it as a family last night. Sarah was into it – for lots of reasons – and when she saw Rocky run up the art museum steps during his training, it was amazing; her face just lit up! It made a neat cap to our museum experience.
Read more
This post is part of the iHomeschool Network's Best Homeschool Field Trips linkup. Click the image below to read more from this series!