We took a completely impromptu family field trip Sunday afternoon to the Reading Public Museum, just a little over an hour from our house.
(Tip for non-Pennsylvanians here: That's pronounced "Red-ding," not "Reed-ding." Just to help inform your reading of the rest of this post in your head.)
Anyway, I owe Hubby, aka Chris, all the credit for pointing out this destination; I didn't know Reading had a museum, let alone that they had…
Wait for it…
A Lego Castle Adventure exhibit. And, uh, we like Legos. So we went, and we saw a bunch of them, done up awesomely, but we also found some other surprises as well. Here's a look in photos at some of our favorite parts of this highly-recommended hands-on museum!
The first thing we saw was a gigantic LEGO dragon. He ate Sarah's hand. Uh, sort of…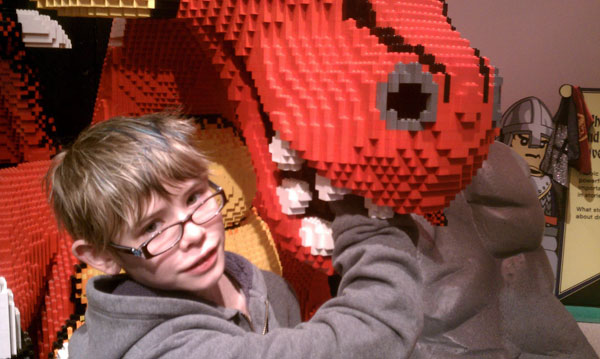 Here, Sarah's showing Chris some evidence in support of her answer to the question, "How did they get this exhibit here without it falling apart?" She found a glue mark!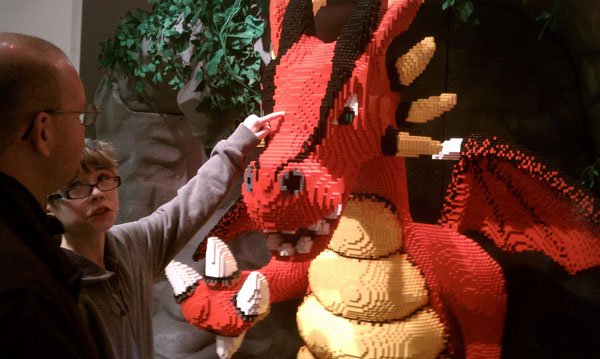 Here are my two Lego-loving family members with the dragon!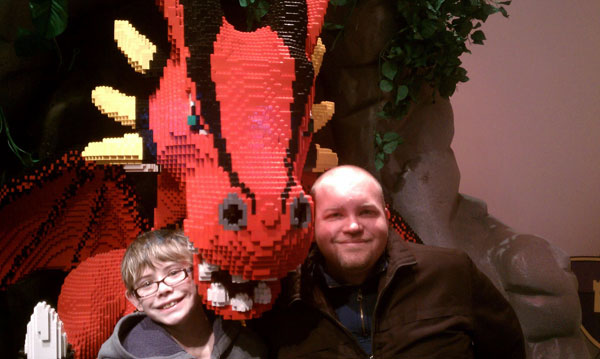 We saw a whole bunch of neat stuff throughout the exhibit (and got a chance to build our OWN creation, complete with spider, Cerberus and "OTTO" spelled out in Lego topiary!) Among the coolest parts, though, were the larger-than-life-sized Lego soldiers, and several Lego castles, including one of Sarah's favorites, Neuschwanstein!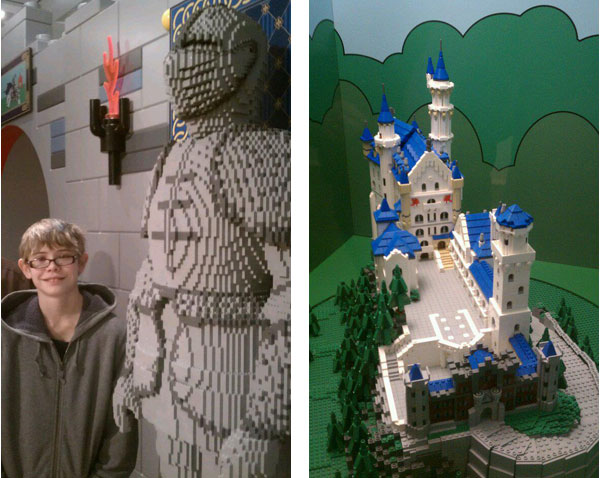 Our last Lego exhibit photo was taken by Sarah – of Chris and I sitting in the gigantic Lego throne with the Lego stained-glass window behind us! If you're wondering, the weird thing Chris is doing with his hand is because he was trying to make it look like a Lego minifigure hand!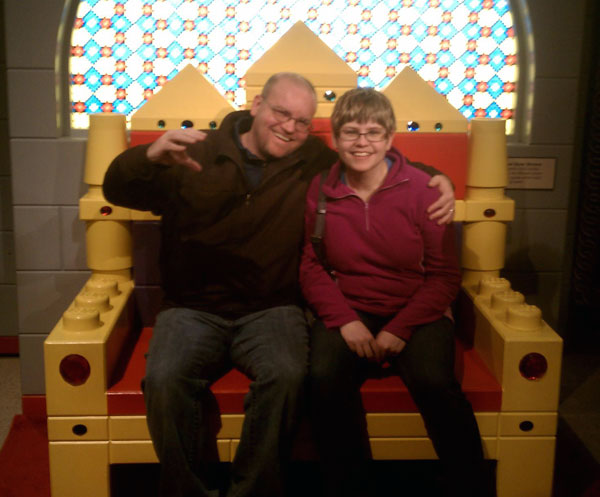 After the Legos, we checked out several other cool exhibits. There was a section involving the intersection of art and science, and part of that focused on origami. Not only was there fold-your-own instructions, there was a set of Tangrams there to build with! Sarah created a dog of her own design…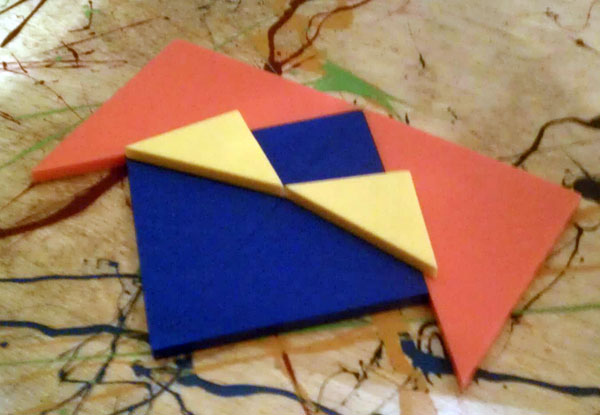 And Chris and I worked together to build this. Can you tell what it is?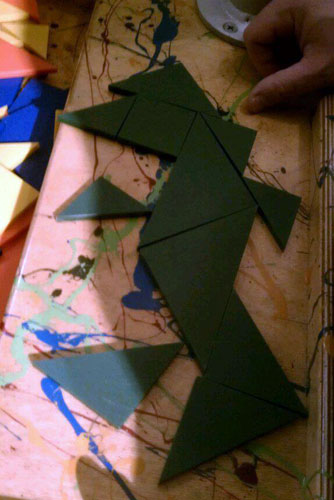 Obviously, Tangram Godzilla, right?
After that, we headed in to several of the history exhibits. I've talked recently about Sarah's interest in ancient history, especially Egyptology and Grecian myths, and while we didn't expect to find it, it was AWESOME to see some of the things we'd been reading about up close!
Like this cartouche, a shape in which names were written in ancient Egypt (we brought home a sheet where you can write YOUR OWN name in heiroglyphs)…
This urn depicting Herakles (Hercules) fighting the Nemean lion, one of the 12 great labors he had to complete…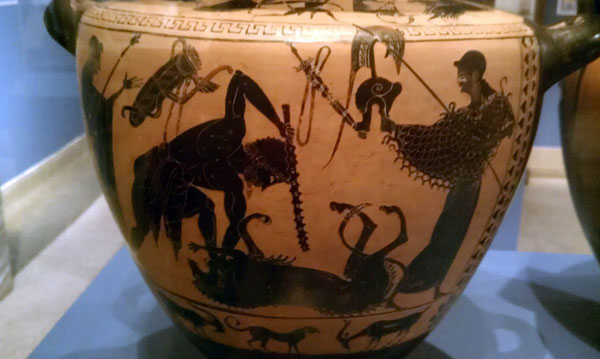 These lions (guardians) that protected the way to a Pharoah's tomb, much like the Sphinx…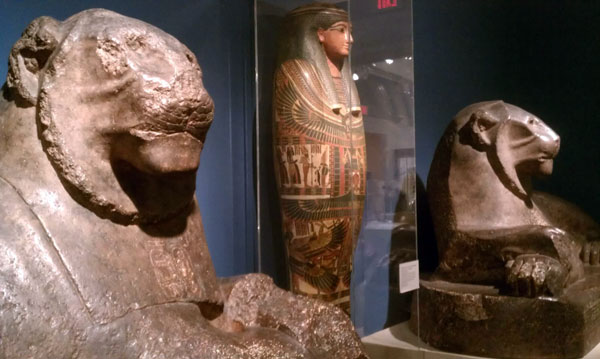 And this funeral mask, which was on the mummy of Nefrina, who is on display at the museum!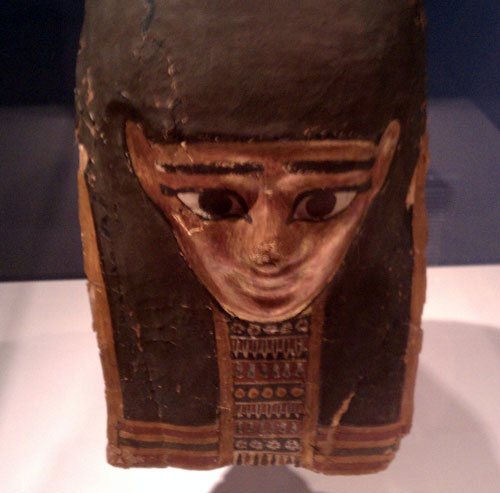 Finally, we let Chris get eaten by a giant ant in the parking lot.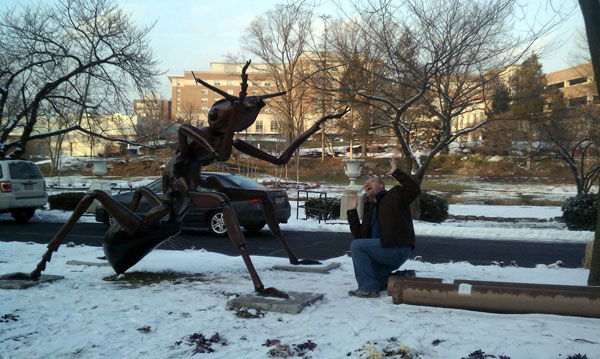 Isn't that how you end your field trips?