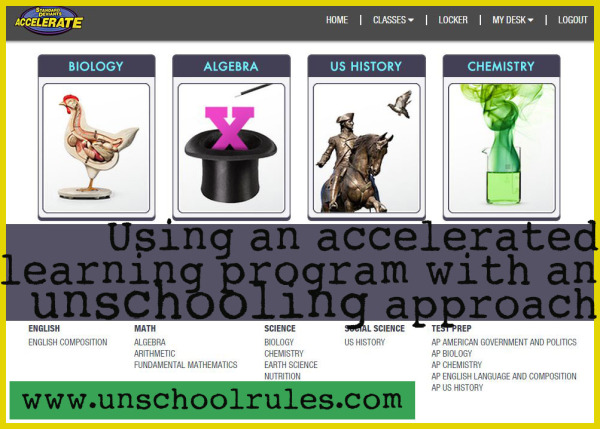 In exchange for the honest review of our experience in this post, our family received free access to the Standard Deviants Accelerate service. We were compensated for our time completing the review, but our continued use is simply because we've been happy with it!
If there's one thing that's constant in our family's learning approach, it's that it's a little outside the norm.
In fact, you might even call us… deviants. Learning deviants.
So when Sarah and I were asked to review an online accelerated learning program called Standard Deviants Accelerate, it cracked me up and I thought, yeah, this might be a good fit!
SDA is an accelerated learning program that offers online, video- and interactive-based instruction for core middle- and high-school topics – from American history to algebra to chemistry to English composition and more. They also offer prep for various AP courses.
Benefits of an accelerated learning program for unschoolers
If you've checked out our family's ninth-grade unschooling learning plan, you know that most of what we do doesn't fit super-neatly into traditional subjects like English composition and American history. We're pursuing focused studies – like forensic science and British literature – and doing so mostly by watching movies, visiting places and reading books of all types on those topics.
But there are certain things that Sarah wants to do that require particular background knowledge. For instance, in her forensics studies, she's frequently encountering basic algebra problems. She's good at math conceptually at a post-high-school level, but yet she'd never been over the fundamentals of order-of-operations, and it was starting to get confusing.
For us, that's where the benefits of an accelerated learning program come in. Accelerated learning techniques are designed in large part for situations like ours – they cover the basics of a topic quickly, with a focus on practical applications and without what I call "drill-and-kill" that accompanies most traditional learning courses.
SDA's videos are short – only 5 or 6 minutes long in most cases – and fun. They use real-world examples, like how what you pay for your cell phone a month becomes an algebra equation of fixed cost plus variable cost.
And there is a detailed index for each subject, which means that when Sarah explored algebra, she didn't have to sit through a semester's worth of material – she was able to go straight to the section she needed, in her case order of operations, and tackle just that part.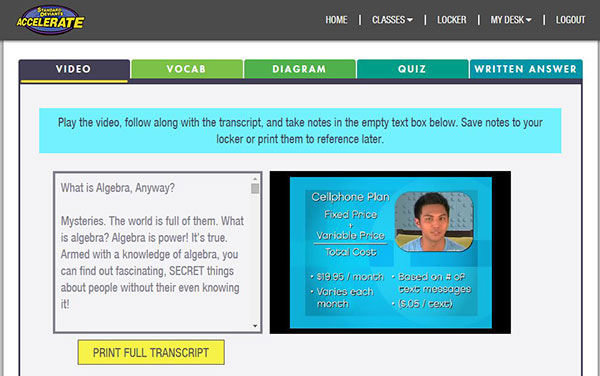 How unschoolers use built-in assessment tests
The other benefit we found to the Standard Deviants Accelerate structure was the variety of "show what you know" exercises. Each topic had a vocab review, a short multiple-choice quiz, an interactive worksheet and an open-ended question.
Take a look at how these worked for "What is algebra?" here: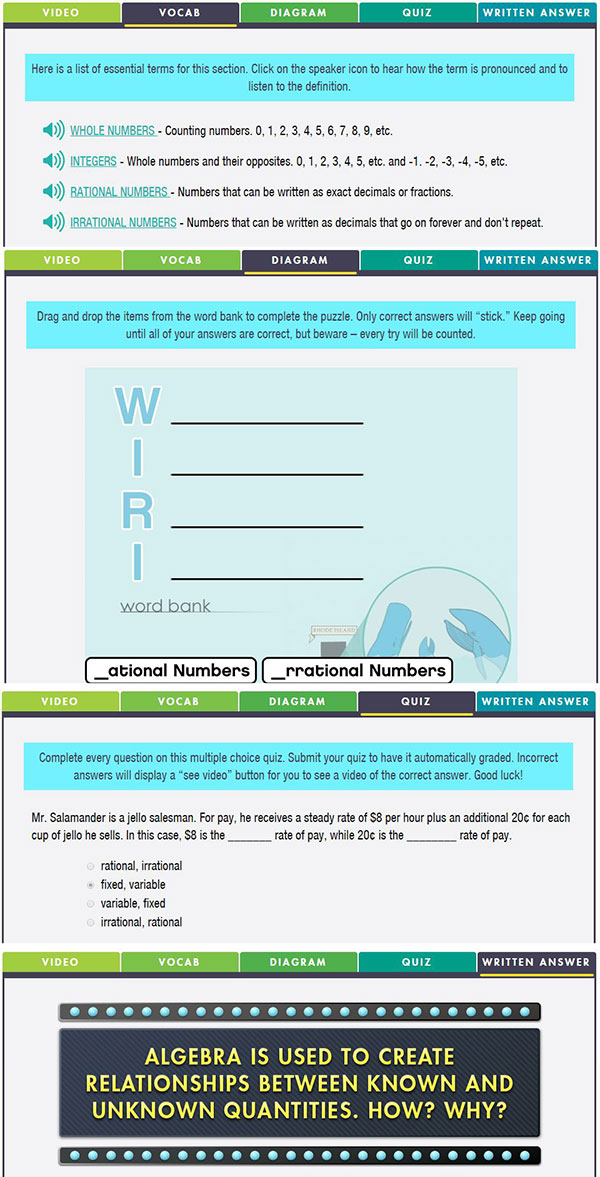 In our case, we were able to quickly flip through these and use a combination of them, mostly just talking to each other, to make sure Sarah had grasped the material, without spending a ton of time on a lengthy quiz or worksheet.
And what REALLY is great for us is that there's no need to click through all the exercises and "get the right answers" before moving on, so answering by discussion was totally doable. (We've used other online programs where this was a big stumbling block for our style!)
Accelerate your learning FREE for the next six months
I'm glad we've got ongoing access to SDA to bolster our learning this year. We've already seen topics in a variety of their courses that I think will come in handy for short, focused background material to our detailed learning. (And I'm actually going through their biology module myself – I'm considering a career change myself and need to catch up on some science basics!)
Regular cost for homeschoolers is $99 per year for one subject, or $24.95 a month. (A month is great for us, because we can pop in, do some focused learning and move on to the next thing!) If you're using the AP test prep subjects, those are $14.95 a month; you can check out details here.
But if you register by Nov. 15, you can join me by using all 14 Standard Deviants Accelerate subjects for FREE for six months.
Fellow unschoolers, I highly suggest you sign up at that price! You might be surprised at what a great strewing tool this becomes for your family.
And for ideas on how to use SDA to its fullest, follow them on social media – Facebook, Twitter, Pinterest, YouTube and Google+.