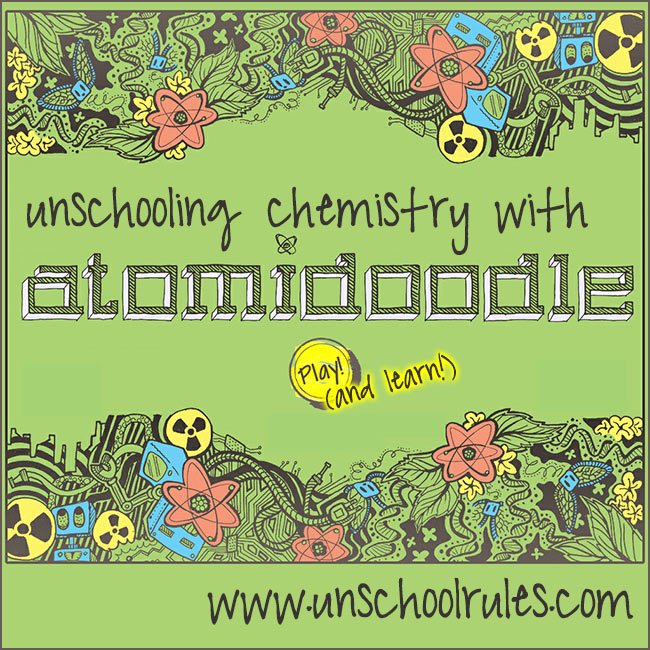 When it comes to learning, anything that can combine a bunch of Sarah's favorite things – in this case chemistry, art and video games – is generally a hit in our family.
Disclosure:
In exchange for the honest review of our experience which appears in this post, our family received the
Hero Factor Games Atomidoodle app download
for free. We were compensated for our time completing the review, but all fun had was ours!
So when we were asked to be part of the review crew for Hero Factor Games' Atomidoodle app, which is part brainteaser, part puzzle game, part periodic table learning app and entirely beautiful, we were pretty excited.
The Atomidoodle app, which works on both iPads (which we have) and Android tablets, has you "unlock" all the elements of the periodic table by directing them through a maze, getting, say, a Helium element (with its 2 electrons) safely home when called for.
Don't have the needed atom? Use fusion to take two Hydrogens (both with 1 electron) and make a Helium. But wait! Say you need to send a 3-electron-having Lithium home, but all you have is a 6-electron-having Carbon. Send it to the fission widget and boom, it's split into two Lithiums.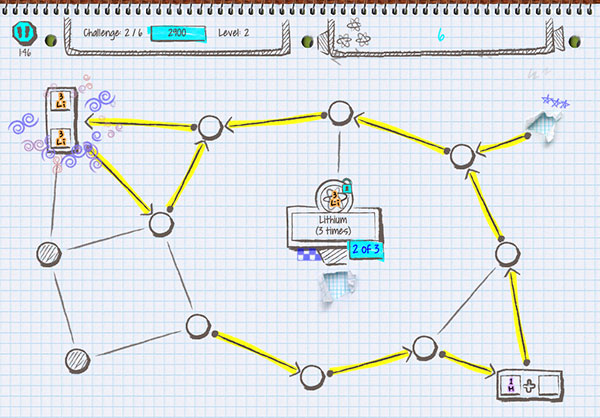 It sounds simple, but between keeping up with what path to send your atoms along and unlocking all the elements, it's surprisingly addictive!
Learning about the periodic table visually
The thing that enticed Sarah and I about the Atomidoodle app is its design. We've used BUNCHES of chemistry apps and learned about the periodic table from all of them.
But some of them look hideous! Atomidoodle is incredibly beautiful, and I admit that held our interest much longer. I have to give special props to the Hero Factor Games development team, husband and wife Tim and Sara Kilpatrick. It's Sara's art that I'm raving about here, but of course as a developer by trade I give tons of credit to Tim too for bringing this all together.
Want to see more of their handiwork? Check out this video that shows how the game is played… and how awesome it looks!
Adding Atomidoodle to our chemistry learning library
We've talked before, in depth, about the value of video games in learning. Some of that comes through educationally focused apps like Atomidoodle, and some of that comes from the natural discussions and life learning that come up in other games, from World of Warcraft to Minecraft and beyond.
The interesting thing is that since Sarah has had a longtime interest in chemistry, we went into our trial of Atomidoodle with some basic knowledge of the periodic table, and also learned something new!
See, we'd focused a lot on bonding between atoms – how two hydrogen atoms might come together with one oxygen atom to make water, and all that. Seeing the fission and fusion process in the game, rather than bonding, confused us both a little at first – but conveniently, the fun facts that are interspersed in the game cleared it right up for us by explaining the fission and fusion processes!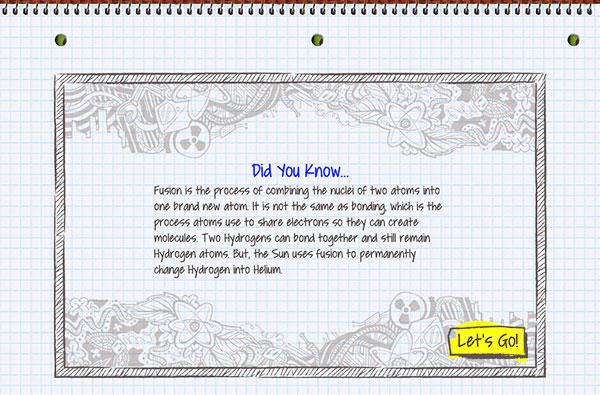 These facts are awesome – exactly the way we like to take in new info in our unschooling family. (And if you're interested in seeing how else we approach high school chemistry, unschooling-style, make sure you check out our resource guide here!)
Get the Atomidoodle elements game
Interested in trying it out? You can find Atomidoodle on iTunes for $1.99 and on Google Play for $2.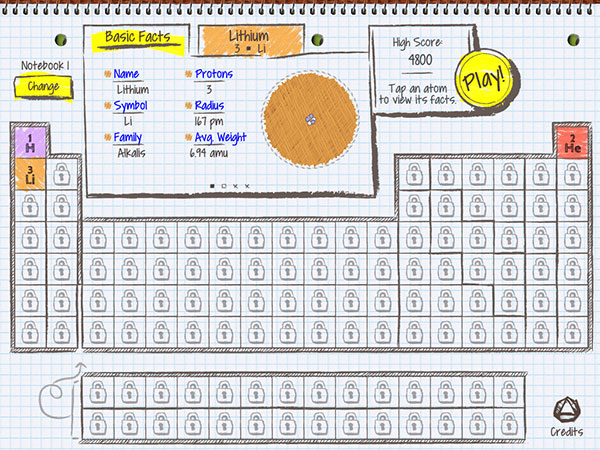 Connect with Hero Factor Games
Want see what else is coming from Hero Factor Games? Keep up with them on Facebook, Twitter, YouTube and Google Plus.