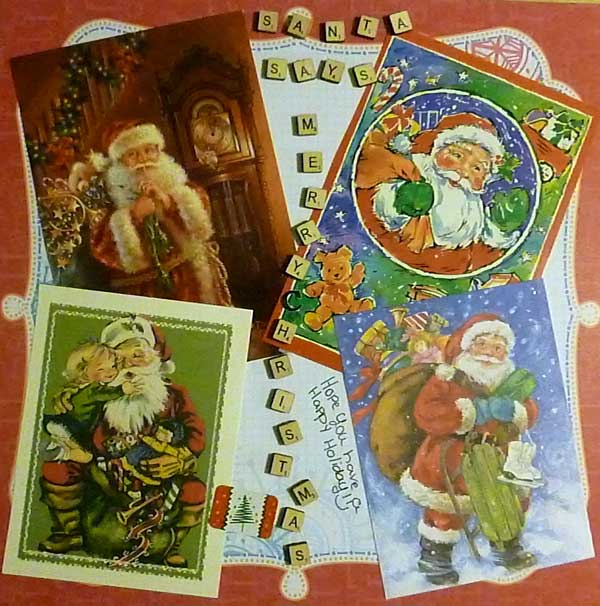 When we unpacked our Christmas decorations this year, we realized we had three gallon-sized zipper bags filled with Christmas cards from the last couple of years. I'd saved them from a vague "art project" idea and, of course, done exactly nothing with them ever.
Yesterday night, Ashar took them upstairs to our scrapbooking room and said she was going to make something with them. I was writing (in fact, I was writing our Jim Thorpe post!) and I didn't think too much of it.
When she came downstairs, she said that instead of  making something with each individual card, she wanted to them together and make collages in groups. So she sorted the cards, finding, first, six or seven with Santa on them. She narrowed it down to the four she liked best, chose a background paper to match, and then used letter stickers to spell out "Santa says Merry Christmas," and she wrote "Hope you have a happy holiday."
You can see the finished product above! It was great – and just the start of her collection.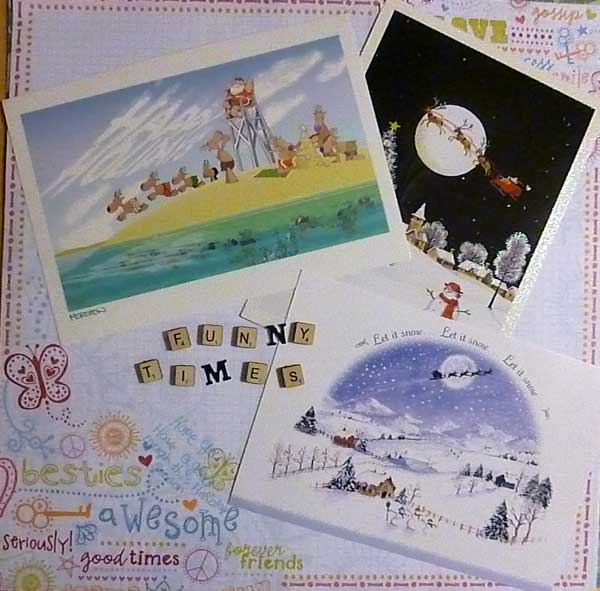 Funny Times features Santa and his reindeer at the beach, over a town on a dark night, and in a snowglobe over a town! This one has a note that says "Hope you have a great laugh this holiday season," and Ashar said she chose the background paper because it said "seriously," and that went well to her with laughter. (It's a pun? It's irony? It's cool, either way.)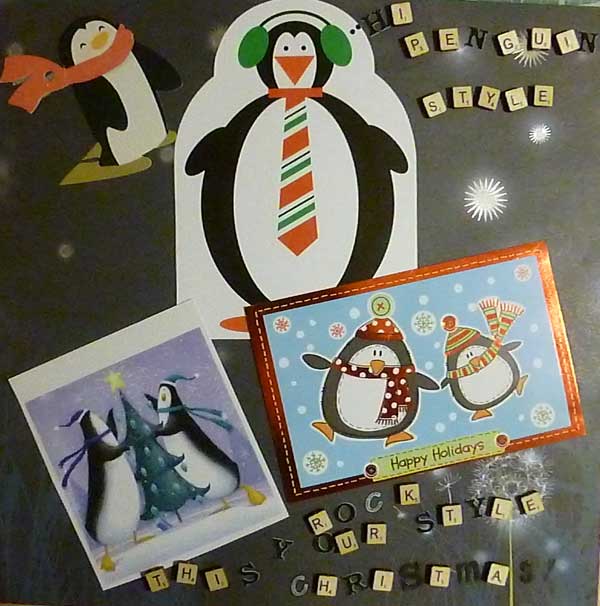 Hi Penguin Style is probably my favorite. I LOVE penguins, and I love the message – "Rock your style this Christmas," which Ashar said she chose because all the penguins were wearing scarves and hats. Technically, the top left penguin is not from a card (I think he was a gift tag), so keep that in mind if you're making your own Christmas collage creations – don't be afraid to keep things like interesting wrapping paper, gift tags and so on as well as the cards. And, in a proud Mom moment, Ashar explained that she wasn't sure how to spell "penguin," so she got her National Geographic Great Migrations book and went to the page for the Rockhopper Penguin to find out.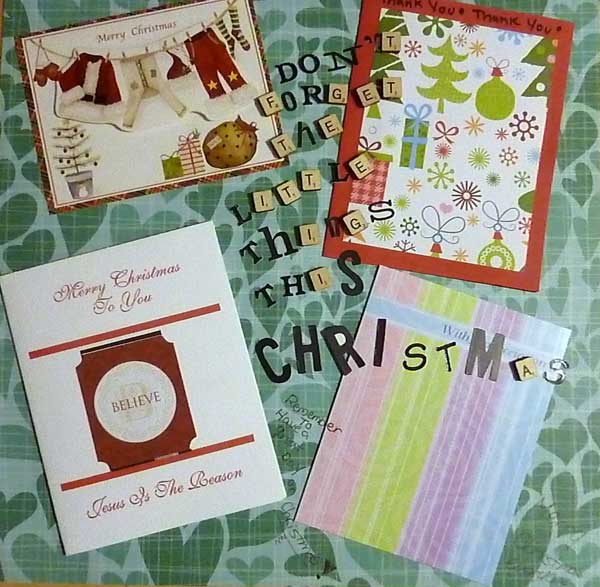 Don't Forget the Little Things This Christmas, the next collage says! Ashar's note says "Remember to have a great day on Christmas," and at the right, it says, "Merry Christmas, everyone." This one got its title because all the cards are small, Ashar said. She also said that some of the "odds and ends" of Christmas, like being with family or exchanging a gift with someone like a friend, it's not a big thing compared to the true meaning of Christmas, but it's still important. And she said that if you donate money or items, to remember that even if it's a small gift, not to forget that you're helping.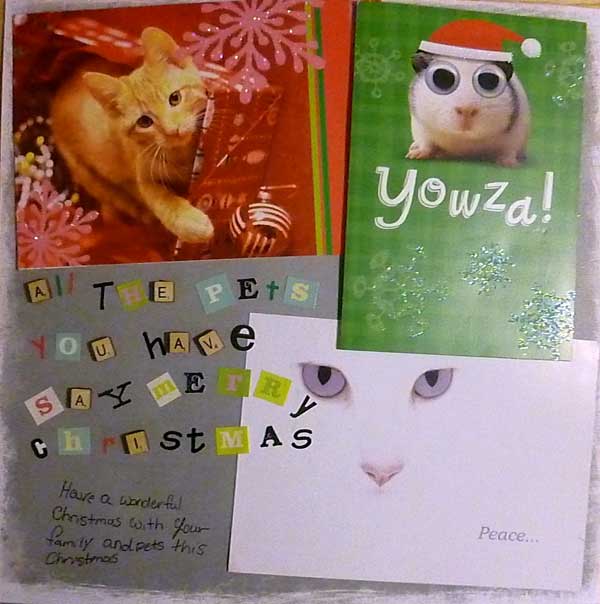 This one, Ashar made tonight (after working for several hours on the others last night!) It says, "All the Pets You Have Say Merry Christmas!" Ashar said, "I had all these pet cards… and not a lot of people really focus on their pets at Christmas, so I was thinking that the pets wanted to say Merry Christmas in their own way!" Her note says "Have a wonderful Christmas with your family and pets this Christmas." 
(Ashar also wants me to tell you that the hamster with the bulging eyes, inside his card, says, "Have a Merry Christmas, or I'll Put Some Sprinkles on Your Cookies." Yep. Ashar also clarified that those are "not the kind of sprinkles that you want to eat.")
Ashar says she hopes you try out this idea with your old Christmas cards instead of throwing them out! Her advice? "Be creative and take my idea and use stickers and make your own collage!" She also added that you could use printer paper or construction paper if you don't have scrapbook paper like we do.
Merry Christmas, from our recycled cards! 🙂