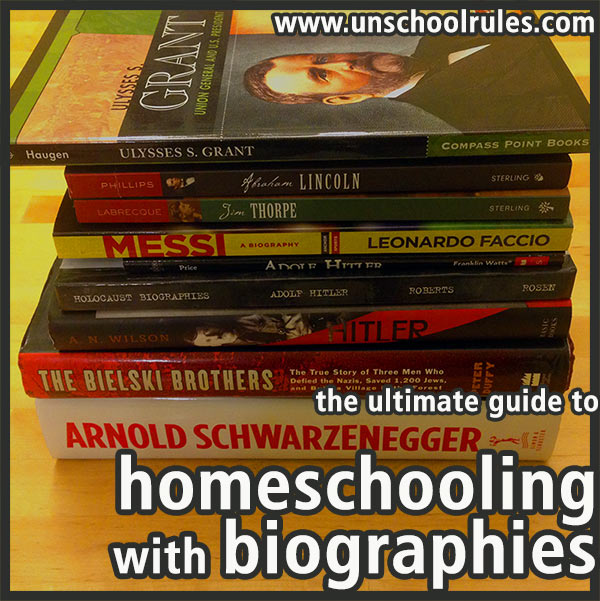 Everyone has a story to tell.
Working in journalism for more than 15 years reinforced how much I believe this. Unfortunately, a lot of my traditional education did not. In science textbooks, famous people and their discoveries were included in dry lists, maybe with an anecdote about a "Eureka" moment but no explanation about the inventor or discoverer himself (or herself – and let's be real, there weren't a lot of herselfs included.)
Disclosure: This post has some affiliate links. I only link to things we legitimately use and recommend, so if you see such a link, it's because we really do believe in the book or item!
History textbooks did slightly better, but not much;
people were still names to be memorized and associated with dates,
not explored as interesting contributors to society.
At the same time, I have great memories of the times when I got to dig deeper into the lives of people who mattered. When I was very young, I had some biography of Marie Curie, probably checked out from our local library, that I read several times over. Women could do science? Whoa!
Then I dove into the life of Eleanor Roosevelt, and later, when I was homeschooled, my mom worked with me through a book called Learning from the Lives of Amazing People that I really was into. (You can tell I was into it, because I remembered its name now, something like 28 years later.)
In college, I took an amazing course on the history of mathematics, and our professor encouraged a focus on the mathematicians themselves and their lives amid the study of their discoveries. (This, sort of, is how Evariste Galois almost got me a job as a government cryptanalyst.)
Biographies matter. There is so much to be learned from knowing more about people than their two-sentence summary of accomplishments, and so many ways to get into the real experiences of those people.
That's why I've taken the time to create this Ultimate Guide to Homeschooling With Biographies. I want to encourage homeschoolers of any stripe to take time to introduce their children – and themselves – to the people who've shaped our world.
Here's who this guide is for:
That covers a lot of the parental spectrum, right? Mostly, I encourage you to read through and see how much the study of people is really a great way to explore any topic, from science to history to math to art and beyond.
This guide is a mix; I'll focus on some broad suggestions for certain ages, and then list both some of our family's
Homeschooling with biographies for young readers
For young readers (elementary and early middle school), nothing beats the Who Is/Who Was biography series. This series (and the accompanying "Where Was" and "What Is" series) are great introductions to famous people, both ones of historical interest and those of current note.
This is also one of the most diverse series of biographies I've found, including many more women and non-white people, which we particularly liked, and branching out beyond "traditional history" to arts and entertainment.
Ashar enjoyed these a ton when he was younger! In fact, here he is modeling Who Was King Tut? from a reading marathon he had in January 2013!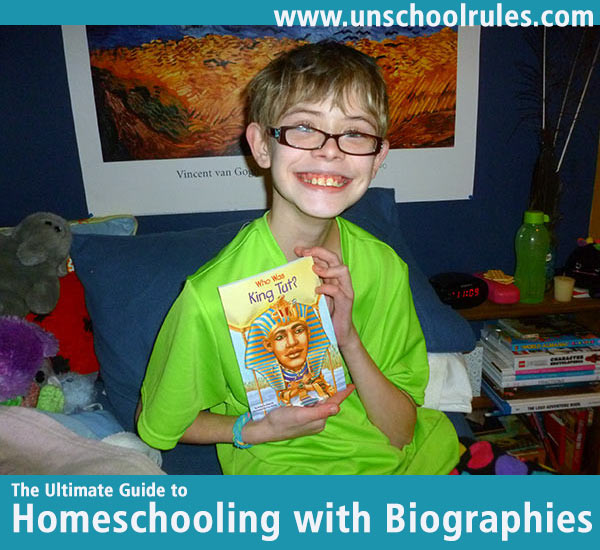 There are easily dozens and dozens of these, and you'll be able to spot them from their bobble-head-style cover art. Here are just a few that might spark the interest of your younger readers.
My biggest suggestion for using these books in your family's homeschooling journey is to read them together! These are absolutely written so that your children can read them on their own, but there is just so much to talk about that you'll be missing out on a ton of chances to dig deeper if you use these as on-their-own readers. We tackled a section per night before bed and could usually finish one in a week or two.
If you're going to assign some kind of project based on a biography to your younger readers, I'd suggest going beyond a report on the person themselves. Reading the book and learning about the individual should be the start – not the goal.
What about tackling one topic or issue raised in the biography? What about researching the place or time period? If you're into notebooking or unit studies in particular, I can easily envision a major multi-subject, multi-week exploration based on any of these!
Homeschooling with biographies for mid-level readers
While I love the Who Was books for younger readers, I get even more excited about some of the many options out there for mid-level readers. These are traditional chapter-based books with lots of great images and deeper information that can be used from mid-elementary age to well into early high school!
There are two series of biographies I want to highlight here: Sterling Biographies and Signature Biographies. Both series are ones we've used personally and can highly recommend; in fact, as you'll see a bit later, Ashar and I are reading the Signature Biographies book about Ulysses S. Grant together now!
Sterling was the first biography series we discovered when we began homeschooling. You'll see some of their books featured in our "family favorites" later in this post, but in addition to those, here are just a few highlights: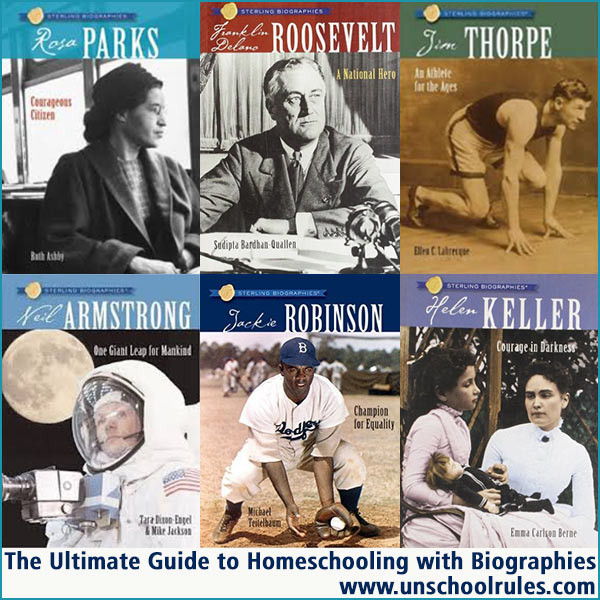 We're a bit newer to the Signature Biographies series, but so far, I'd also highly recommend those. They get into a lot of people I've not found other middle-range biographies on, including a lot from ancient times (so if that's a period you're studying in your homeschool, keep these in mind!)
A few highlights there: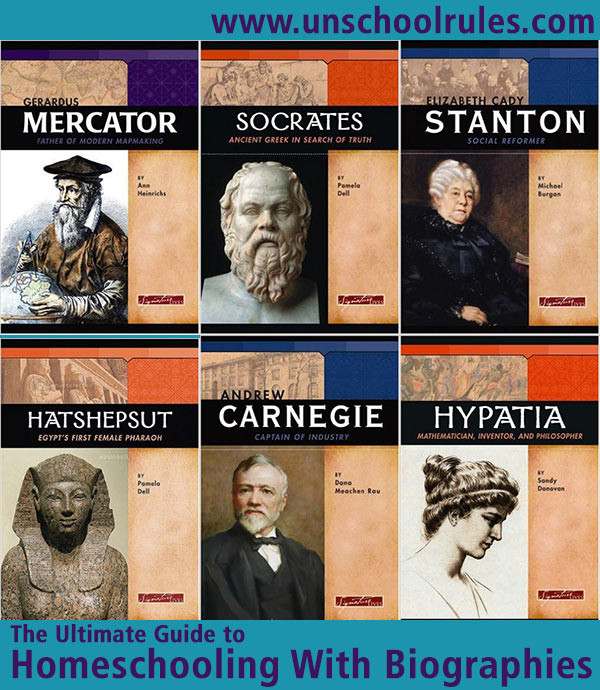 High school homeschooling (and adult learning) with biographies
This one is kind of a "cheat" on my part, because the real answer is that high-schoolers and adults get the best possible biography experience.
You and your high-schoolers can both benefit from "lower-level" biographies like those mentioned above, and in fact, one thing Ashar enjoys doing is reading something like a Sterling or Signature biography and then specifically finding something that was only covered at a surface level and digging deeper.
But you can also find an almost endless number of biographies or memoirs on almost anyone of interest written for adults. I especially value biographies at the high-school age because they can be a huge window into the adult world. If your teen has an idea about a potential career, I almost guarantee you can find a biography or memoir of someone who's done it – I mean, I turned up at least three accountant biographies.
If your teen wants to know more about philosophy, or art, or science, or math, there's a biography that will likely do more to engage them in that topic than any textbook. The possibilities are unlimited.
But if you want more concrete suggestions, read on! The books below will be a great start, and if none of those spark your interest, maybe they'll raise ideas for the types of people you or your teens would like to know more about.
Our family's favorite biographies and memoirs
This is the fun part! By no means is this a complete list, but here are just some of the biographies, autobiographies and memoirs on our shelves, either that we've already enjoyed or that we're hoping to read soon.
Beyond books: Homeschooling with biopics (biographical movies)
So here's what I LOVE telling people: Learning doesn't just come from books. In our family, movies and TV shows are a huge part of our learning, and when it comes to learning about people, it's no different. So, one night last week, we all sat down and brainstormed a list of biopics.
This was a ton of fun – and also full of controversy. Some things got left off the list because we felt they took too many liberties with the person's real story (Finding Neverland and A Beautiful Mind, I'm looking at you!) But… I DO encourage you to watch those movies – and read the corresponding books. It's fun to compare and contrast what's real and what's just part of a good film.
Here are just some of the movies, in no particular order, that passed muster with our family, along with a very short description of their subject. Please do your own investigations of all of these. We found them, if not 100% accurate, at least pretty thought-provoking, but some are definitely better for older audiences. And in all cases, you can certainly find some cool books about these people too!
More resources for learning about people
Read more ultimate guides
This post is part of the iHomeschool Network's Ultimate Guides series. Click the image below to see great tips from some of my fellow bloggers on a ton of cool topics!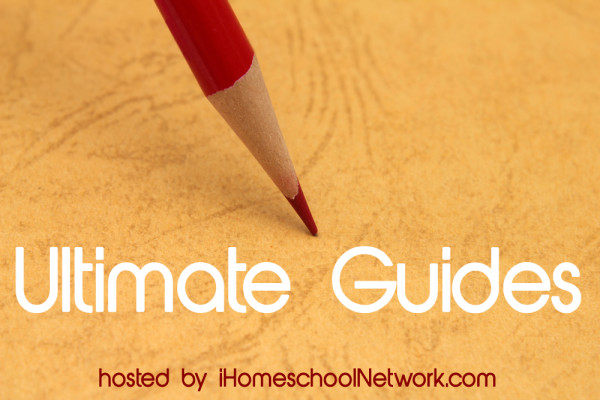 You can also check out the Unschool Rules ultimate guides from previous years: The Ultimate Guide to Learning from Movies and TV Shows, The Ultimate Guide to Homeschooling for Working Moms and The Ultimate Guide to Homeschooling and Unschooling in Pennsylvania.
I hope you'll take a look!