I can't believe it, but we are celebrating the 18th birthday of our favorite unschooler in March 2018. He's notoriously hard to buy for; while he's got some interests and hobbies (hello yes please give him every tchotchke related to the Walking Dead and also he loves shirts so much his closet is scary), he's never been into the traditional stuff that his in-school friends get for their birthdays and other holidays. So since the many parts of our own family are always asking, "But what does he need?" I figured there might be other unschoolers out there whose families want to find some great unschooling gift ideas.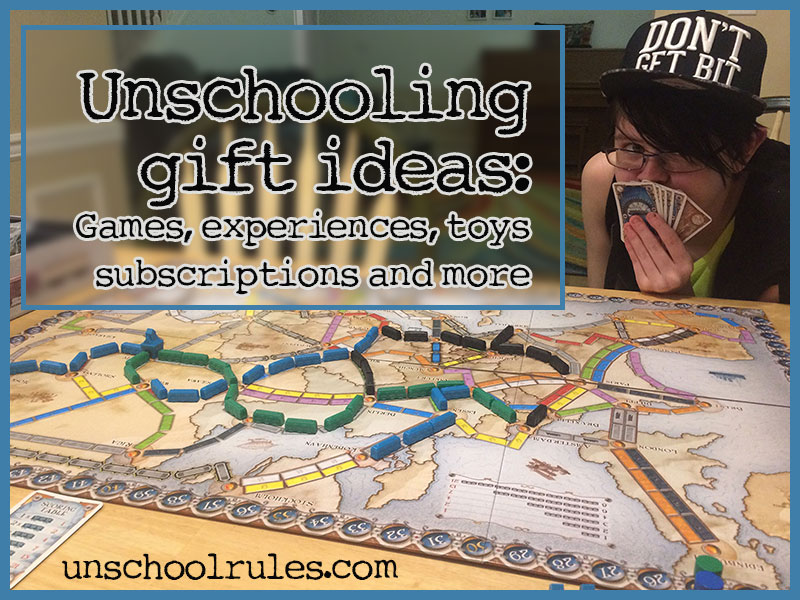 I've divided our list into categories, and while some of the games are specifically better for older kids or teens, and some of the toys are better for younger kids, most of the items here really span a wide variety of ages. That's intentional – one of the best parts of unschooling is having interests that grow with your child, not things they outgrow each year!
All of these items are things we either currently own/subscribe to, or that we had in the past, and that we recommend as gifts for other unschoolers in your life!
Unschooling Gift Ideas: Games
Disclosure: This post has some affiliate links. I only link to things we legitimately use and recommend, so if you see such a link, it's because we really do believe in the book or item!
OK, this is probably the easiest one for me to start with. As a family, we love games – video, card, board, whatever. We almost always get a couple of new family games for Christmas, and lots in between as well.
I could easily list a few dozen of these, but I'm trying to limit myself to just a few favorites, and especially ones that have been interesting to us as unschoolers.
Munchkin
Why we like it: It's hilarious, and it encourages reading, story-telling and yes, even some math. Also you can totally get killed by a duck. We also like this because it has some cooperative aspects, which we often prefer to straight competitive gaming. See more here.
Ticket to Ride
Why we like it: It's geography, trains, strategy, and not hard to learn. We play Ticket to Ride Europe, because Ashar likes Europe, but we'd absolutely love to get some of the other versions as well. See more here.
Lanterns
Why we like it: The best way I can describe Lanterns is as a beautiful, calm way to spend your evening. It's neat because it's tied to another culture that we've gotten to talk about, and it's super-pretty, too. See more here.
Timeline
Why we like it: There are actually a whole set of Timeline games – American history, inventions, diversity, music and cinema, and more. We have most of them, and you can mix and match. It's super-simple – you get a card with an event name on one side and the year it happened on the other, and you try to build a timeline by guessing where it goes between other events already played. Once you guess, you flip it over and see if you were right. You can play this competitively, but we also generally do it cooperatively, which we think is more fun. See more here.
Gloom
Why we like it: This is a phenomenal game for creative people and those with a morbid sense of humor. The goal is to make your "family" of characters as miserable as possible and then kill them. Which, y'know, sounds horrible, but turns out to be hilarious. As you play modifier cards – "Was Terrified by Topiary," for instance, you also get to tell a story about how that character came to be in such a situation. When we got it, I wasn't sure our crew would be that into doing that, but we have all taken to it amazingly and have killed off our people in some very creative ways. See more here.
Escape Room games
Why we like it: We love doing in-person escape rooms, but they can get pretty expensive. When we realized you could get ones to play at home, we were hooked! They're super-fun and a great way for everyone in the family to work together to solve a puzzle. See more here.
Unschooling Gift Ideas: Experiences
This is my absolute favorite kind of gift, because it doesn't need to be stored in my house. No, seriously. I would take an experience over a physical item every day. Here are some of the ones we've loved most – and some of the ones we would love to give or get again!
Museum/zoo/aquarium memberships
Why we like it: We love museums. Museums are expensive for a family of five. Ergo, museum memberships make a good gift. We especially love reciprocal memberships, where you join at one place and get free admission to others. We did this through the North Museum of Nature and Science in Lancaster and the Lehigh Valley Zoo. We didn't get to use them as much as we hoped, but it was still a big savings and encouraged us to go more than we would otherwise. We'd love to do this again, maybe with aquariums or history museums! They also are a family gift, so while they might be of particular interest to one person, everyone gets to enjoy.
Concerts/shows
Why we like it: Because music and performance are awesome! We have been to tons of concerts; most recently, Ashar, Kaitlyn and I got to see my hero, David Byrne, in Hershey, PA, and last fall Mom, Ashar and I went to see Celtic Thunder, which is an annual tradition. We also try to make sure we get to a play or musical or ballet a couple of times a year, either to support friends performing or to check out a huge production, like when we went to see Phantom of the Opera on Broadway.
Classes/camps
Why we like it: If you think unschoolers can't enjoy formal classes, you're totally wrong. Ashar has done Lego camps, robotics camps, music classes, instrument lessons, art lessons, tae kwon do classes… and that doesn't count all the things the rest of us do, from paint nights to my own tae kwon do practice to scrapbooking workshops to cooking classes. And if your gift is to share in a class with someone you love, that's even better. My mom and I had a blast painting Van Gogh-inspired wine glasses one time, for instance!
Conventions
Why we like it: So, the best gift we ever gave Ashar was a ticket to Walker-Stalker Con, a convention for fans of The Walking Dead. Maybe your family is into Star Trek, or anime, or comics, or jewelry-making, or stamp-collecting, or scrapbooking, or… There are conventions for all of those things. In fact, I've personally BEEN to conventions for all of those things! These make great gifts. Even if you're not into the topic of interest, it's amazing to watch your loved one's face light up because they're interested.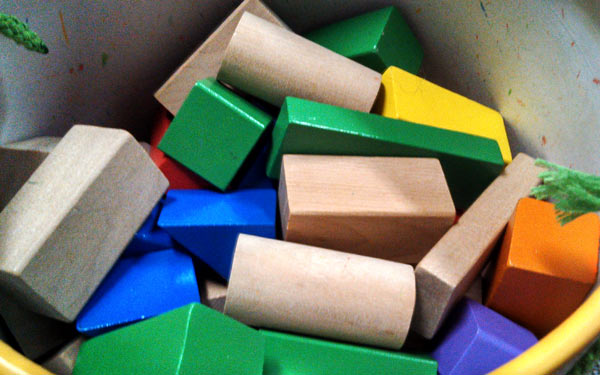 Unschooling Gift Ideas: Toys
You might think that at almost 18, Ashar would be past the "toy" phase, and in a lot of ways he obviously is. But there are some things that lasted well into his teen years and that we still enjoy (yes, we still buy LEGO!)
High-quality blocks
Why we like it: We bought the Melissa and Doug 60-piece wood block set when Ashar was 9, and we just finally sold it (still in great shape despite years of use) when we moved to our new house last May! Ashar loves the feel of natural wood, and we liked having some larger blocks to build big structures with. We wanted real wood, and something that was easy to store, and this was perfect. Same goes for the 150-piece Imaginarium set, which includes some bright colors, too. Super for imaginative play. See more about the larger blocks here and the smaller blocks here.
LEGO sets
Why we like it: Ashar has had LEGO sets since he was born, literally, since he inherited many of mine, and in turn, I'd inherited some of mine from my (8-years-older-than-me) nephew. Minifigures are probably our biggest specific LEGO love. They've worked out great, because we can act out almost anything. Reading Percy Jackson and the Olympians' The Lightning Thief and need a Minotaur? WE HAVE A MINOTAUR. Suddenly need to replicate Godzilla's takeover of Japan? WE HAVE GODZILLA. It's pretty cool. And maybe just a little scary. See more here.
Matchbox and Hot Wheels cars
Why we like it: Cars are cool for any age. (Kaitlyn's brother, Dave, and Ashar regularly swap favorite Matchbox and LEGO car sets as gifts). Ashar used to have "stories" made up for each of his cars, like how they're in car school, how some like ice cream, how some are good leaders and more. And that's not counting the fact that he knows what make and model each is for real, as well. See more here.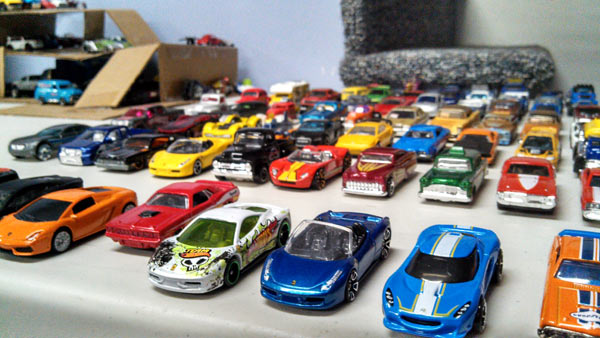 Unschooling Gift Ideas: Subscriptions
Subscriptions, like experiences, are especially great gifts in our family because they mean we don't necessarily have to store a bunch of "stuff," and they extend the joy from a one-time opening of a birthday gift to something special every month.
Streaming services
Why we like it: You can't give a much better gift than the gift of unlimited TV- and movie-watching potential. We started out buying individual movies through Xfinity's On Demand, then got Netflix, and now also have Amazon Prime and Hulu. (We probably won't keep Hulu once we get through our current series, but you never know!)
Ones to try:
Subscription boxes
Why we like it: Subscription boxes are one of my favorite things ever. Basically, it comes in the mail, it isn't a bill, and I get to feel like I'm opening a present every month. How can you go wrong? (Also sometimes they contain food.)
Ones to try:
Artsnacks – New art supplies. You can't go wrong. (This is one of the best gifts I've ever received.)
Universal Yums – Snacks from a different country around the world each month, with accompanying trivia and stories about the companies who make the foods.
Awesome Pack – New board and table games and a bunch more cool goodies.
Comic Bento – Comic books and graphic novels, including many that are great that would otherwise be hard to discover unless you live near a high-end comic store.
Any cheese of the month club – Because… cheese? (Seriously, this is the gift I keep wishing for!)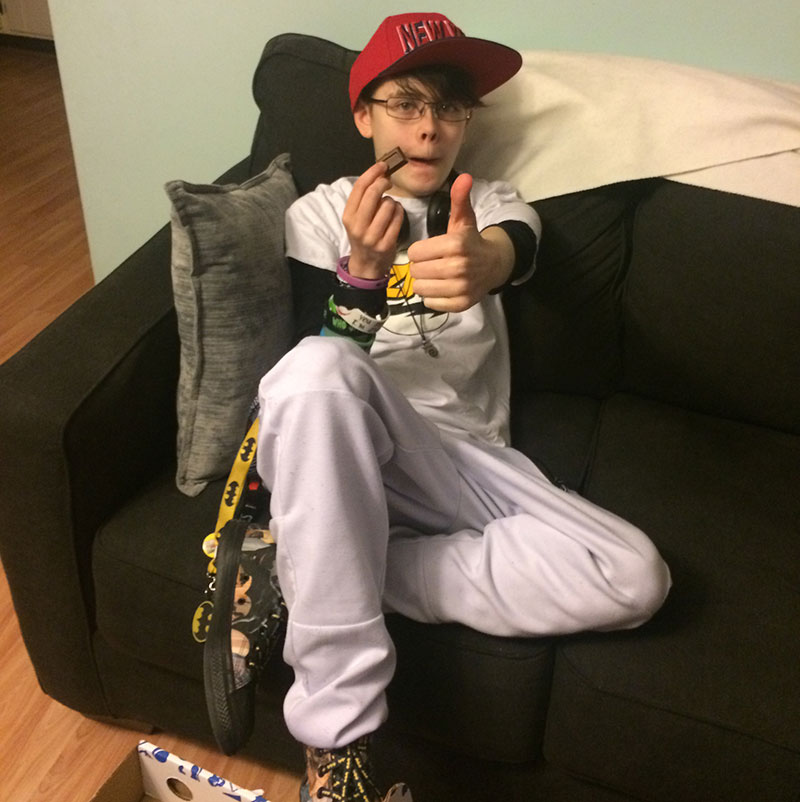 Unschooling Gift Ideas: Technology
Technology powers almost all of our explorations of any subject we can dream up. Some of these are big-deal gifts – like the Chromebook Ashar will be getting as an 18th-birthday present from his dad, Chris – and others are unschooling gift ideas that are super-simple and anyone can give.
Chromebook
Why we like it: Ashar is SUPER excited to get this as his 18th birthday gift. He loves to edit videos for Instagram, but he can't post to Instagram from his computer and can't type long captions on his phone. Enter the best of both worlds: A 2-in-1 Chromebook that can be folded and touchscreened for use like a tablet (and that runs any Google Play apps), but that can also work with a keyboard and mouse. See more here.
Cozmo
Why we like it: This awesome little robot is cute and smart, and feels like part of the family. (When he says my name I kind of melt.) He's great for a variety of ages – our friends' 7- and 10-year-olds like him, Ashar thinks he's great, and the rest of us adults have fun with him too. See more here.
Hexbugs
Why we like it: These were one of the first things Ashar got into when we started homeschooling, because he was adamant about pursuing an interest in robots and $20 was about the limit of my robot price range. They're cute, fun, and give you a good chance to talk about how sensors work, as the different kinds have different "skills" like avoiding (or moving toward) noise or light, or avoiding table edges. See more here.
Fitbit
Why we like it: Something that promotes family activity, and that we can enjoy together? That's a big win. Right now, Kaitlyn, Ashar and I all have Fitbit Charges (Ashar the original Charge HR, and Kaitlyn and I the Charge 2). We do weekly step goal challenges and can sometimes be found walking in circles around our house, affectionately called "NASCARing," to get steps. See more here.
Headphones
Why we like it: Seriously, if you want to give a great gift, give earbuds. We go through them like underwear in our house. Well, maybe not quite that bad, but it's close. Ashar had really good Beats wireless headphones for a while, but when those met their end, we went back to SkullCandy earbuds, which are good and a lot cheaper. See more here.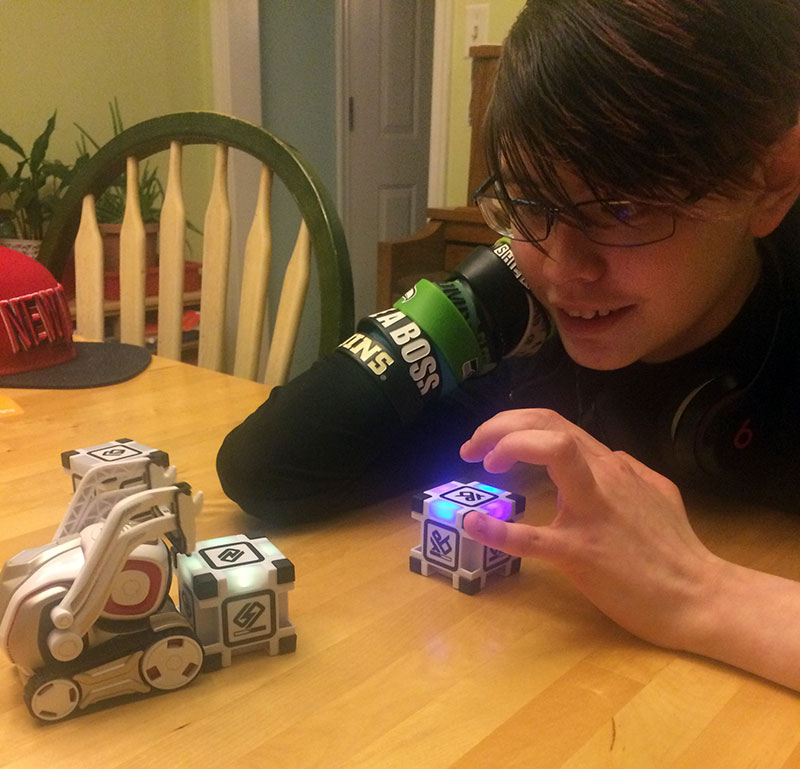 Gaming time
Why we like it: Video games are great, but many of the ones we like the most require ongoing subscriptions. Having the cost of those covered as a gift is awesome!
Ones to try: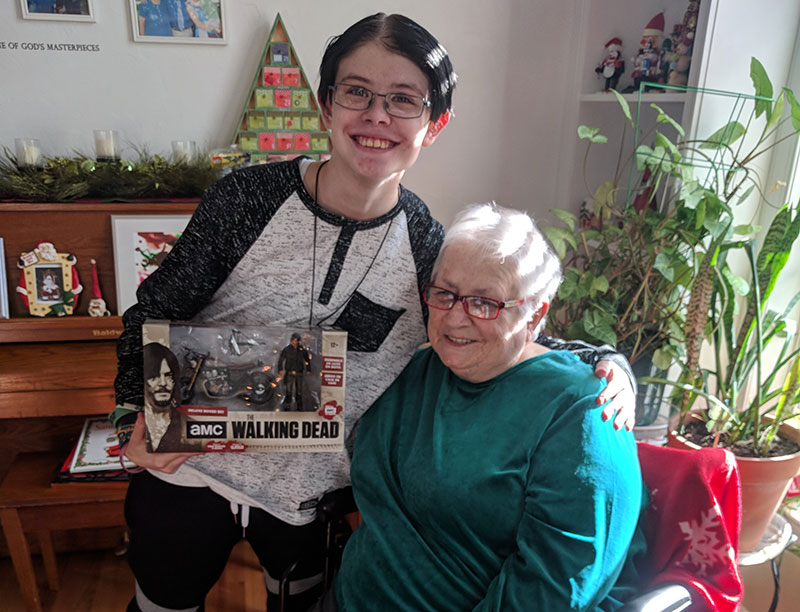 Unschooling Gift Ideas: Special Interests
This is my favorite gift idea, because it's my favorite part of unschooling: helping my kid pursue his passions.
If an unschooler in your life loves something specific – whether it's, like Ashar, a TV show like The Walking Dead, or whether they're really into science, or they love drawing… whatever it is, if you can find a gift related to that interest, you're golden.
It absolutely does not matter to Ashar that he has gotten three blankets featuring different Walking Dead characters, because he sleeps with all of them. He has a larger collection of Pop! vinyls than most mall stores, and it's still growing. When you can give a gift that ties into a special interest, you'll get a great reaction!
Your Unschooling Gift Ideas
I'd love to be able to expand this list! If you have great ideas for gifts you've received as an unschooling family, or that you'd like to receive, please comment!