In my life this week…
Oh, what a week. This has been a hectic week between my two primary jobs, I'm also holding a Mary Kay open house; we had a big cookout for the Fourth of July; and most urgently, my mom spent a couple days in the hospital with a heart arrhythmia.
She's doing much better now, but it was certainly a rough couple of days! Added to that, when we went to the hospital, I'd forgotten to take one of my medications with me, and I ended up getting pretty sick while we were in there! I'm ALSO doing much better, but good grief.
This is not a week I'd want to repeat any time soon, though it had its good moments, too, including shopping with my best friend for new clothes and knocking an awful lot off my to-do list.
In our homeschool this week…
We're "officially unofficially" back to school, inasmuch as Pennsylvania allows us to begin counting our days as of July 1. Since we're not hours-a-day learners anyway, it's really not any big change.
Ashar has spent a lot of her time on, uh, gym class? Or, rather, she's been doing a lot of hiking, swimming and riding her scooter.
In good news, we heard from the school district that they're done reviewing Ashar's portfolio from last year, so that's officially "past" now!
Helpful homeschooling tips or advice to share…
I'm actually working on another post, hopefully for tomorrow, that will detail 10 of the best pieces of advice I received as we started homeschooling… keep an eye out!
I am inspired by…
The "I'm Fine, Thanks" documentary team. This is the documentary film I've helped to pull together during the past six months, and today marks our world premiere in Portland. While I can't be there, I am INCREDIBLY excited to be going to the New York premiere next Friday, and I'm prouder than I can say to be part of such an amazing team.
Even with the rush to get ready for the premieres, they gave me all the time I needed to help care for Mom this week, and I felt amazingly fortunate.
Places we're going and people we're seeing…
Other than the cardiologist? (Sorry, slightly morbid humor is a problem of mine!) Ashar has spent a good deal of time swimming with both her Nana and one of her best friends, Kayla. I've spent much of the week at home – but that's OK, because between the trip to New York coming up and our family vacation to Washington, D.C., that's coming up July 16 to 19, I've needed some time to make sure things are caught up on the home front!
My favorite thing this week was…
Playing Apples to Apples at our Fourth of July party. That game is a ton of fun, and our family and friends make it especially enjoyable 🙂
What's working/not working for us…
Reading aloud is REALLY working for us. Ashar's developed a great interest in books she wouldn't have touched otherwise, and it gives us a lot of time to spend together. We're up to an hour and a half of reading some evenings, which is AWESOME!
I wouldn't say "not working," but we haven't had much of either the time or motivation to dig deep into learning in the past couple weeks. We've touched on a few things, but it's definitely a lull. That's OK, but I know there are things I can do to jazz us all up!
I'm reading…
I'm reading a bunch of stuff – including "The Essential 55" by Ron Clark, a noted middle-school teacher. This book about his 55 "rules" for students is interesting; some of it is incredibly applicable to how I want to help Ashar grow, and some is really based in the classroom setting. Mostly it's just nice to read some educational theory that's based on truly helping students. That's pretty cool.
I had watched "The Ron Clark Story" (a made-for-TV movie about him) at one point; it starred Matthew Perry, who I like a lot. At one point I'll have to pick up the DVD, I guess!
Ashar and I are doing two read-alouds currently; the first is "From the Mixed-Up Files of Mrs. Basil E. Frankweiler" by E.L. Konigsburg, and the other is the fourth book in the Indian in the Cupboard series, "The Mystery of the Cupboard," also by Lynn Reid Banks.
I'm cooking…
Hahahahahahahahahaha. Here in Pennsylvania, where it's 106 degrees today, the answer is simply, "I'm cooking."
I'm grateful for…
The people who sent good thoughts on my mom's behalf this week, and the great people both online and in person who, hung out with us, watched Ashar and generally just were there for us.
A photo, video, link, or quote to share…
This is from "The Mixed-Up Files of Mrs. Basil E. Frankweiler" – and as I read it aloud last night, it was just a quiet "aha" moment for me.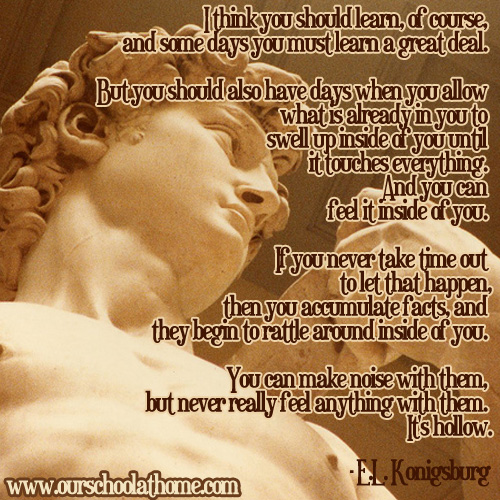 In case you can't see the image – or just want to be able to copy the text – the quote is:
"I think you should learn, of course, and some days you must learn a great deal. But you should also have days when you allow what is already in you to swell up inside of you until it touches everything. And you can feel it inside of you. If you never take time out to let that happen, then you accumulate facts, and they begin to rattle around inside of you. You can make noise with them, but never really feel anything with them. It's hollow."
Very much agreed. I needed that this week!