I used to be an overachiever. No matter what I was doing – and please, I made sure that list was as long as possible – I had to do it all the way.
To quote Ferris Bueller, life moves pretty fast. My overachieving days have been replaced by days in which I'm just happy to have fallen no further behind by the end of them, days in which my to-do list includes items that have been carried over from the previous day so many times that I don't always remember why I was doing them in the first place.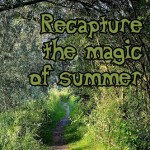 I'm working from home – and homeschooling – and trying to keep a home as well as my sanity and my sense of self.
I wouldn't trade any of these things, but I'm sometimes almost always overwhelmed lately at all the things I want to do and just can't seem to "get to."
Well, despite all that, the universe has converged around a few different things that are inspiring me to slow down, relax, and enjoy the ride.
I'd signed up a couple of weeks ago for my friend Shawn's "31 Days to a Meaningful Summer" e-course through her Awesomely Awake blog. When I got my first email yesterday, there was a challenge included: Write down a handful of realistic, small-ish things you LOVE to do during the summer.
I almost didn't. I almost deleted the email after reading it, thinking, "Well, I sort of made a list in my head."
But I really love summer. I remember my high-school summers, days of walking around outside for hours and hours with friends, going barefoot and splashing in puddles after a storm, sitting outside in the evenings and just talking or reading or listening to music and feeling like the day would go on forever.
I want to recapture that.  Motivated by those memories, I took action and actually wrote out my list.
Joan's summer fun things to do
1. Sit outside in the sun and read a book – bonus points if it's by some water.
2. Drive with the windows down and my favorite music on (loudly).
3. Take an evening walk around my neighborhood.
4. Play tennis.
5. Drink fresh iced tea and lemonade.
My goal is to do as many of those as possible at least once in the next week, no matter how "busy" I convince myself I am.
In related news, I'm in the middle of a couple of massive blog undertakings – and one of them is designed specifically to help working moms who homeschool.
I can't promise that I'm keeping all the plates spinning perfectly, but I have a significant amount of experience with things that make it possible to juggle a full-time job, homeschooling and still Having A Life.
That's why I hope you'll join me and do something you love this week. I'm a better wife, mom and teacher when I Have A Life – I realize that about myself. I bet you are, too. So whatever you love (or loved as a child) about summer, do that!
And if you need me – I'll probably be outside. 🙂
Original photo courtesy of Martin Pettitt on Flickr – it reminded me so much of a path I used to walk in high school with friends that I just knew I needed to use it with today's post.