I always hated history. Pages and pages of textbooks filled with things done by old white guys? Not really my jam.
Point of irony: Ashar LOVES history. Her dad, Chris, and my fiance, Kaitlyn, are pretty nuts about it too (Kaitlyn was a history major in undergrad, even).
It wasn't until we started our homeschooling journey with Ashar that I realized something.
History isn't all about textbooks and old white dudes. History is about people.
So despite my previous "I hate history" mantra, I was actually really excited when we got the chance to review Sunflower Education's Giant American History Timeline, which focuses on – you guessed it – people, and more specifically, people of all cultures.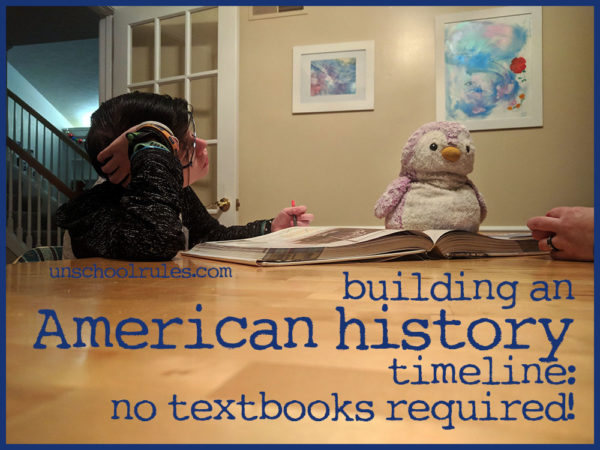 How Sunflower Education's Giant American History Timeline works
The Giant American History Timeline is a two-volume set, with Book 1 spanning the Pre-Colonization period (going all the way back to prehistory!) through the Reconstruction, and Book 2 picking up with the 1870s and continuing through the wars in Iraq and Afghanistan.
In exchange for the honest review of our experience which appears in this post, our family received free print and PDF copies of The Giant American History Timeline. We were compensated for our time completing the review, but the awesome history conversations were all ours!
This post also has some affiliate links to products we legitimately use and recommend.
You can get each volume either in print (Vol. 1 | Vol. 2), or as a PDF download (Vol. 1 | Vol. 2). There's also a two-volume digital bundle as well!
Each book goes through a variety of time periods and provides six kinds of activity sheets that are both research-focused AND a great spark for creativity. The activity sheets are designed to then be laid out in a huge timeline; layout ideas and arrows are even included!
(Don't have The Biggest Wall Ever in your homeschool? Fellow homeschooler Tina shows how her family made a timeline that fits in file folders, and another blogger, Emily, made a poster-sized version for a particular period of interest!)
One of the coolest things about either version, but especially the digital, is that these are actually designed to be able to be used both by homeschoolers or by school classrooms. So if you have multiple kids in your family, not only can you print out as many copies of a particular sheet as you need, but because the activities are creative, each of your learners can put their own spin on that period of history.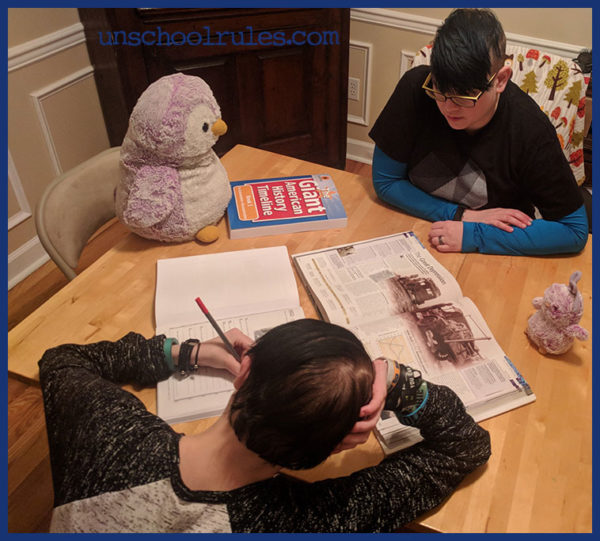 So what do I mean by "creative and research-focused" activities? These activity sheets are amazing. Instead of being like traditional worksheets – you know, "Match the date to the person" – they're full of open-ended questions, opportunities for art projects (with the ability to use pictures printed from the Internet if you're NOT art-minded) and map studies that allow for students to mark what they find interesting.
Oh, and I can't forget my personal favorite, biography activity sheets, which focus on the people key to a time period. (You might remember how much we love learning from biographies.) And not just ANY people. These include women and people who aren't white! Remember how I said I hated old-white-guy history? This was clutch for me. There's even a whole section on social justice issues in Volume 1!
Another thing I loved: These sheets could easily be used by students from elementary through high school. Because the questions and activities are so open-ended, you could do a more simplistic version with a second- or third-grader, and a really in-depth version with a high-schooler.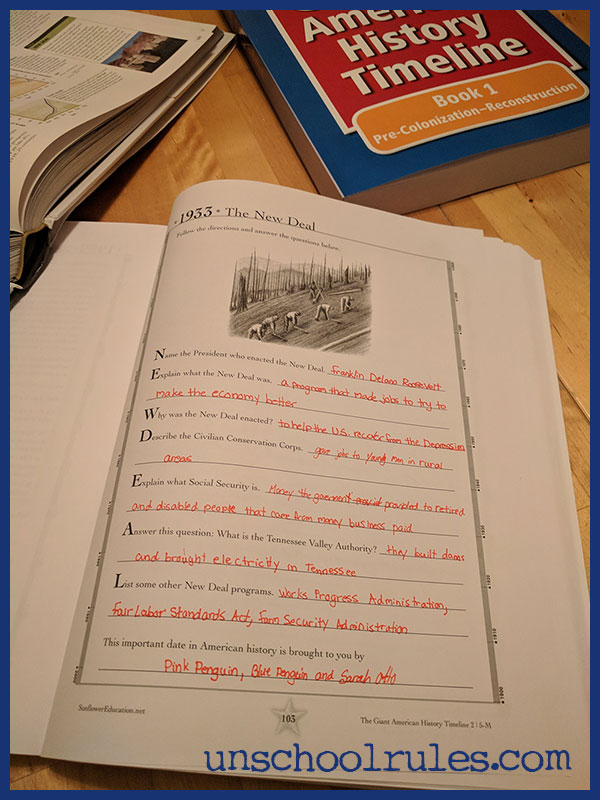 Exploring the New Deal, timeline-style
So… how DID our high-schooler use The Giant American History Timeline? Well, we're into print books around here, so she and I sat down and started flipping through that version of both volumes, and as we came to events or periods or people Ashar didn't know much about, she started asking me questions.
We talked about Federalism, the Oregon Trail, the national railroad system, the Indian Removal Act and even Gettysburg National Military Park, which is only about a half-hour from our house. I thought we'd probably do that until we got to World War II (one of Ashar's big interests), so I was pretty surprised when she stopped on The New Deal and Franklin Delano Roosevelt.
That's where things got really interesting.
Over the next hour and a half, we had a conversation on everything from economic stimulus to the voting rights of people with felony convictions as well as those with various disabilities. We also talked about Herbert Hoover and Franklin Delano Roosevelt, Social Security, good farming practices, the causes of World Wars I and II… and a bunch more.
It got even cooler when my mom was able to join in and tell us some stories about growing up at the end of the Great Depression, and about the New Deal-related work her father had, where he taught chair-caning to people at a local blind center.
It was awesome! And it all came from a simple activity sheet.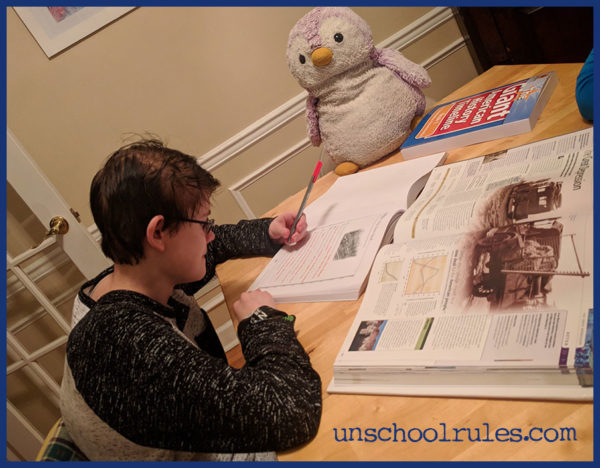 Completing an American history timeline without textbooks
One of the best things about Sunflower Education's Giant American History Timeline is that it can be used with any curriculum. You could use it with a traditional history textbook, or one of the (in)famous history spines loved by homeschoolers around the world.
Or… you could be a super-relaxed homeschooling family like us, not exactly all about the textbooks.
No textbook? No problem. Remember how open-ended I said the questions are? They're things that can be found in a huge number of places – tons of different websites, traditional textbooks, or our personal favorite, history reference books!
A couple of years ago for Christmas, Ashar asked for – and received – DK Smithsonian's History, a guide to, you guessed it… history. ALL of history. This book is a beast.
Like with The Giant American History Timeline, you can use it to focus on a particular period, to jump around to times of interest, or to work your way straight through from prehistory to the present. Oh, and it's heavy enough to use as a weapon in a home invasion – added bonus!
We LOVE books like this, and have a ton of them around our house. Wildlife of the World is our source for all things zoological, this history book meets a ton of our needs for jumping-off information about the past, Lonely Planet's The World tells us all about geography and culture, and Kaitlyn's father is actually featured in a photo in DK Smithsonian's The Vietnam War: The Definitive Illustrated History.
You name the subject, and we probably have what we call a "browsing book" that helps us dig into it.
Because the Smithsonian History guide covers all of world history, it didn't have tons of information on the New Deal – but it had exactly enough about the background of the Depression and the idea behind the New Deal programs to give us some ideas about more things to Google to find out more.
It made a perfect companion to The Great American History Timeline!
Oh, and if you're interested in a more formal application of this idea, you should definitely check out a post on Our Journey Westward – How to Use Informational Books as History Curriculum. Cindy, who runs that site, does a great job explaining how this can work as the basis for a more traditional history curriculum too.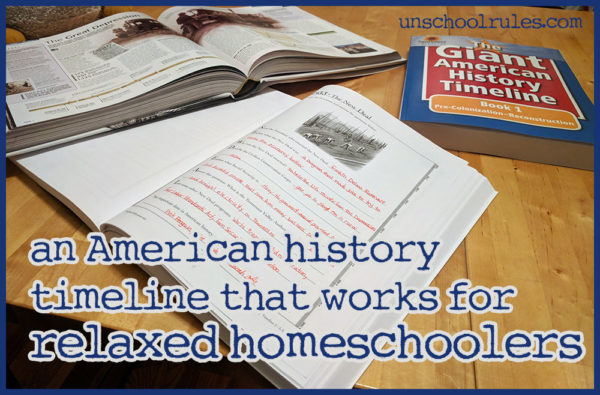 Win your own copy of The Giant American History Timeline
The awesome folks at Sunflower Education are giving away copies of The Giant American History Timeline Book 1. Ten lucky U.S. residents 18 or older will get to dig in to the Pre-Colonization to Reconstruction period – so make sure you enter!
Also, if you use promo code timeline20 at checkout, you can get 20% off The Giant American History Timeline Bundle (digital editions of both volumes)!
You should also follow Sunflower Education on Facebook, Twitter and Pinterest for additional deals and news about other cool products.
I hope that, if you're a relaxed homeschooling family like we are, you'll have as much fun as we have been while researching your way through American history using this timeline!