Our biggest science focus this year has been chemistry – and we've spent a significant amount of time exploring everything from its history – researching the early alchemists – to the periodic table, visiting the Chemical Heritage Foundation's museum, and so on.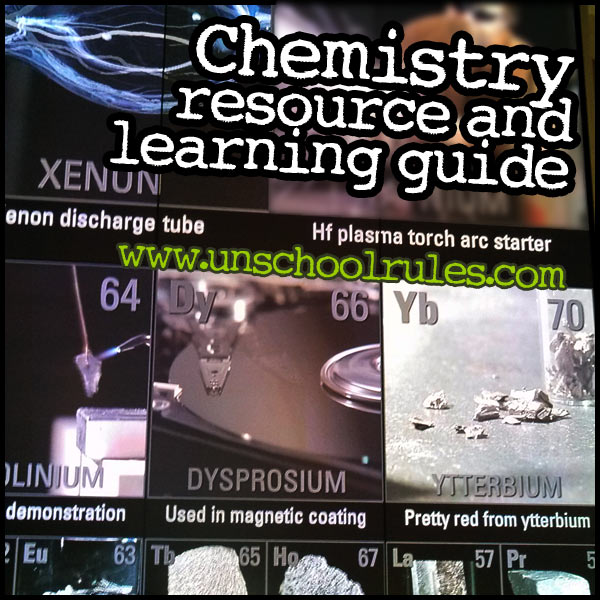 Disclosure: This post has some affiliate links. I only link to things we legitimately use and recommend, so if you see such a link, it's because we really do believe in the book or item!
Lately, Ashar has been on a quest to learn more about atoms and elements and how they really work. He is fascinated by the fact that there are bazillions of molecules in a raindrop and routinely brings that up in dinner conversations.
We read, we play games, and we watch TV with an eye for the chemistry involved.
And today, I want to share some of the many ways we've compiled to explore this subject in our unschooling, not-usually-very-subject-based-at-all home!
While most of the items on our chemistry resource guide are tailored toward an upper-middle-grade or high-school-aged student, there are ways to adapt almost all of them. Some of these are resources we've used for several years and could easily be adapted for younger students; others are even now pretty complex and require me to really play an active role in "translating" them for Ashar.
Even more than many other topics we've learned about, this has been one that we've really tackled together, and it's great!
Free online chemistry courses
I'm mentioning this separately (even though I'll share a ton more online resources below) because of how awesome it is.
Longtime readers know I'm a huge fan of taking free online college courses via Coursera, so when I saw that there are many chemistry courses available, I was thrilled!.
If you're new to Coursera, I'm glad to help you with anything related to getting registered and navigating the course; I'd also just love to compare notes with other unschoolers going through their courses!
Books
Supplies, toys and activity kits
Movies/TV
Music
Places to visit
Apps
We're just starting to dig into some science apps on our new iPad Mini, which is fast becoming one of our best learning tools. Some of our favorites so far:
Online resources
Have you studied chemistry? Any ideas for good resources? Please comment and share; I'd love to add them to the list!
Read more
If you found this resource guide helpful, I hope you'll check out some others we've created for topics and places of interest to our family! We like to focus on things that are free or low-cost, and that focus on hands-on or life learning over textbooks.
Earlier guides include:
I hope you'll check them out and let me know what you're learning about!