Our family has always loved classic horror movies. You know the type – Frankenstein, the Wolf Man, Dracula, and all their incarnations. And when Ashar was 9 years old, she and her dad watched The Last Man on Earth starring legend Vincent Price.
Since then, we've not only seen many Vincent Price films; we've also listened to some of his radio work and explored his other passion of art.
That's why we chose to write about this horror hero for what would have been his 105th birthday in 2016 as part of the iHomeschool Network's celebration of May birthdays.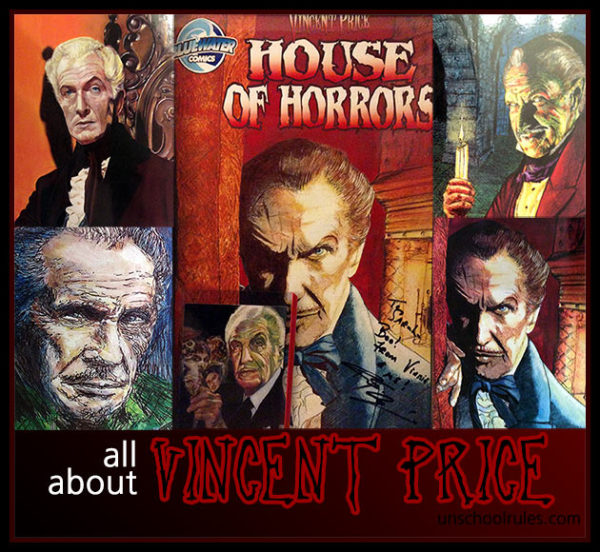 All about Vincent Price
Vincent Price was born May 27, 1911, in St. Louis, Missouri.
After spending his childhood in that state, he went to Yale University, where he graduated with a degree in art history. That love of art followed Price throughout his life; he went on to write books on the subject and to lecture on it, and even founded an art museum in California!
Price was first a stage actor; he discovered acting after going to the University of London, where he had intended to get a master's degree in the fine arts. After doing some theater work, he started acting in movies in the late 1930s and throughout the 1940s as a character actor.
Disclosure: This post has some affiliate links. I only link to things we legitimately use and recommend, so if you see such a link, it's because we really do believe in the book or item!
His first work in a horror film was one called Tower of London in 1939, which was a Boris Karloff movie, and he also worked in radio for some time, most notably in a series show called The Saint, where he portrayed the title character of Simon Templar; that show aired from 1947 to 1951.
It was in the 1950s that Price became most known for his horror work. He starred in House of Wax in 1953 and House on Haunted Hill in 1959, among many others. In the 1960s, he worked with filmmaker Roger Corman to make adaptations of several Edgar Allen Poe works as movies, including The Raven, The Pit and the Pendulum, The Fall of the House of Usher and more.
In 1964, Price starred in the aforementioned Last Man on Earth, and then went on to play the character of Egghead in the original Batman TV series! In the 1970s, he appeared on an episode of The Muppet Show, guest-starred on The Brady Bunch, acted in a one-man stage play and more. And in the 1980s, he served as the narrator in Michael Jackson's "Thriller." (That's probably the first place I heard his now-famous voice!) He'd previously done voice work for an Alice Cooper album as well, and later did voiceover for the band Deep Purple.
His last major film role came in the 1990 movie Edward Scissorhands, where he starred as the inventor.
In addition to his work in film and art, Price was a well-known gourmet cook. He wrote a cookbook with his second wife and hosted a TV show called Cooking Pricewise. He also worked as an art consultant for the Sears department store chain, trying to get art in the hands of the general public.
Unfortunately, Price was a lifelong smoker who suffered from emphysema for many years, eventually dying of lung cancer on October 25, 1993.
Ashar's favorite Vincent Price work
Read more about Vincent Price
Ashar's fourth-grade essay about Vincent Price
Back when Ashar was still in public school, they were assigned to pick a famous person they admired and write a short essay with facts about that person.
Guess who she chose?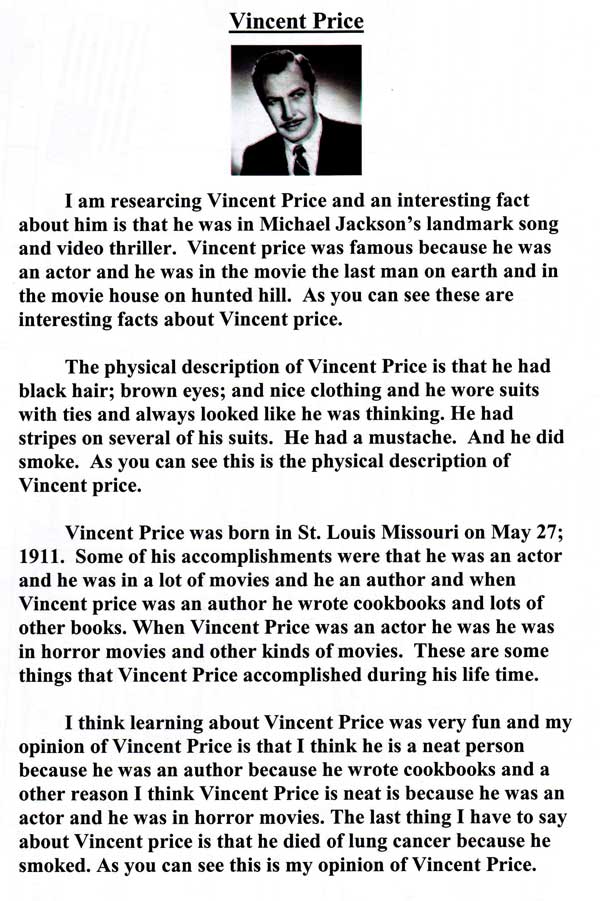 Books by and about Vincent Price
More of Vincent Price's work
Ideas for discussion
The power of voices. This is something we talk about a lot. Who are some of the famous voices of our time? Morgan Freeman is an obvious one. Tom Hanks is another. Vincent Price was certainly one of the best-known voices of his time. I'm always interested in who's next, and I like hearing Ashar's predictions about whose voice she finds distinctive or memorable.
The power of storytelling. We are huge lovers of fantasy, legends, and fairy tales in our family, so some of Vincent Price's work is particularly meaningful to us. His almost-word-for-word dramatizations of Poe's stories, for instance, bring those stories to life. Listen to The Leg of Gold above… what a story! So much is conveyed in so short a time. That's great storytelling. Again, we love talking our family about modern-day storytellers. Ashar really values storytelling in songwriting, so that's an area we discuss often.
The power of scares. Not everyone is into horror movies. In fact, in our family, we're really not at all into modern horror, but the classics are pretty awesome. But as you talk about what really gets a strong reaction, the mental scares in stories like House on Haunted Hill are the kind that make you think. What if I were in that situation? What would I do? The kinds of reactions you get from these spooky tales are well worth talking about.
Join the birthday party
If you're interested, there are many more cool "May birthday" lessons from my fellow iHomeschool Network bloggers. Click the image below to check them out!
And thanks for stopping by to help me wish Vincent Price a happy birthday!
You can check out more posts in our Learning Party series here!