One thing I've read about on a ton of homeschooling/unschooling blogs is the "sensory tub." (And, yes, they're all over my favorite site, Pinterest, too.)
Though I usually see them referenced for younger kids, I really thought Ashar would love one. She is incredibly tactile, and when she has something to fidget or "stim" with, it can be a huge help. When she doesn't… then she's an incredible nail and finger-biter, cuticle-picker, etc. (So, yes, I admit my "mom motives" on this were a little selfish.)
Anyway, I showed Ashar this recipe for rainbow-colored rice and explained that we could make a cool box of stuff that feels good, just to play around with.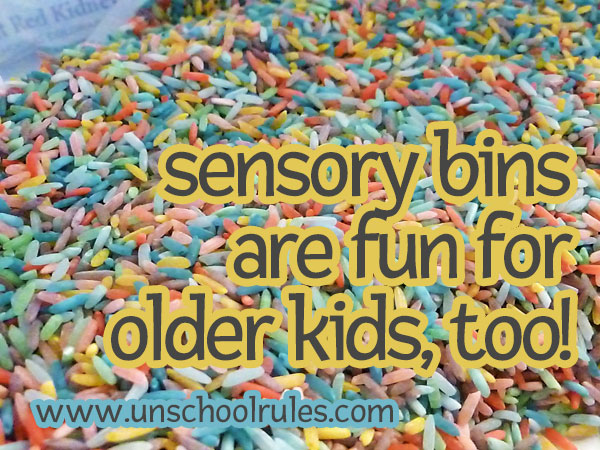 She was THRILLED. So, today, we made rainbow rice, bought a couple of fairly cheap plastic containers with tight latches at Target, and made our first sensory tubs. (Or, as Ashar calls them, "Rice stuff boxes.")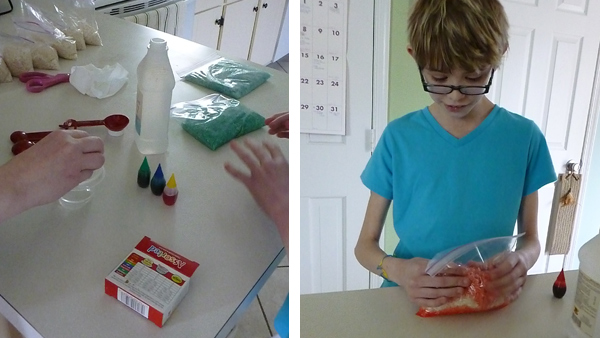 It's pretty simple – separate your white rice into a bunch of zipper bags; in a smaller container, mix 2 tablespoons of rubbing alcohol and a few drops of food coloring, then pour into the bag – and then find a "squisher" to help mix it up!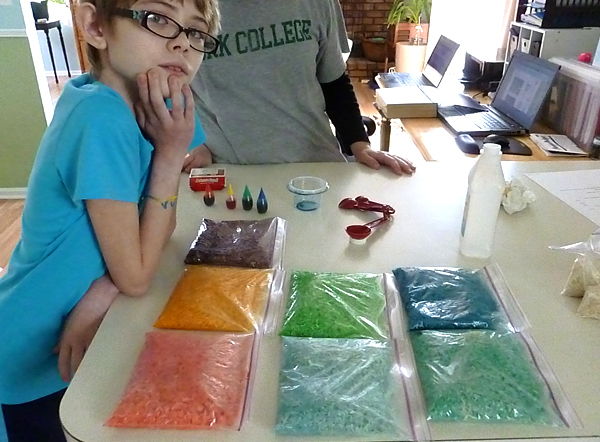 We made nine colors altogether, and then poured them onto wax-paper-lined cookie sheets and sat them on the deck to dry. Luckily, that only took less than a couple of hours, because we brought them in when it started to rain!
Once the rice was dry, Ashar mixed the colors, and then we started assembling our tubs. The one you see below is our "house tub," a large one; we also decided to make a "rice car box" for trips; this is smaller and a little less full.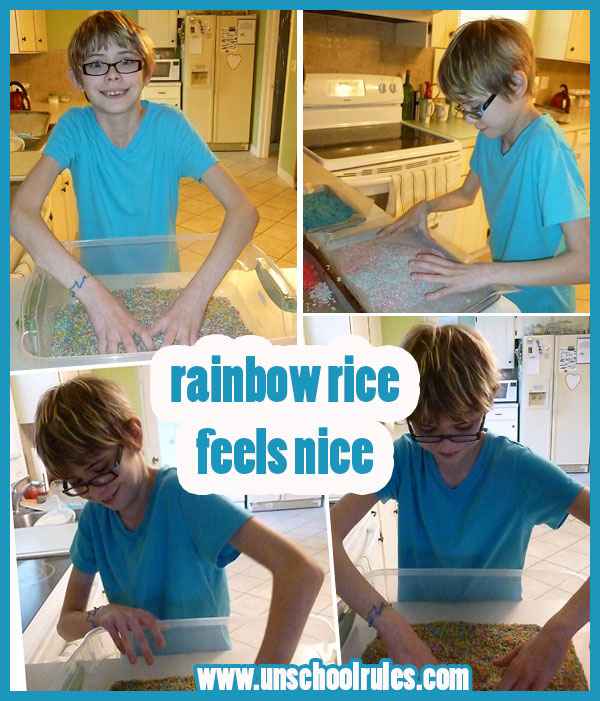 With this rainbow base, we just started adding "stuff that feels good." I was thrilled, because this turned into a whole-family project. Chris was photographing (which I greatly appreciated!) Ashar contributed a bag of kidney beans and a bag of black-eyed peas; she'd asked for those when we all went to the grocery store Sunday – cheap and good-feeling! I found some buttons and some cotton balls.
My mom went upstairs and came back with one of the MANY leftover centerpieces from our wedding; they were simple glass containers with blue and white river stones in them, and she had the awesome idea to use the stones. Ashar got a brainstorm and went downstairs to our game shelf and came back with her container of extra dice. I wandered upstairs to her playroom and found some tiny plastic farm animals. Ashar was willing to use some of her neon pompoms, or "fuzzies," from some recent craft projects. In it all went, and we ended up with a container that is completely full of good feelings.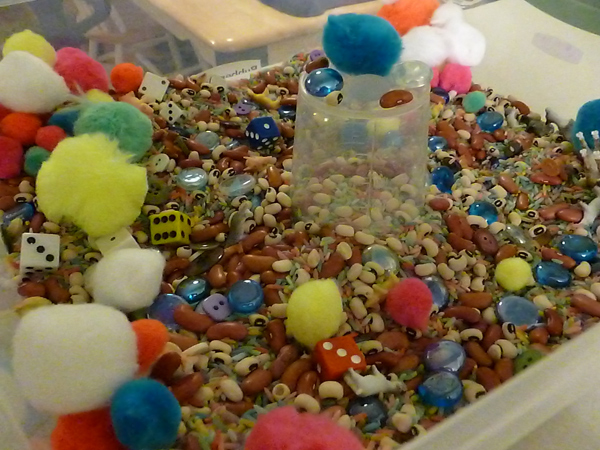 Here's the best part. We ALL stood around, running our hands through it, examining the textures, playing games Ashar made up (like, "Let's find all the dice," or "How many farm animals can we find?"), scooping with a measuring cup, making stacks, making volcanoes… and just enjoying the good feeling of feeling stuff.
Today might have been the best example so far of why unschooling rules. We spent most of our day on this project, it cost us very little, we all thought creatively, we worked as a team, and we had a GOOD TIME. Plus, now we've got something fun that our whole family will enjoy messing with for who knows how long.
Happy Monday. I hope your day was as full of good feelings as ours was!