More than any other question in the dozens of homeschooling Facebook groups and email lists I frequent, the great debates rage over "Should I use this math curriculum or that one?"
Saxon, Math-U-See, Life of Fred, Common Core, not Common Core, lots of drill, not a lot of drill, workbooks, stories, manipulatives… the questions fly, and parents heatedly share their opinions as if discussing their views on peace in the Middle East, not methods of multiplication.
The fact is, the curriculum is not what matters most.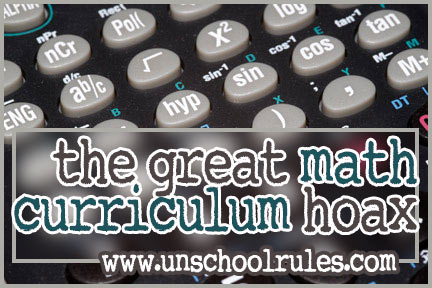 Does it matter? Well, sure. Are there approaches that work better for some students than others? Almost certainly. Is it sometimes hard and confusing to switch methods midstream, even if the current one isn't completely meeting your family's needs? Sure.
But the big hoax is that the math curriculum you choose will make or break your child's chance for success in high school and beyond.
The curriculum is only as valuable as the understanding you bring to it.
If you "get" math and you can explain things to your children if they're struggling, a straightforward method might be fine. If you struggle yourself, a method that's written at the student's level, with little extra explanation required, might be preferable. If your child excels at math, maybe a deeper and more rigorous approach is best, or maybe you want to minimize the "calculation" approach and spend more time on theory.
No matter what math curriculum you choose, your student will succeed if you – and I mean both of you – truly understand the "why" behind the material.
Multiplication is awesome. Hundreds of thousands of children across the country can tell you that 5 times 7 is 35. Unfortunately, thousands of those children don't understand that if they have 6 sets of 7 items and take one set of 7 away, they have the same answer – 35.
You've got to get it. You've got to know why you're doing whatever operation or calculation you're doing. There's not really a program out there that can't teach your son or daughter the formula for the area of a circle. But why does that matter? When might you do it? And WHY is it pi times the square of the radius? There are fascinating stories out there about the discovery of just that, and when it becomes memorable and useful – well, that's when it becomes a real part of your child's life, not something to memorize for a test and promptly forget.
It's hard. If math is difficult for you as a parent, it's even harder. Don't be afraid to ask questions, to work through problems and watch video explanations yourself.
Don't be afraid to ask WHY. That's the curriculum that I most recommend to build lifelong math skills. Whatever else accompanies that? Well, that's up to you.
Just don't let the curriculum get in the way of your learning!
Note: This post originally was written for the no-longer-active blog of online video learning company Uzinggo, a review partner of ours. When I was writing recently about real-world math, I wanted to reference some of these thoughts, realized they were no longer online and decided to revive them! I have one other similar post coming soon.