Last night, our 4-H club met and learned how to make soap from heated glycerin. It's actually a much more simple process – and MUCH more economical – than I realized! You can see Ashar (left) and one of her good friends mixing in some blueberry seeds below.
What you need
Glycerin (a block about two inches square will make a regular-sized bar of bath soap)
Optional: Colors and additives (find at your local craft store, or around the house)
Popsicle sticks for stirring
Vaseline or cooking spray
Glass or metal measuring cup
Glass or metal small mixing dish (we used a metal cup-size measure)
To make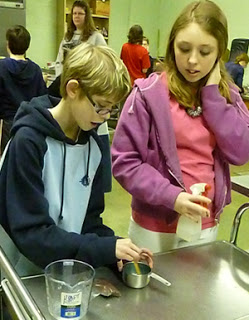 Coat your soap molds with Vaseline or cooking spray. This is what lets you get the soap out after you're done!
Microwave your glycerin in 20-second intervals in a glass or metal measuring cup. (Heat 20 seconds – check – heat 20 more seconds – etc.)
Pour your melted glycerin into your small mixing dish. (If you're adding color or scrub additives, like seeds, put those in now; if you're adding scent, wait a few seconds until your glycerin is not steaming to prevent the scent evaporating.) Use your Popsicle stick to mix. You don't need more than 8 drops of anything. For scent, 1-2 drops an ounce is best. Color won't get any darker after about 8 drops, so no need to waste it!)
Pour your mixed soap into your mold.
Spray the "top" (actually the bottom) lightly with rubbing alcohol to get rid of the bubbles that inevitably form.
Let sit until a skin forms, then refrigerate for 20 to 30 minutes or until softly set.
At this time, you can pop your soaps out of the mold and put them on something like waxed paper. Important: Let your soap set for 2-3 weeks at room temperature, out of the sun, before using.
Possible additives
Baby oil (add with or instead of scent) 
Olive oil (add with or instead of scent)
Cornmeal – mild abrasive (a pinch at a time as needed)
Chamomile flowers/tea (a pinch at a time as needed)
Ground coffee (absorbs odors from the skin, and make a good, brownish-colored kitchen soap)
Turmeric (just a pinch or two – will make a golden-orange-colored soap) 
Paprika (makes a peach-colored soap with red flecks)
Ground cinnamon (brown flecks) 
Ground ginger and nutmeg (makes soap brown and adds scent)
Cocoa powder (adds brown color and scent; to get an even color, add to melted glycerin and reheat)
Cosmetic-grade glitter
Ground apricot seeds or blueberry seeds (available at craft stores)
Many thanks go to our friend Nina Boyd for her help making this with the kids, and for the great directions. Any mistakes are mine, not hers.
We brought home some extra glycerin, and we're looking forward to making more. I couldn't believe how much cheaper it turned out to be to make soap like this than to buy store-bought soaps, and I think they'll make great gifts, too.
Ashar will enter 3 of her soaps in our county 4-H fair in August, but we definitely some to use, too. We're also going to take a trip to Sunrise Soap Company here in York, PA, to see their handmade soaps and compare and contrast them with our process.