When we originally wrote this post in 2016, Ashar had been increasingly interested in the upcoming presidential election, and how the government works in general. But even before this campaign kicked off (what seems like at least a million years ago), he was heavy into a president from more than a hundred years ago… a man who won the Civil War, narrowly avoided an assassination and was considered the greatest American general until Eisenhower. That is, Ulysses S. Grant.
So to celebrate what would have been his birthday on April 27, we decided to look into Grant's life and legacy for the iHomeschool Network celebration of April birthdays.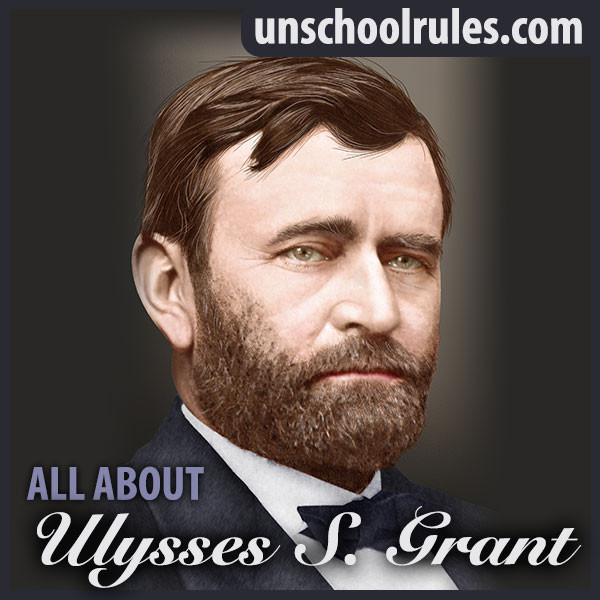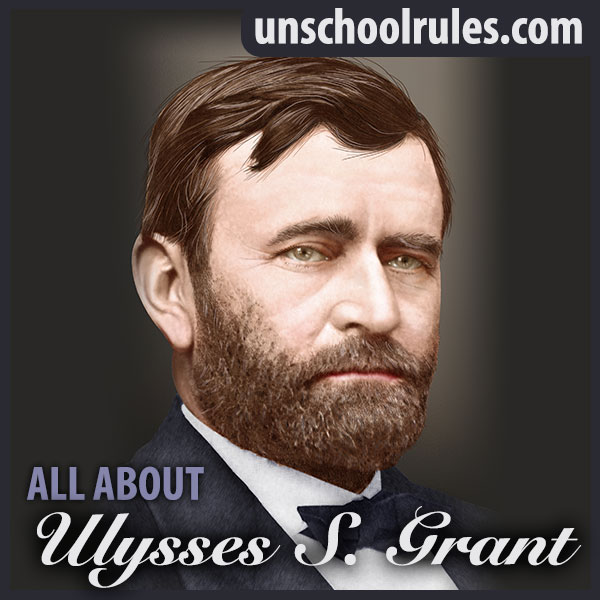 All about Ulysses S. Grant
Ulysses S. Grant was born April 27, 1822, in Point Pleasant, Ohio, with the given name of Hiram Ulysses Grant. When he was 17, Congressman Thomas L. Hamer nominated him to the West Point Military Academy — but he mistakenly wrote down the name of "Ulysses S. Grant of Ohio." Thus, his name was changed.
Despite his West Point education, Grant didn't excel at military life. In 1843, he graduated 21st in a class of 39, planning to resign his commission after his four years were up.
Disclosure: This post has some affiliate links. I only link to things we legitimately use and recommend, so if you see such a link, it's because we really do believe in the book or item!
Originally assigned as a quartermaster (responsible for the army's supplies), Grant found himself on the front lines after the Mexican-American War broke out in 1846. He led cavalry charges and proved his mastery as a horse rider, once even carrying a dispatch through sniper-heavy streets — hanging off the side of his horse the entire ride, keeping the animal between him and the enemy.
Grant rose up the ranks to Captain before retiring from the Army in 1854. Grant found little success in private industry, but felt called to serve after the Civil War broke out. He helped put together and organize the 21st Illinois Volunteer Infantry Regiment, and through his efforts got a promotion to Brigadier General from President Lincoln.
Grant won several important battles, including Fort Donelson, Shiloh and Vicksburg. He was given a promotion to Major General and won the battle of Chattanooga, giving the Union control of Tennessee. He was then promoted to Lieutenant General, with command over the entire Union Army, second only to Lincoln. After another year of fighting, he eventually took General Robert E. Lee's surrender at Appomattox Court House.
Five days after Appomattox, Grant narrowly avoided tragedy: President Lincoln invited Grant and his wife to Ford's Theatre, but Grant had planned to travel to Philadelphia and declined. That night, Lincoln was assassinated in his box at the theater.
Grant remained commander of the army until 1868, when he was elected president. At age 46, he was (at the time) the youngest president ever elected. During his presidency, Grant oversaw the continuation of Reconstruction, pushed for the ratification of the 15th Amendment (declaring that the "right of citizens of the United States to vote shall not be denied or abridged by the United States or by any state on account of race, color, or previous condition of servitude") and directed a more peaceful approach be taken toward Native Americans.
He was re-elected in 1872, saw the country through the financial panic of 1873, and suffered through numerous scandals in his government before his term ended. After his presidency, he went on a wildly popular two-year world tour. He settled into a regular writing business, including memoirs and articles on the Civil War, before his death on July 23, 1885.
Several memorials honor Grant, and he has appeared on the front of the $50 bill since 1913.
Read more about Ulysses S. Grant
Books and movies about Ulysses S. Grant
Ideas for discussion
What makes a good president? Up until Bill Clinton, the vast majority of presidents performed active military duty before ascending to the highest office. Is this an important experience for presidents to have? Why or why not?
Should Grant be considered a success? Grant, though enjoying personal popularity, is widely considered to have failed at responding to the Panic of 1873, and had one of the most scandal-laden administrations in history (until Warren G. Harding). On the whole, did he succeed in his life's ambitions? What makes him (or any political figure) a success?
Join the birthday party
If you're interested, there are many more cool "April birthday" lessons from my fellow iHomeschool Network bloggers. Click the image below to check them out!
And thanks for stopping by to help us wish Ulysses S. Grant a happy birthday!
You can check out more posts in our Learning Party series here!
More great history resources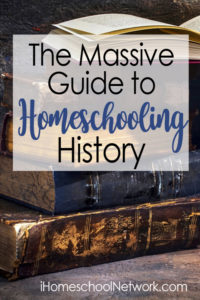 This post is part of the iHomeschool Network Massive Guide to Homeschooling History.
Make sure to check it out for tons of other great history resources, including links to a dozen more Unschool Rules posts!