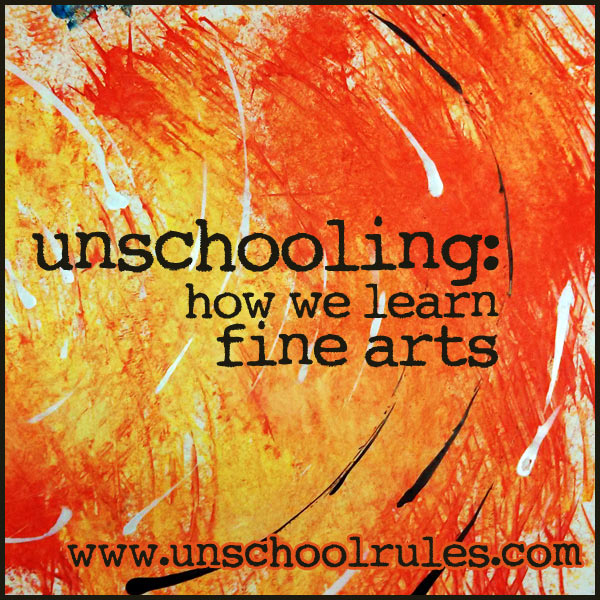 In our family, we don't "do" subject areas. We don't really do tests, quizzes, essays or worksheets.
We're radical unschoolers, and we believe that learning happens all the time, and for us, it rarely happens in tightly defined areas like "social studies" and "grammar."
That said, I get a lot of questions from people who are unfamiliar with unschooling and wonder, "But how do you teach math?" (Or any other subject!)
That's why I agreed to take part in the iHomeschool Network's "5 days of…" Hopscotch series this week, in which I'm joining a bunch of my fellow bloggers to share how we "teach" language arts, math, science, history and fine arts.
It's a little bit of a trick… because I'm not going to talk about teaching at all.
Instead, I'm glad to share how we learn, radical unschooling, eighth-grade-ish daughter style!
If you wonder how our learning happens "beyond the curriculum," read on. Today, we're tackling the ways things like music, art, dance, theater, language and more happen in our lives – unschooling fine arts!
Unschooling and art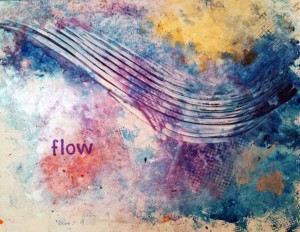 I realized as I was writing this post that I haven't very often blogged about the ways we most often "do art" in our family. That's funny, because it's probably our single biggest family pastime, and one that I certainly owe a full post to soon!
That said, I've shared several examples in the past of ways we've created together, and ways we've enjoyed seeing the art of others.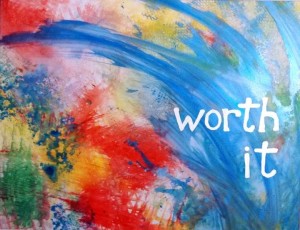 Ashar and I often collage and scrapbook together.
More recently, the two of us, along with my mom, my best friend Nina, and several other friends of ours, have started working with acrylic inks on a synthetic paper known as Yupo. This is a creative process for us, but also a deeply personal one for us, too – we're "embracing the mess" – in so many more ways than just artistically.
This is something I'll share more about soon, but in the meantime, you can see several examples of the type of work we do all over this website. The background, for instance, is a version of a piece of mine titled "Worth It." (And you can see the original above.) The background image to the icons with this weeks' series, the bold orange? That's a work titled "Unlimited." This post's iconic image is backgrounded with part of a work titled "Blessed," and this one is a piece of a work called "Flow," which you can see in full a little higher up in today's post!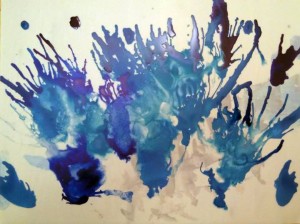 And this one is my favorite: the background for this post image is a smaller piece one of Ashar's works, "Jazz Bluebird," which won first place at the 2013 Yorkfest fine arts competition locally, and which you can see at right!
I hope you've enjoyed seeing the "sneak peeks" at our art, and I hope you'll check back soon for more about it.
We're continuing to explore all sorts of mediums, but this one has actually turned into a full-on "credit" Ashar can use in her high school transcript, because of all the hours she's devoted to it!
Unschooling and music
We love music.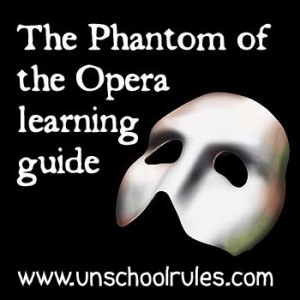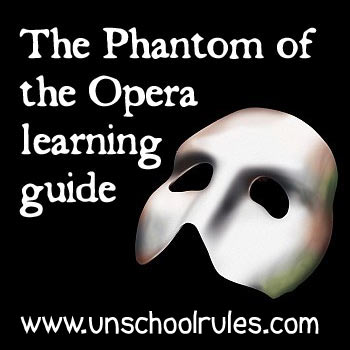 From The Beatles to Duran Duran to Paul Simon to David Byrne to Celtic Thunder to The Phantom of the Opera to dubstep, Ashar has really found her way into an eclectic mix of music that she loves.
The great thing is that we listen to all sorts of music as a family, which helps spark her interests. But even cooler is how interested she has been in digging deeper.
For instance, a TON of our musical talks this year came once we got The Beatles: Rock Band for PS3. Ashar and I play that together a couple nights a week and she's basically memorized the entire Beatles catalog at this point!
We've talked about everything from their rise to fame, their influencers (and the bands they influenced), the drug culture, the history of the world at that time, and more. We're even taking a Coursera course this spring on The Music of the Beatles, which I thought was awesome timing. Ashar's reading a Beatles graphic novel biography right now, and we are trying to find a cheap way to watch Yellow Submarine.
Multiply this across a variety of genres, done multiple times each year, and adding in as many trips to live musical performances of all kinds as we can afford, and you get a pretty amazing "unschooling music" curriculum!
Unschooling and language
Ashar has a ton of fun picking up new languages. While she's not officially pursuing any certain one, she's used apps like DuoLingo to become familiar with at least the basics in a variety of languages. On DuoLingo, she particularly likes to work on Spanish with me as I work to re-familiarize myself with it after getting a Spanish minor in college and using it EXACTLY NEVER since then.
She's also picked up various words of greeting and introduction from our PostCrossing exchanges, which I mentioned in our look at how we study world cultures!
And when she decided she loved the Irish Gaelic of her favorite singers, Celtic Thunder, she downloaded an entire set of free BBC Gaelic lessons onto her iPod!
Language is especially great in an unschooling family because it can be absorbed in so many ways. Watching our favorite anime in Japanese with English subtitles has led to us all picking up more Japanese than we'd ever expected, for instance. And because Ashar is familiar with so many languages, she becomes even more interested when she hears a new one and can identify what it might be based on what it "sounds like," which I think is pretty cool!
The rest of the series
Monday: The power of words: Unschooling and "language arts"
Tuesday: It's not all about numbers: Unschooling and "math"
Wednesday: Exploring the world and how it works: Unschooling and "science"
Thursday: You can't escape the past: Unschooling and "history"
Today: There's beauty in everything: Unschooling and "fine arts"
You can read all the posts here!
More five-day fun
This post is part of the iHomeschool Network's January 2014 "5 days of…" Hopscotch series.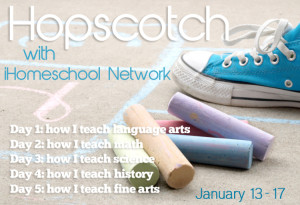 You can see how some of my fellow bloggers are spending their five days here.
Many of us are sharing on how we teach or learn in these subject areas, from a variety of styles and perspectives! We sure are an eclectic group – I hope you'll check out more!
And if you're into the things we do in our radical unschooling family, check out my two previous "5 days of…" series, 5 days of real-world math and 5 days of video-game learning.
Finally, this post is part of the How to Teach Without a Curriculum linkup through the iHomeschool Network. Click the image below to read more posts on teaching without formal curriculum!