In Pennsylvania, we can start counting our "days" of learning toward our 180-day-per-year requirement effective July 1. Doing that, we're usually "done" for the year by early to mid-April, and then nothing we do for the rest of April, May and June has to be documented in any way. Of course, I blog about those months here, because in unschooling, our learning and living doesn't really change just because it's not official, but somehow, things always do seem to kick into high gear around July.
So I have a HUGE list of things to share with you this month, including some fun during a family staycation, lots of books and movies, a surprise baseball game and more. (And as always, if you want a more frequent peek at what we do, you can always find me on Instagram and Facebook. I'm specifically trying to share more on Facebook, both from our lives and from other homeschooling blogs I'm reading, so make sure you're following along there!)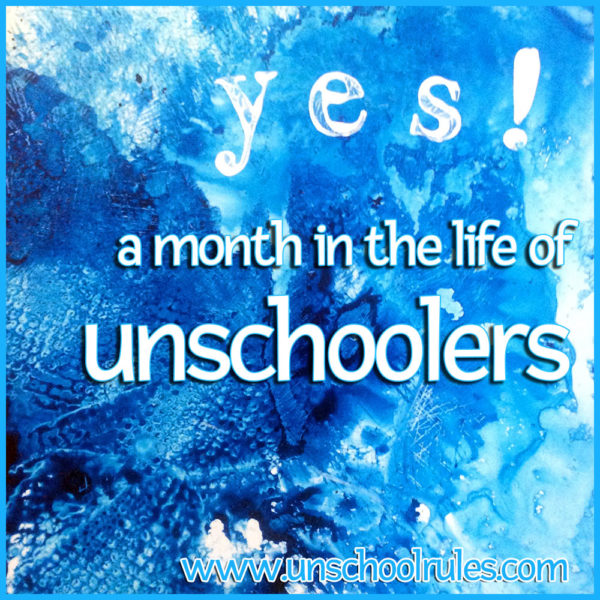 If you're new to seeing our days recapped in this format, check out our archive of previous wrapups here for some more info on why we take this approach and some other highlights of our adventures.
All things theater
Last month, I talked about Ashar performing in a production of The Tempest through our local Shakespeare company, Orangemite Studios and their Dover Youth Shakespeare Academy.
Disclosure: This post has some affiliate links. I only link to things we legitimately use and recommend, so if you see such a link, it's because we really do believe in the book or item!
This month, we kept up the Shakespeare vibe.
One of the coolest things was the afternoon that Ashar and my mom, her Mommom, sat down and watched a DVD of Orangemite's performance of The Merry Wives of Windsor. We also had a nice night out (despite a freak rainstorm) seeing Orangemite's team perform Sophocles' Antigone.
Then, at the end of the month, one of the other theater groups Ashar is involved with, DreamWrights, staged The Taming of the Shrew, featuring several of Ashar's friends, and we got to go see that as well.
Next up, Ashar is preparing to audition with her friend Nash for Orangemite's next production, Antony and Cleopatra. She's also planning to audition, along with Kaitlyn, for Frankenstein at The Belmont, another local theater.
And, as summer winds down (did I really just write that?!) we're planning to have a Shakespeare Film Festival at home, watching some various movies and recorded stage adaptations.
Books and hikes
I mentioned this last month, too. Our library system has this really cool program called Get Outdoors York that is an add-on to the summer reading club. You get a booklet with 30 hikes listed, and at the end of each hike you find a plate with a rubbing on it. (Very similar to letterboxing or geocaching.) We're up to, I think, 15 of the 30, and hope to get at least a couple more before the program ends Aug. 20!
July's hikes were neat, and included one at a former canal lock, which gave us a chance to talk about how canals used to work and how they work now. (Fun note: One of Ashar's grandmas traveled the Panama Canal in a cruise ship!) There's also a cool dam near there with huge scary danger signs, and we got to see what we later realized was a BIG OL' MILLIPEDE.
Kaitlyn, Ashar and I also did a cool hike at one of our biggest county parks during Reptile Week, which included a chance to view a bunch of frogs and turtles in their pond as well as a live reptile show by Forgotten Friend Reptile Sanctuary. And Chris, Ashar and I did a nice sunset hike at my favorite state park, Gifford Pinchot.
In addition, we did get to do some reading. Actually, this month, we did a LOT of reading.
More outdoor sports
Also this month, Kaitlyn and I got bikes (Ashar already had one), and we started going for bike rides together, including a nice longish one on the local Rail Trail.
And, in big news, I also got to try my friend Kara's canoe on July 4th weekend and… then Kaitlyn found me a good canoe cheap and we ordered one!! So now I'm the proud owner of a ridiculously bright boat named Orange Crush, which I took out for the first time at the end of July, again with Kara's help. (As of this exact moment, I don't have a way to TRANSPORT said kayak, which was ordered online, so I call Kara and her dual-kayak-rack-Jeep my kayak-Uber.)
In addition to participating in sports, we also got to watch some. Chris got tickets for him, Ashar, Kaitlyn and me to go see the Lehigh Valley IronPigs (AAA affiliate of the Phillies) and the Scranton/Wilkes-Barre RailRiders (AAA affiliate of the New York Yankees) in Scranton. It was a great game, and the IronPigs won 5-2. (Since Chris is a VERY LARGE PHILLIES PHAN, that was good.)
Then, at the end of the month, a friend from 4-H happened to offer free tickets to our local Atlantic League team, the York Revolution. We arrived in time for the third inning, sat in the front row (which I'd never done before), and went on to watch the Revs beat the Bridgeport Bluefish, 9-1. One of the Revs players gave Ashar a foul ball, and at the end, he and another player signed it!
That game was a great reminder to me not to book our lives too full. It worked because we didn't have many solid plans for the evening and were able to say, "Hey, we can absolutely go do that!" So many times, I'm guilty of having a mile-long to-do list and no margin for fun spur-of-the-moment stuff. I keep working on that, though, because I see what cool things happen when that's not the case.
Movies, TV and videos
We had a bit more movie-watching this month, plus we picked up some fun from YouTube as well.
Stuffed penguin explosion
I've talked before about Pengins for Everyone, our family's mildly crazy project to give away stuffed penguins – or, as we say, pengins – to anyone who requests one.
It was kind of a ridiculous idea when we had about 100 pending requests, but then, in the last week of June, it got shared on a bird-lovers' group on Facebook with 70,000 members, and got picked up by a bunch of freebie sites. By the end of June, we had reached 21,000 requests. We also raised more than $1,900 in donations, which allowed us to order 30 dozen pengins and accompanying shipping boxes.
30. Dozen. Stuffed. Penguins.
They live in my basement now, until we get the money to ship them. Thankfully, we've already sent almost 3 dozen (of, again, 30 dozen total) and are trying to get more out at the rate of a couple dozen a week.
If you think this is a hilarious/worthwhile/mildly insane project, I definitely would love to have you follow the Pengins for Everyone Facebook page. We share ridiculous photos and videos of our crew hard at work managing 30 dozen stuffed penguins.
Did I say 30 dozen stuffed penguins yet?
Games
Ashar had been saving for a long time to buy a PlayStation 4, and this month, she had enough to buy the Uncharted 4 bundle on sale at Kohl's! (Also, Kohl's Cash is ridiculous. We went clothes-shopping for Chris and earned a bunch, used it toward the PS4, earned MORE, used that toward shorts for me…)
Anyway, in July, Ashar set that up and started – and later beat – Uncharted 4. The Uncharted games are cool – they follow an explorer named Nathan Drake and they work in a surprising amount of cool facts.
To wit: I'm watching Ashar play one evening, and a younger Nathan (early teens) and his older brother are exploring the house of an older couple who had explored the world and had a bunch of neat artifacts. Nathan puts on a helmet with horns and ends up telling his brother that it is in fact not a Viking helmet, because "You know Viking helmets don't have horns… it's Persian!" This is why learning from video games is so cool to us – because that led us to looking up Viking helmets, and sure enough… nope, they didn't have horns; that's a legend spread by how they're costumed in Wagner's Ring Cycle. Which then led us to talking about opera. That's unschooling when it's the coolest.
Unschooling places, projects and odds and ends
Dave and Buster's: After our AAA Phillies/Yankees game, we headed to Dave & Buster's in Plymouth Meeting, PA, and had a great time eating and playing. D&B is one of our favorite spots, and we're excited that they're building one only a half-hour away in the next year or so!
Knoebel's: Knoebel's is a big amusement park a couple hours away from home, and amazingly, none of us had ever been there. So, as part of our staycation, we took a day trip and got soaked on the Skloosh and the Giant Flume and rode the haunted house ride and the airplanes ride and the funnel cake ride and the waffles and ice cream ride and the bacon on a stick ride… oh, wait. Those there at the end were MY amusements…
Speaking of food: Also as part of our staycation, we drove about 45 minutes away to hit up a Bonefish Grill, mostly as a treat for my mom, who loves seafood, and Chris, who is a vegetarian. It was great! We also enjoyed not one but two Universal Yums boxes this month, Mexico (which was spicy and not as much to our liking as some) and South Korea (which, surprisingly, was a HUGE win full of stuff we almost all liked! As always, those boxes ended up being a great chance to talk about some fun facts about the snacks' countries of origin. Since Kaitlyn's brother is adopted from South Korea, that made that box especially cool.
4-H: August is 4-H Fair (Roundup), so July is always full of lots of stuff to get ready for that. Ashar's dog project group, the Clover Canines, was meeting just about once a week to practice, and she had a bunch of work to do to finish her alpaca genetics project (which, August spoiler alert, got done MORE THAN A WEEK BEFORE ROUNDUP, which for us is like a Christmas miracle). Our next update will showcase the finished work there.
Art flea market: Ashar and my mom and I all love to paint acrylic ink abstracts. In the past month or so, I've really ramped up my art as a side business, both selling it through my online gallery and starting to attend local events. In July I took part in an art flea market, which did not net me a ton of money but which was a great experience (and at which my sales at least partially offset the money I would have spent anyway as an attendee buying local art!) I did another art market early in August, and after that comes time to enter our art in the county fair.
The new house: As we enter Month 3 at our new house, we did a bunch of landscaping work – clearing out an area behind our shed and fence that had been overrun with weeds, and putting down weed guard and some river rock. I say "some" river rock because our delivery of ALL the river rock did not show up, so we're filling it in a few bags at a time as our Honda Civic can handle it. Thankfully (another August spoiler alert) we just bought an SUV, so we should be able to finish it up more easily! Ashar also got to send a postcard to her Taiwanese pen pal, Christina, giving her our new address so that the two of them can stay in touch.

So what's new with your family this month? Drop me a comment! I love hearing from all my "blog friends!"