I like when things work together.
In four separate conversations, all with people who don't know each other, I've been able to talk a lot about introversion in the past couple of weeks.
We are definitely a family of introverts and I've come to realize that it can be HARD to be friendly with us if you're not a fellow introvert!
This week on the Unschool RULES Facebook page, I shared some links to cool stuff I've read that helps explain why we are how we are; I'm going to round those up here today, but also share a little of our story and why this is such an important topic to us.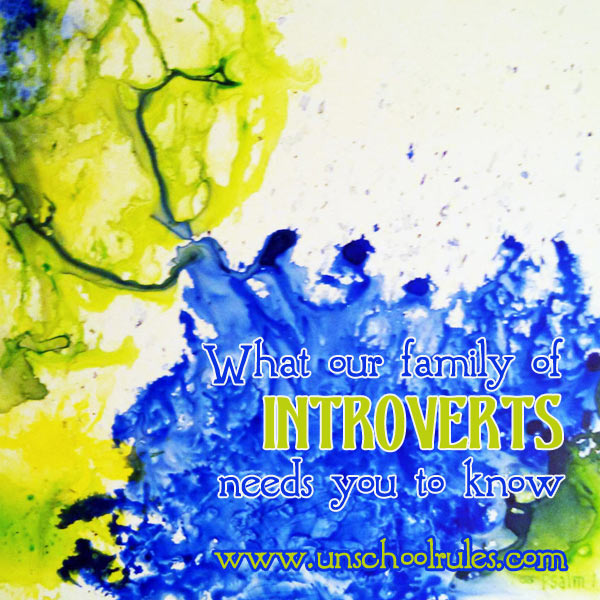 We're just different – and it might be hard to understand that none of us likes to be interrupted, that we don't really like people in our personal space unless WE initiate the contact, that we like quiet, that we don't always want to "hang out," and so on.
What is introversion?
I had to laugh, because after I posted some links and thoughts on Facebook, someone who knows me well said, "Joan, I have to argue with you. You're not an introvert. You can look people in the eye when you talk. You put all your finances on the internet!"
She was actually talking about a broader description – and one that is a common misconception, in which people misunderstand introversion as shyness or privacy.
Certainly there are shy introverts. I'm not one of them. I'm a gregarious introvert. I am outgoing, and comfortable speaking in front of large groups of people, and, well, kind of loud.
But being an introvert, in its simplest form, doesn't mean you hate being in crowds. At the most basic level, being an introvert means you recharge alone.
Here's a good read from Wikipedia on extraversion, ambiversion and introversion.
If you're an extrovert, public speaking or a good party rev you up. You seek out other people, and if you're left alone, you feel restless. It's more draining for you to be alone than in a group.
As in introvert, I'm the opposite. In my case, I can speak in public – and in fact, I even enjoy it – but it's draining. When I'm done, I need to get away from the crowd. It's like my battery has died. When I'm in a crowd for too long, I get physically tired and almost claustrophobic. I need to be alone for a while.

Yet I'm a not a loner. I just prefer being in small groups of people I'm close to, and I prefer to make any interactions ones of my own choosing.
That brings us to a really cool read:
Mindfulness Muse: Myers-Briggs, 8 Introverted Personality Types
In the Myers-Briggs inventory, I am most often an INTJ (introverted – intuitive – thinking – judging) or an INTP (introverted – intuitive – thinking – perceiving). At some times in my life, especially recently, I've veered more toward ISTP (introverted – sensing – thinking – perceiving). There are a total of sixteen personality types: eight introverted, and eight extroverted.
Here's a pretty good test for finding out what your "type" might be. 
… And here's a great site that will tell you more about your strengths and weaknesses based on that type!
When you realize that there are eight distinct types of personalities that have the introversion trait, you start to realize that introverts "in the wild," as it were, can look really different!
How introverts process
Ah, herein the difficulties start. BEING introverted sometimes looks different.
We often don't like interruptions.
We don't like physical contact unless WE initiate it.
We sometimes like to observe what's going on from a safe distance (sometimes for quite a while) before getting involved.
We get attached to things that may seem unusual – games, fictional characters, inanimate objects.
We go to parties, but arrive late and leave early.
When more than one of us is in a room, we can sit quietly and be incredibly happy.
We get pulled in to things we're interested in and have trouble switching gears.
We actually have it easy in our family, in a way: Chris, Ashar and I are all introverts. We're very different, but we go along well together because, without even trying, we're used to giving each other space.
Funny introvert story: One time, the three of us took a two-and-a-half-hour car trip. We probably said about 5 sentences between us the whole time. When we arrived, Ashar got out of the car and said, "That was a really nice ride!" We are just comfortable in our own heads together.
Some time shortly after that, the three of us went somewhere with someone who was clearly not comfortable with the silence. Then, and only then, we became uncomfortable too, because we felt like we had to change; that we were somehow "doing it wrong!"
Regarding introverts and how we behave, here's a fun read that helps explain why Ashar is so attached to her stuffed animals (bursting in to tears recently when one was "hurt" – torn) and why I can get so attached to characters in a book:
Live Science: Brains of Introverts Reveal Why They Prefer Being Alone
As I said, I think we have it easy. I told a friend last night that I think the hardest thing to do would be to meet the needs of a child who was very different from me – to parent an extrovert as an introvert, or, if I WERE an extrovert, to parent an introvert. I can't imagine how hard that must be, and my heart goes out to those of you walking that out!
If you're maybe a bit less of an introvert, and you have introverted kids in your life and you're thinking, "But what do I DO with them?" … then I encourage you to check this out:
Parenting From Scratch: 5 Things to Know About Raising Introverted Children
An update: About a day after I originally posted this, I found an amazing hand-drawn guide called How to Live With Introverts. I can't even say enough good things about it. It's even printable – so you can make copies for all your friends!
Finally, for a neat read about the good parts of introversion, my friend Aadel has a great review of a book on the subject:
These Temporary Tents review: Quiet – The Power of Introverts in a World That Can't Stop Talking
Introversion and unschooling
I've been sharing a lot about what introversion is and looks like, but I haven't talked much yet about how it relates to our unschooling lifestyle.
There's an amazing post on Living Joyfully (Pam Laricchia's amazing unschooling blog) about video games and TV, yet another topic I'm passionate to defend in our family.
Living Joyfully: Unschooling Days – Inside the Nest
Its mention of introversion is brief, but throughout, you'll see why this plays out as such an important way for our family to be – a way that we can be social while being antisocial, as some people might see it, but in which we can all recharge, process and, yes, learn!
Introversion and the autism spectrum
Here's a great read from someone who, like Ashar, is introverted AND on the autism spectrum:
Inner Aspie: How to Help an Introverted Autistic Person
Let me be very clear that these things overlap, but they're not requirements of each other. Lots of introverted people are "neurotypical," and lots of people with autism and Asperger's are NOT introverted. But when they do intersect, things are more pronounced. My introversion, or Chris's, is "socially modulated." We might hate small talk and certain social settings, but we have ways of getting through it that maybe mask our discomfort a bit. Ashar's ways of getting through such events sometimes draw attention to her discomfort, rather than hiding it.
That's NOT a bad thing – but it means that sometimes, I wish I had a better way of explaining to people that they can help, simply by not making assumptions that's she being "difficult" by not participating in the way they think she should, or by watching instead of joining.
From the article:
"I think the main point is, just because I am quiet, and never speak during group activity that does not mean I had a bad time, or am uncomfortable. Sometimes, I feel just fine being a quiet observer of a group/social activity, and enjoy myself just fine doing so. Don't assume to know what makes me happy. I'm not you, and never, ever, ever ask me out loud in front of a group why I am so quiet."
And, I hope you knew this was coming – ALL the tips in this article are great for dealing with introverts NOT on the autism spectrum as well!
A view from the extrovert camp
We have good friends living with us for a little while – a family of three extroverts. One of the conversations that started this series came because, well, surprise: We're a little hard to live with.

Oh, maybe not if you're introverted. (Or, you know, heavily sedated.)
But we have a rather frightening propensity to be quiet. Trust me, the funniest part about this is that when I do talk, I'm really loud. Annoyingly so. But the three of us do our own thing, and we don't talk much. So it's rather like living in a library, I guess, and feeling like you always have to whisper. And that's uncomfortable for extroverts! (It'd be uncomfortable for me, too, honestly – while we tend toward quiet, we also can get awful loud at times.)
The nice thing, I told our friends, is that while we might be quiet ourselves, if we're busy doing something, we're all the type not to NOTICE if they're happily being louder than we are!
Then there's our propensity toward hyperfocus. Ask us a question when we're busy, and it might seem like we're ignoring you. We're not – at least not consciously. I've been known to tell my mom "Yes" to things like "Do you want an egg?" and then be surprised when an egg appears in front of me, all because I was writing when she asked and I had no idea what I was even responding to. Ashar has been known to look around at midnight and say, "Where's Mommom?" when she said goodnight to her at 9 p.m., while she was gaming.
This translates in another way, too. I told my friend Dana, "If I'm writing and you bleed to death on the floor behind me, I may not notice, or I may be a little annoyed if you can't do it quietly." You can imagine I'm a party to live with, can't you?! (And, yes, I WOULD help her if she was bleeding to death on the floor behind me. Honest. I promise, Dana.) It's not that I don't care or am unobservant.
In fact, with some people, I'm hyperobservant – they sigh, and I'm all "Ahh, what's wrong, is it XYZ?" That comes over a LONG time, though, and it's almost like I build up a mental database that helps me tell when someone is feeling a particular way. If I haven't built that up, either I might not notice if something's wrong, or, just as often, I might think something is wrong, but figure, "Well, if they wanted to talk about it, they'd say something," mostly because I would be uncomfortable if someone who didn't know me particularly well asked me, "So what's wrong?"
Oh, and hugging. I don't hate hugs. But I admit, I am a hug control-freak. No surprises, please. I need to know it's coming. Hugs from Ashar and Chris? Yes, because they're almost an ask-permission event, one that we're all comfortable with. Giving hugs? Not a problem – it's on my terms. Surprise hug from behind?
In my head? THIS:
So, yeah… I can imagine we're a real party to share a house with!
The good news is, we're also awfully hard to offend. Come in tired and cranky, and don't say hi to us? If we notice at all, we certainly don't mind! And if we say, "It's no problem," it really isn't. (Why do people do that? I can't grasp why someone would say it's not a problem when it is!)
Some final thoughts on introversion
So we can be kind of strange, if you're not familiar with our species. In good news, though, I happen to think we make GREAT friends. We're no-pressure… you can come over, sit on our couch and play on your phone for two hours, and we'll welcome you (and sit in the same room with you on our laptops, and call it a great evening at the end and mean it.)
If we know you're not of the mind to do that, we'll psych ourselves up for something awesome – bowling, a board-game night, a luau – and have a good time with you on "extrovert terms!" We might not be the first to arrive and the last to leave, we might kind of stand on the sidelines a bit, and we might not introduce ourselves to a ton of people. But just because our fun looks different doesn't mean we're not having fun!
We kind of like it – it's fun to get out of our heads for a little. Just love us enough to let us back in to recharge!
We don't look at extroversion OR introversion as "right" or "wrong." The good part about people is that they're all different… and it's cool to think that we're living proof that even when it's not easy, you can house two VERY different families under one roof and still be friends!
So are you an introvert or an extrovert? What about your family members? Any questions, challenges or tips to share from your perspective?