This man might have more famous lines than anyone in movie history.
"I'm Forrest. Forrest Gump. People call me Forrest Gump."
"Houston, we have a problem."
"YOU are a child's plaything!"
Of course, it's Tom Hanks, who will celebrate his 57th birthday July 9. And as part of an iHomeschool Network celebration of some noted July birthdays, I thought I'd share more about Tom and his work.
Specifically, I'd like to talk about one of the topics he's drawn attention to in several films: the space program.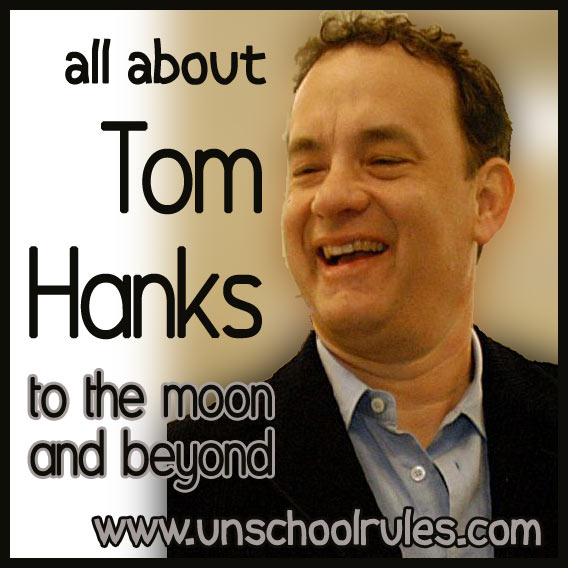 All about Tom Hanks
Disclosure: This post has some affiliate links. I only link to things we legitimately use and recommend, so if you see such a link, it's because we really do believe in the book or item!
Tom Hanks was born in California on July 9, 1956.
He's been acting in TV series and movies basically my entire life – after first hitting it big in "Splash," one of the funniest movies I've ever seen, in 1984.
Since then, he's acted in and produced and written and directed dozens of big-name films, TV shows and miniseries, among them Sleepless in Seattle, Forrest Gump, Toy Story, Apollo 13, Saving Private Ryan, From the Earth to the Moon and Catch Me If You Can. He's ranked as the star with the highest money-making films of all time, grossing more than $3.6 billion at the box office for all his films.
Tom Hanks and space exploration
Certainly there are a ton of famous and heavy-hitting Tom Hanks projects. And he's not afraid to tackle huge issues and varying historical periods. Philadelphia, in which Hanks plays a gay lawyer, won him an Oscar; Forrest Gump tackles everything from the Vietnam War to mental disability to race issues; and Saving Private Ryan looks at the issues surrounding World War II.
In our family's case, though, the big issue and time period that we've explored through Tom Hanks' films is that of the U.S. space exploration program.
I mentioned when I shared our unit study on the solar system that we've enjoyed the miniseries From the Earth to the Moon that Hanks produced. This is a PHENOMENAL series!
Probably more famous in this arena is Tom Hanks' starring role in Apollo 13. It was especially interesting for us to see how Hanks approached the Apollo 13 piece of the From the Earth to the Moon miniseries, which documents the entire U.S. space program, focusing heavily on the lunar missions. He purposely made them very different, and it's neat to see.
Hanks is a longtime supporter of NASA's manned space program. He had said in interviews that he had wanted to be an astronaut, but "didn't have the math." He's also a member of the National Space Society, and co-wrote and co-produced an IMAX film called Magnificent Desolation about walking on the moon. (That, by the way, you might remember is the title of Buzz Aldrin's autobiography, too.)
In fact, there's even an asteroid named after him – 12818 Tomhanks, which was discovered in 1996.
Other Tom Hanks movies in our collection
These are all movies that we've seen, but use your judgment – obviously, some are better for various ages than others.
Ashar has seen and particularly enjoyed Forrest Gump, despite some tough thematic parts, as well as Catch Me If You Can, which she LOVES but which has some pretty serious language issues.
And The Green Mile is still one of Chris' favorites!
Read more about Tom Hanks
Ideas for discussion
We love watching movies and talking about them. Even "silly" movies like Toy Story raise neat questions, and of course some of the biggies like Forrest Gump raise a lot of questions. Some things that Tom Hanks' work makes us think of include:
Causes: Tom Hanks is passionate about space exploration and the environment. If you were famous, what issue or issues would you want to use your celebrity to raise awareness on?
Heavy issues: Would you rather watch a movie that is "just for fun," or one that's about a serious issue? What do you think about movies that try to tackle both sides of that, like Forrest Gump?
Periods of history: If you were making a movie, what time period would you want to showcase? The past or present – or the future?
Dialects and voices: Tom Hanks has an amazing ability to both always sound like "himself" and to adopt a variety of accents or voices – from cowboy Woody in Toy Story to Alabaman Forrest Gump to kind of a harsh northeastern/New Englandy voice as Agent Carl Hanratty in Catch Me If You Can. How does he do that? And isn't that hard?
Join the birthday party
If you're interested, there are many more cool "July birthday" lessons from my fellow iHomeschool Network bloggers. Click the image below to check them out!
And thanks for stopping by to help me wish Tom Hanks a happy birthday!
You can check out more posts in our Learning Party series here!