Well, the funny thing is, when we started writing this month's "birthday celebration" post about Abner Doubleday, Ashar chose him over some other notable people with June birthdays because I told her he'd invented baseball.
Let's get this out of the way right now: Abner Doubleday didn't invent baseball. Oops! See, Moms learn things, too!
So, in honor of the anniversary of Doubleday's birth, as part of the iHomeschool Network's celebration of June birthdays, instead Ashar and I have teamed up to tell you about what this Civil War general DID accomplish in his lifetime!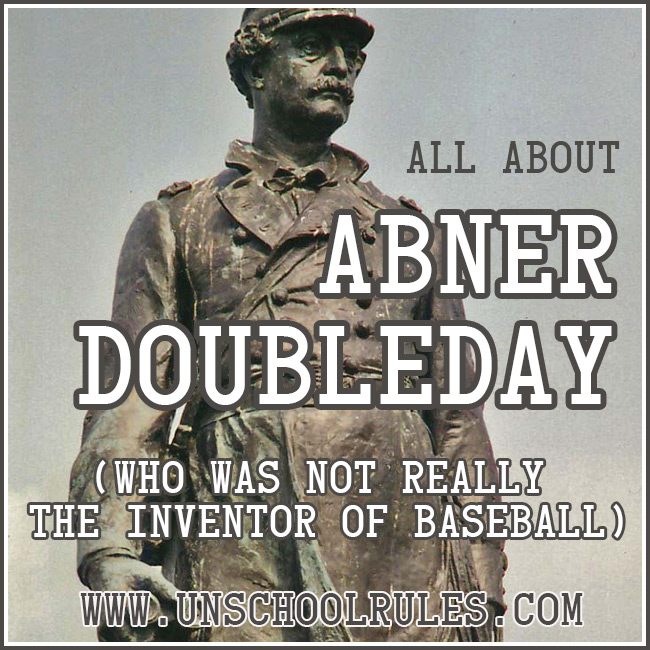 All about Abner Doubleday
Abner Doubleday was born June 26, 1819, in New York. He was the grandson of a Revolutionary War soldier and the son of a War of 1812 veteran, so it's probably no surprise that he entered the U.S. Military Academy at West Point in 1838.
Disclosure: This post has some affiliate links. I only link to things we legitimately use and recommend, so if you see such a link, it's because we really do believe in the book or item!
The legends say that Doubleday invented the game of baseball in 1839. But… he was a West Point student at the time! Doubleday himself never claimed to have invented baseball, and his letters and diaries don't even mention the game, nor does his 1893 obituary in the New York Times.
Anyway, after graduating from the Military Academy, Doubleday began his military career, and by the time the Civil War began in 1861, he was a captain and second in command in the garrison at Fort Sumter in South Carolina.
One thing Ashar and I liked learning about Doubleday was his tie to our area. In 1852, he married a woman named Mary Hewitt of Baltimore, which is just about an hour south of us, and during the Civil War, he was a major part of the Battle of Gettysburg, an 1863 battle that took place less than an hour to the west of our home in York County, Pennsylvania!
Doubleday had a tough task as a leader of a Union Army corps at the Battle of Gettysburg; he and his 9,500 men spent five hours battling 10 Confederate brigades numbering more than 16,000; despite Doubleday's eventual (smart) decision to retreat into Gettysburg after hours of fighting, he and his forces held off and did serious damage to the Confederate troops.
After the Civil War, Doubleday continued his military service until 1873. Before he'd even entered the military, he worked for a couple of years as a surveyor and civil engineer, and after his service, he practiced as a lawyer, definitely an unusual combination of skills!
So what about the baseball thing?
Well, it turns out that history can be manipulated. (I know, you're shocked!)
It started with a disagreement. Was baseball American, or was it a knockoff adaptation of the British game of Rounders? Well, as it turns out, some people really wanted to believe that it was American. So much so that they formed a group called the Mills Commission to ostensibly find out the truth, but mostly to back up what they already wanted to think.
When a mining engineer named Abner Graves claimed that Abner Doubleday had invented baseball and presented his "recollections" to that commission, well, they were pretty fond of it. (And there were other connections – the head of the Mills Commission, Albert Spalding, the president of the Chicago Cubs at that time, financially supported a group called the Theosophical Society, of which Doubleday was an officer.)
There's some talk that there was a relative of THIS Abner Doubleday also named Abner Doubleday who might have gotten confused in Graves' recollections, but since Graves was only 5 years old when baseball was created, it seems unlikely. This is one of those areas where the real history might be forever lost in misinformation, but one thing's for sure – it's almost impossible that it's true that Abner Doubleday founded the game of baseball as we know it today.
But fundamentally, most of what happened was that a less-than-credible report came before a group that wanted to believe it, for its own purposes – come on, a decorated Civil War veteran creating the game? That would solve the "is it American?" argument once and for all, right? You can see how they wouldn't be motivated to dig too deeply, unfortunately.
This YouTube video sums it up pretty well: Military? Check. Baseball? Not so much.
Read more about Abner Doubleday
I have to admit; I'm disappointed that I couldn't find very many books for kids or early teens about Doubleday that didn't perpetuate the baseball myth. It does look like Abner & Me, part of a pretty neat-sounding series called Baseball Card Adventures, might be the exception! I'm actually super-excited to have found this series, which is like an older-kids' version of something like the Magic Treehouse series – time-traveling fiction based on and designed to teach about historical fact. We'll definitely be checking these out!
For adults or older readers, American Legends: The Life of Abner Doubleday is a short Kindle book (less than 100 pages) that covers his life, the baseball myth, his military career and more, and would make a good read for someone looking to get a slightly deeper biographic view.
Ideas for discussion
Myths, legends and urban legends. It strikes me that the most interesting conversations Ashar and I have had about several topics include her saying things like, "But why do so many people believe it if it isn't true?" There's a lot to talk about in that vein with kids of all ages, from basic ideas like "Don't believe everything you read" to more in-depth discussions of fact-checking, good journalism and credible sourcing for older kids.
Military service and family career paths. Doubleday came from a family with a history of military service. That still happens, but is it as common? What about in other careers? I know one woman whose parents are chiropractors, and both of her brothers went into the same field. Talk about that – and about how your own kids might pick the careers that are a good fit for them.
Logical fallacies and cognitive biases. This gets back to the idea of people believing what they want to believe, and "fitting" the evidence to their theories. Older or gifted students might be interested in reading more about all sorts of cognitive biases and trying to identify them in their own lives. They come up way more often than you might expect!
Join the birthday party
If you're interested, there are many more cool "June birthday" lessons from my fellow iHomeschool Network bloggers. Click the image below to check them out!
And thanks for stopping by to help me wish Abner Doubleday a happy birthday!
You can check out more posts in our Learning Party series here!