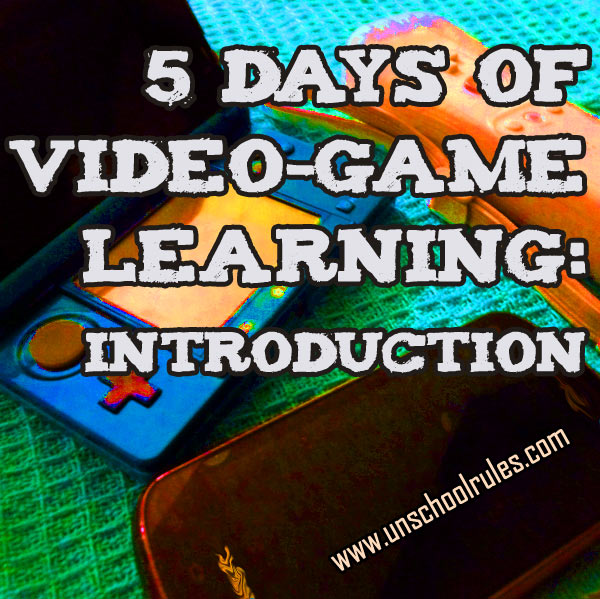 Have you ever heard "All my kids want to do is play video games" phrased as a complaint? Well, the adults in our family do all of our work – and most of our recreation – via laptop and phone.
My 80-something-year-old mom keeps up with friends and reading via her iPad.
While we don't have the latest and greatest video-game systems, technology and especially gaming are a huge part of our lives. Is it any surprise that they're a major part of our teenage daughter's homeschooling experience as well?
We're not just talking the standard "educational games" here. We firmly believe learning happens all the time, and we've had chances to discuss all sorts of concepts in popular games like the Assassin's Creed series, Minecraft, World of Warcraft, and more. We also believe in the value of apps for learning, in a traditional educational sense and beyond.
That's why I took part in the iHomeschool Network's "5 days of…" Hopscotch series with a look at 5 days of video-game learning.
This series is for you if…
You don't limit your kids' screen time. We don't limit Ashar's, other than as part of some general family "things," like not using our phones during dinner, that we all do. This has opened us up to a lot of criticism, and I'm sure if you're a non-limit family, you've gotten that too. I'll share some discussion points that worked to reduce that for us, and hopefully you'll find those helpful as well.
You DO limit your kids' screen time. We don't, but that's OK! I told my friend Judy in a comment the other week that our decision is the right one for our family right now. If I had 5 kids? If Ashar were 7? If I didn't need to be on my computer 10 hours a day to do my various jobs? I don't know. If you do have limits, though, I encourage you to take them out every so often and re-evaluate. Is what you're doing still working for your family? Do age, interest or social needs change them? I hope this series will help you ask – and answer – those questions.
You're trying to decide if you should limit your kids' screen time, but aren't sure what makes the most sense. Please, whatever you do, don't set different limits for "educational" and "non-educational" games. That's about the only thing I have a hard time supporting. But, as I mentioned, we'll walk through the ways video games have helped us on our homeschooling journey, and whatever limits (or not) you end up with, you'll be able to see what good stuff is coming from the screen time you allow!
What we'll talk about
Today: Why "All my kids want to do is play video games!" isn't such a bad thing (introduction)
Monday: Virtual friends, virtual art: Video games for social skills and creativity
Tuesday: Digital currency: Video games for math
Wednesday: Pixels and punctuation: Video games for writing and spelling
Thursday: Bringing the past to life: Video games for history and geography
Friday: Our fitness is pretty funny-looking: Video games for physical education

You can read all the posts here!
How to use this series to level up your homeschool
If you think, "All my kids would do is play video games!" when you hear someone talk about unschooling and child-led learning, you're not alone.
When we talk about our unschooling approach, in which Ashar is not "required" by us to do anything, but rather we help her discover the things she's most interested in, this is the response we most often hear.
It might be true. But from talking with unschoolers (and relaxed homeschoolers) across the country, I find that it's generally not.
If I ignored my daughter for 18 hours straight, she would probably play video games or apps for about 10 of them. In good news, I don't (ignore her, that is), and if you're interested in reading this homeschooling blog, you probably aren't the type to ignore your kids.
When you're engaged as a family, no one routinely plays video games for 10 hours or more straight. Honest.
You want video games to be a tool in your arsenal, not a master. That's my end goal for this series.
Maybe your kids have a half-hour a day of screen time. Maybe there are days where they're in front of a device of some sort for 8 hours. Either way, that time is important.
By Friday, I'm hoping to give you several concrete ways to be intentional and purposeful about video games in your family – and share some of the awesome benefits we've seen in our own family's learning journey.
That's how you'll level up your family's homeschool – through this or any other series. By thinking about what your needs are, by picking the parts that work for you, and by being willing to let go of whatever isn't working.
I can't wait to help you "level up" like that!
More five-day fun
This post is part of the iHomeschool network's January 2013 "5 days of…" Hopscotch series.
You can see how some of my fellow bloggers are spending their five days here.
We're sharing everything from tips and tricks for getting out of debt to using posterboard in your homeschool, from catapults to eating whole foods.
We sure are an eclectic group – I hope you'll check out more!
And if you're into the things we do in our family homeschool, check out my previous "5 days of…" series, 5 days of real-world math.