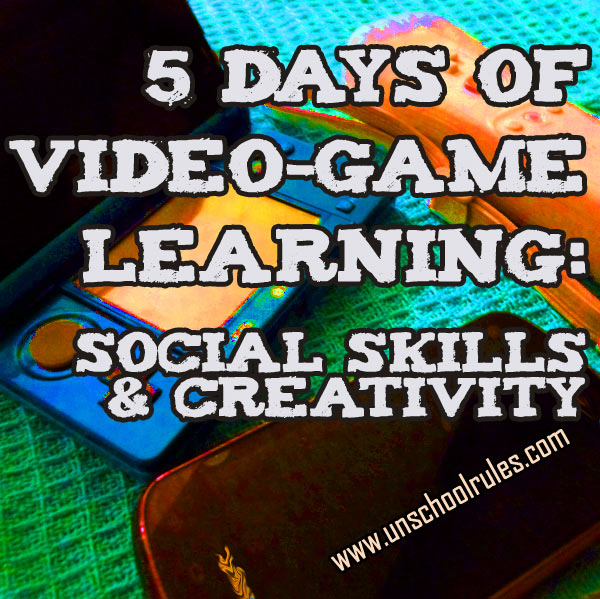 The adults in our family do all of our work – and most of our recreation – via laptop and phone.
My 80-year-old mom keeps up with friends and reading via her iPad.
While we don't have the latest and greatest video-game systems, technology and especially gaming are a huge part of our lives. Is it any surprise that they're a major part of our teenage daughter's homeschooling experience as well?
We're not just talking the standard "educational games" here. We firmly believe learning happens all the time, and we've had chances to discuss all sorts of concepts in popular games like the Assassin's Creed series, Minecraft, World of Warcraft, and more. We also believe in the value of apps for learning, in a traditional educational sense and beyond.
That's why I took part in the iHomeschool Network's "5 days of…" Hopscotch series with a look at 5 days of video-game learning.
Today, we're talking about how some of our favorite video games have helped Ashar develop her social skills – and her creativity.
Video games for social skills and creativity
Maybe these two topics aren't the first two you'd group together. They weren't for me – until I started making two separate lists and realized that they overlapped ENTIRELY.
Disclosure: This post has some affiliate links. I only link to things we legitimately use and recommend, so if you see such a link, it's because we really do believe in the book or item!
The interesting thing is, these are two areas we were told that
many
 kids with Asperger's (like Sarah) struggle with – social skills, and playing creatively. And at times, I see it. But other times, I don't – like when Ashar shows me the way she "saved a tree" in Minecraft by putting walls around it, or writes nice notes for her virtual Moshi Monsters friends. And that, to me, is so much of why we value video games as a tool in our learning arsenal – because they are great ways to show off the best parts of Sarah!
Minecraft – I could write a book on this, Ashar's new favorite game, which basically involves placing various material blocks to "craft" or make things. She has the Pocket edition for her phone, and we're planning to buy the PC edition next week. The two operate similarly, but there's one big difference – you can play the PC one with friends on a server, and the Pocket one is all individual. Ashar's favorite thing to do is build in "creative" mode, where you just get unlimited materials and do virtual construction. In "survivor" mode, there are bad guys to avoid, and you have to work for the materials, so she only does that if she's really feeling up for a challenge! She and her friends frequently share YouTube videos of how to build different things, and it's been great to watch Ashar figuring out how to use various materials to make the things she wants! (And to see her and a friend at 4H this week excitedly saying, "Did you see the alien I made? Did you see the castle?") The alien, by the way, is what's pictured here. He's crafted from a tree!
Moshi Monsters – This was one of the earliest web-based games Ashar started playing, and she still spends a lot of time on it. (It's not just web-based; there are Moshi-themed Nintendo DS games as well, and possibly some for other platforms!) You have a monster. He plays mini-games, you can decorate his house, and you can make friends with other people's monsters. Sounds simple, but amazingly, it's home of a TON of amazing games inside, including one we'll talk about later in this week's series that's – gasp – math-themed. The coolest thing here is how Ashar has friends who she gets together and plays with, while doing things like "creating" or "growing" Mooshlings, which are little pets for the monsters. 
Webkinz – Another web-based game based on actual stuffed animals that come with codes to unlock their virtual counterparts. At last count, Ashar had almost 50 of them, and it's been amazing to see her build the virtual world that they live in! She then gets out old shoeboxes and things and makes them "real-life" rooms to match, which is super-neat! Much like with Moshi Monsters, in addition to the creative play, this game has a lot of actual educational mini-games inside it!
Art Academy 3DS – This is on Ashar's "wish list," and she can't wait to get it. It is a full drawing tutorial inside a 3DS game! We've been playing the demo version in the store and we can't wait until we get the real thing.
Camera and sound recorder on 3DS – Yet another unexpected win for creativity: Ashar, who has a digital camera, loves the camera on her 3DS because she can then edit the pictures right on screen. You can even add sound and make them look 3D! She also likes recording sounds – like our dog barking – and editing them. She's found out that speeding it up makes him sound like a little dog, and slowing it down… well, our dog can't possibly sound any bigger, but she got the idea that if he COULD, he would with the sound slow!
I feel like our story with social and creative gaming is just beginning, despite all these favorites. I think it's something that kids of any age can appreciate, but the older Ashar gets, the more she's really digging into and embracing the idea of virtually hanging out with her friends – creating worlds full of stuff they love and challenging each other to be even more creative!
The rest of the series
Sunday: Why "All my kids want to do is play video games!" isn't such a bad thing (introduction)
Today: Virtual friends, virtual art: Video games for social skills and creativity
Tuesday: Digital currency: Video games for math
Wednesday: Pixels and punctuation: Video games for writing and spelling
Thursday: Bringing the past to life: Video games for history and geography
Friday: Our fitness is pretty funny-looking: Video games for physical education

You can read all the posts here!
More five-day fun
This post is part of the iHomeschool network's January 2013 "5 days of…" Hopscotch series.
You can see how some of my fellow bloggers are spending their five days here.
We're sharing everything from tips and tricks for getting out of debt to using posterboard in your homeschool, from catapults to eating whole foods.
We sure are an eclectic group – I hope you'll check out more!
And if you're into the things we do in our family homeschool, check out my previous "5 days of…" series, 5 days of real-world math.