As we start to settle in just slightly to our new "this is what learning is to us now" rhythm, I've been thinking a LOT lately about my own educational experiences. In some ways, I'm very different than Ashar – and that can be hard – but in a lot of ways, the more I think about it, the more I realize that if our personalities are different, well, our educational experiences have an awful lot in common! This will be a three-part event; today's post, which I warn you is LONG, talks about my educational background; the next part (read it here) talks about the beginning of Ashar's educational journey; and the last part (read it here) shows what led up to our decision to homeschool, specifically in the incredibly relaxed style we've chosen. I've had a lot of new followers and commenters recently, and I hope this will tell you a bit more about who we are and how we got here. Plus, there are some pretty embarrassing pictures of me as a kid, if that's more incentive.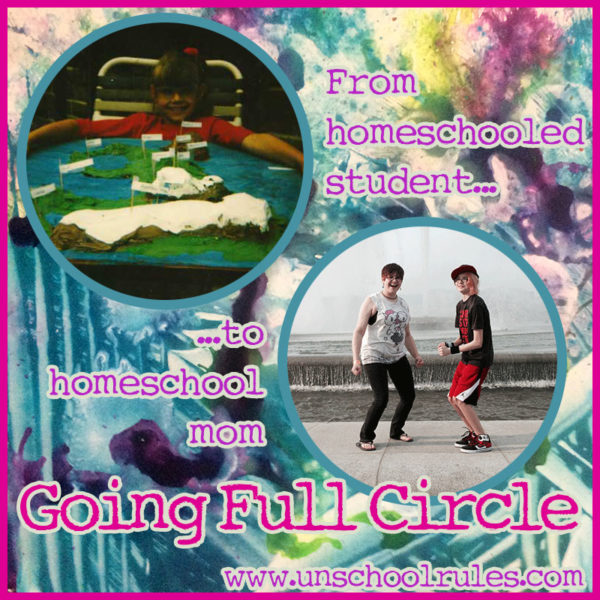 Once upon a time, there was a little girl named Joan who loved to learn.
Her parents helped her learn to read, write and even do simple math while she was still very young. She went to a wonderful private K-12 school for kindergarten, starting a year early, and by the end of kindergarten, she'd already done all of the first-grade math and reading lessons. So the next year, Joan, who was 5 years old, took her seat in the small school with the second-grade class.
Life was great (well, except that the desk was just a little big), and Joan loved the experience of learning and talking with all the older kids. Her babysitters, two sisters in high school, would take her "upstairs" to the upper school and let her recite math facts and spell "big" words to the older students. No one at this school seemed to think she was weird, at least not in a bad way; in fact, everyone knew her and took a little extra care with her, since she weighed approximately 10 pounds less than her full backpack of textbooks.
The school closed at the end of the little girl's second-grade year, though, and her parents took her to the local public elementary school, thinking they might be more equipped with programs for little girls who liked to read and do math problems – a LOT. But there, the officials promptly said, "She can't be in our third grade… she's 6 years old!"
Joan's parents, to use a non-fairy-tale phrase, "pitched a fit." Being good fit-pitchers and wonderful parents, well, into the third grade Joan went. (The desk was now more than LITTLE big.) In life-changingly good news, though, Joan also went into the approval and testing process for the district's gifted program. There, she met THE most influential person on her life, outside her family – Ms. Cindy Snyder, gifted support teacher extraordinaire, who would take Joan and many other "delightful cherubs" from the third grade all the way through high school graduation in the gifted seminar program.
Seminar was great – and Joan still loved to learn. She would get a little bored, though, especially during her third-grade math class, and it seemed like most of the other kids didn't exactly find her "cute" in this school. Honestly, they probably found her a little incredibly annoying, because she just HAD to answer every. Single. Question. She also liked to do worksheets, so if the teacher didn't assign one for homework, sometimes Joan would remind her, just in case she'd forgotten.
Joan had officially entered the territory of "weird."
By the middle of fourth grade, the math teacher decided to talk to Joan's parents. It turned out Joan was a bit of a problem in class. Oh, she got the right answers… but she wasn't really paying attention; she'd sit in class but work on something four chapters ahead. And if that didn't interest her… she'd grab a book from her bookbag and read it. The math teacher (who really did like Joan) suggested that maybe homeschooling would be a good option, so that Joan could (a) work at her own pace and (b) not be a totally horrible example for the rest of the class.
When Joan started fifth grade, it was at her kitchen table. She worked at the family candy business with her mom, did the math problems her dad left on the chalkboard before he went to work each morning, begged for – and received – enough workbooks for approximately the entire student population of Pennsylvania; and read just about every book her local library had to offer. Her family became friends with a fellow homeschooling family, and Joan spent a couple days each week at their home, learning with her new friend Laura, while Laura came to Joan's house on a couple other days.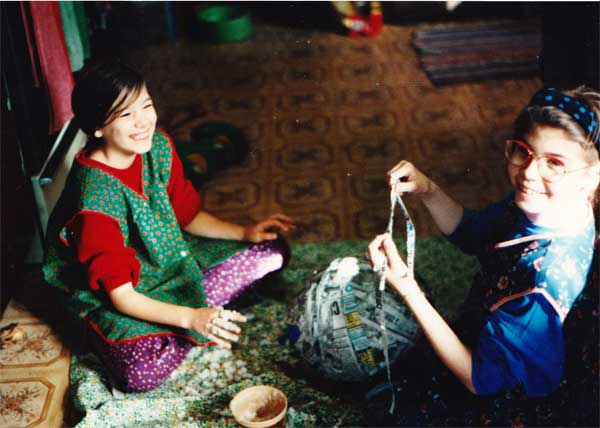 It was great. They went on field trips and even learned about veterinary medicine from Laura's dad, who operated a veterinary clinic on their property. They spent a crazy amount of time outside and made huge papier-mache models of landforms.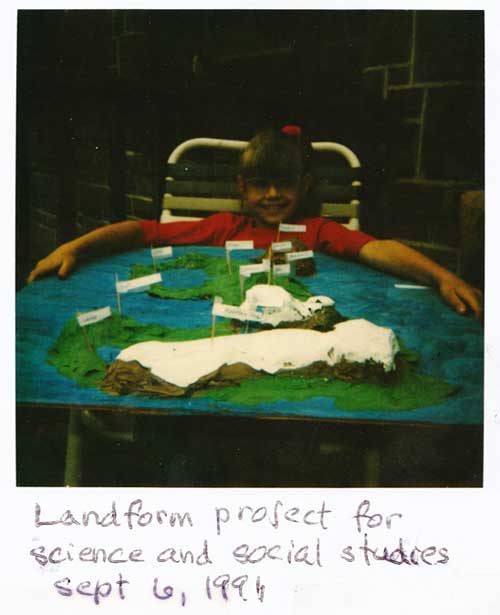 Sixth grade passed in much the same way – no middle-school drama, just fun, friendship (although at this point Joan and Laura DID start to fight like sisters!) and even a joint "education vacation" to North Carolina. And because of Pennsylvania's homeschooling laws, the school district had to allow Joan to come to the school building for gifted seminar twice a week. That was awesome!!
Joan's mom and dad were pretty "traditional" homeschoolers; she had assignments to do in each subject, tests and quizzes, the whole works. The thing was, Joan liked it. She liked quizzes and tests and assignments and projects (in theory if not always in practice.) She liked that she could play computer games for "school" and walk in the woods for "gym" and visit a pond for "science." (She didn't like, always, that EVERYTHING counted for school. "Hang out with a new friend? That's called social skills!" Even then, Joan didn't like the documentation game!)
In seventh grade, to try a new challenge, the family picked up the Calvert School curriculum to use with Joan. This was great – all the material came in a huge box, with books and teacher's manuals and tests and quizzes and … workbooks!! As Joan prepared to go into tougher subjects like architecture and biology, it was nice for her parents to know that the answers and her lessons were already provided, yet they could continue to "do their own thing," too.
Joan loved this setup – except for art history and architecture, which she actually had to study and which she consequently didn't get straight A's in. I know, dear reader. The agony. The horror.
Things changed suddenly, though, on Oct. 31, 1993, two months into Joan's seventh-grade year. Her father, who'd had open-heart surgery two years before Joan was born, suffered another heart attack, this one claiming his life right before his daughter's 11th birthday.
Suddenly, high school math and science looked awfully daunting to Joan's mom. She was – and is to this day – an incredibly smart lady, but she took business math in school, because "that's what girls did." Not algebra, not trigonometry, not calculus. Those had been Dad's territory. Now, after a lot of thought, the plan became for Joan to finish out seventh grade at home and then return to public school for eighth grade and beyond.
It wasn't perfect. (In fact, eighth grade was like something you'd write a book about. A miserable book.) Joan was "weird" again – AND new – AND 12 years old when her classmates were 14, sometimes 15. Talk about an awkward stage.
Thankfully, Joan kept going to gifted seminar, and she made some pretty good friends. In fact, it was this year that she met her adulthood best friend, Nina, as well as a fun group of guys – Phil, Chris, Justin, Mike and Brett – who adopted her as their token girl. All of these people remain her friends to this day, which is amazing when you consider that Joan was still a little incredibly annoying to be around at this point. (And still liked to answer every. Single. Question.)
To be honest, school was still kind of boring for Joan, even into high school, but she found some things that kept her going. She joined the band(s), sang in the musical, and took advanced math classes. She kept going to gifted seminar, where Ms. Snyder became much more of a counselor and confidant than a "teacher" in the old sense of the word. Joan skipped homeroom most days to hang out in the computer lab and write really excruciatingly bad poetry.
She also skipped school more than a few days to … well, to do anything else. She got a job, a car, and, in June of 1999, a diploma – salutatorian, with her best friend Phil taking the valedictorian spot. It wasn't homeschooling, but it worked out pretty OK, and while Joan was still "weird," she'd found some people who didn't mind; who were weird themselves; and who all kind of worked together to smooth out each other's rough edges. Her mom and her favorite teachers were INCREDIBLY supportive, too.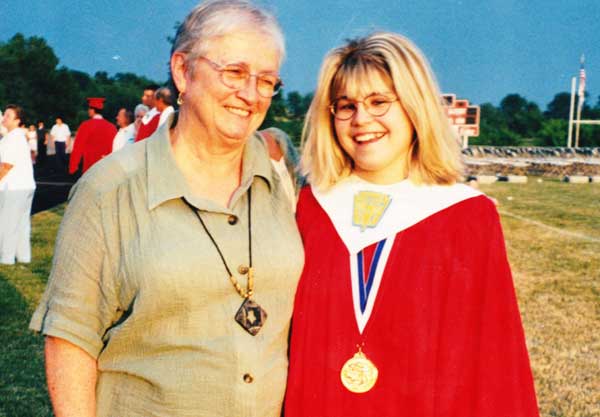 When it came time for college, Joan applied for, oh, about everywhere. She was accepted at several schools – including one that was a little out of her price range – but ended up staying at home and commuting to York College, a school about 15 minutes from her home, because of a combination of good scholarships, great math program and cheap cost of living.
College was sort of what Joan had been waiting for her whole life – a chance to study what she really wanted, to dig as deep as possible into math, which she hoped to make a career out of, and to meet other people who liked what she liked. Joan worked incredibly hard to finish college – especially because she worked a full-time job the whole time, and, in even bigger news, because she gave birth to her son, Ashar, in March of her freshman year.
But in May of 2002, Joan proudly walked across the stage as an honors graduate in mathematics, even receiving the department's highest honor. Joan applied to work in some pretty crazy places (think guys in black suits and codes that need to be broken), but in a case of the universe showing its sense of humor, it turned out that the best fit was for Joan to keep working at her college job at the local newspaper, where she had been promoted to the night editing desk, revising stories and laying out the pages for each day's edition. In fact, Joan stayed at the same company, working full-time in a variety of editing positions, until December of 2011. It's there that the rest of our story … Ashar's story… really takes off…
To be continued…