You might know him as Wolverine, and we like him that way, claws and all.
But in honor of his 46th birthday on Oct. 12, we're taking a look at some awesome facts about Hugh Jackman, specifically as he relates to one of our new favorite musicals, Les Misérables, as part of the iHomeschool Network's celebration of October birthdays.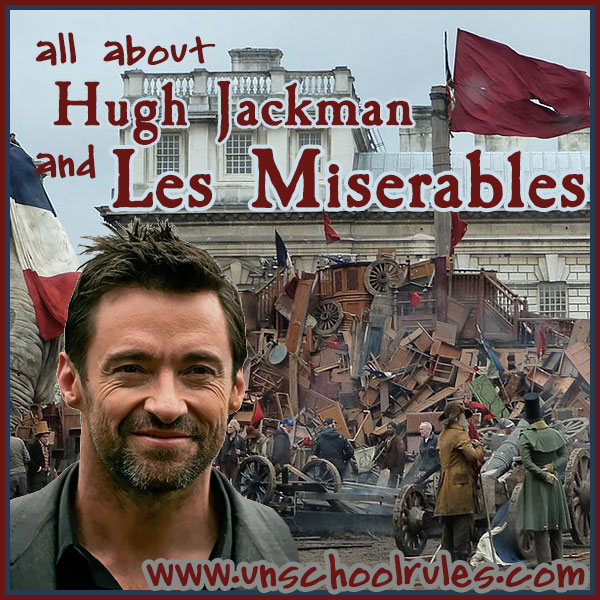 All about Hugh Jackman
Hugh Michael Jackman was born Oct. 12, 1968, in Australia. He had a fairly average childhood, enjoying the outdoors and dreaming of travel, and went to college and earned a degree in communications. He took an acting class during his senior year of college and, after graduating, studied acting full-time for a year at a school in Sydney.
Disclosure: This post has some affiliate links. I only link to things we legitimately use and recommend, so if you see such a link, it's because we really do believe in the book or item!
It wasn't until he was about 22 that he truly thought that his hobby of acting could become a career, and he then went to acting school for four years, graduating in 1994. After graduating, he earned a role in an ABC series; performed in some theater shows, including a starring role in a London stage presentation of Oklahoma!; and then got his big break when he was cast as Wolverine in the X-Men series, playing that role in seven movies in the series.
He had several other key roles, but the one that interested us most (outside of the X-Men series, which we do like) was Les Misérables, in which he starred as Jean Valjean, and which opened on Christmas Day 2012 and which we'll talk more about in a minute.
You can read more about Jackman on Wikipedia and on IMDb.
And he has a large social media presence, too – find him on Facebook, Twitter and Instagram.
All about Les Misérables
Les Misérables is an 1862 novel by Victor Hugo (and later a Broadway musical, and later a movie based on that musical) that tells the story of a French man named Jean Valjean, who, after spending 20 years in prison for stealing a loaf of bread and running, starts a new life in Paris in 1815, plagued by the shadow of Inspector Javert, the policeman who vows Valjean will never stop paying for his crime.
Amid this, Valjean gets embroiled in the lives of a single mother named Fantine and her daughter Cosette, who Valjean later takes and raises as his daughter after Fantine's death. They continue to try to avoid Javert and make a good life for themselves, but both become key parts in an uprising led by university students, one of whom is in love with Cosette.
This is not "the French Revolution," as many who know only the basics of the story of Les Mis believe, but rather another event that takes place many years after the Revolution called the June Rebellion, or the Paris Uprising of 1832. This is a real event that frames the centerpiece of much of Les Misérables, which is actually one of very few works of literature that describe the event.
The plot of Les Mis is many things – a story about personal redemption, a story about secrets, a love story between parent and child, a love story between a young couple, a tragedy, a drama, a portrayal of battle – the list goes on. I think the reason we love the story so much is how real all of the characters seem, especially when brought to life in musical form.
I will mention that in the theater and stage versions, there are some fairly graphic things depicted – one character forced into prostitution and essentially raped; another's suicide; and some other things. If you're watching with your family, just be aware of that up front!
Les Misérables resources
Other movies starring Hugh Jackman
Van Helsing (Something we plan to watch as part of our "see as many iterations of the Dracula story as possible" goal this year!)
Oklahoma! There's a Hugh Jackman-starring version of this musical from a London stage show at the Royal National Theatre that we've been watching YouTube clips of; I hope to find the whole thing in an affordable form soon!
Join the birthday party
If you're interested, there are many more cool October birthday lessons from my fellow iHomeschool Network bloggers. Click the image below to check them out!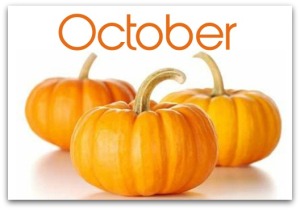 And thanks for stopping by to help me wish Hugh Jackman a happy birthday!
You can check out more posts in our Learning Party series here!