I've shared several stories about our family's journey to radical unschooling, and in all of them, there's a theme: Public school didn't work for Sarah, who we began homeschooling midway through her sixth-grade year in 2012.
What did work?
Ashar loves video games. I do too. And so at first, they just seemed like "a good place to start" in pursuing passions and life learning.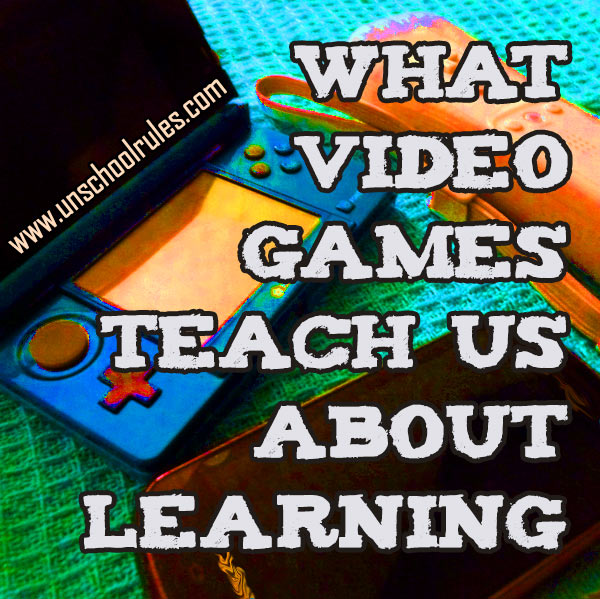 But I quickly found out that there's WAY more value than "a place to start" when it comes to video games in learning. In fact, I discovered that there's a lot to learn about how we learn in video game design, and I've become kind of a student of video game methodology and educational philosophy myself.
Disclosure: This post has some affiliate links. I only link to things we legitimately use and recommend, so if you see such a link, it's because we really do believe in the book or item!
And that's why I contributed a chapter on "Learning from video games" to
The Big Book of Homeschool Ideas
.
I talked about the ways we learn from specific video games in detail – pieces of which you can find in my series on video-game learning from January 2013.
But today, I'd like to tell you a little more about why I think this is so important.
How we can learn about learning from video games
Earlier this year, I took a course on video games and learning from Coursera. Previously, I'd taken one on gamification, or the application of game principles to non-game situations, usually business but education as well.
It was an amazing chance to think more critically about games in general – not just "educational" ones.
I was already seeing Ashar's interest in what some might consider educational topics that sprang directly from the games she played, from an interest in the Revolutionary War from Assassins Creed III to her problem-solving and math skills from Minecraft.
But among the things I discovered, starting with those Coursera courses, was how much video games of any sort teach players how to learn.
Onboarding is one of the biggest pieces of video-game design. Think of any computer game, console game or game app you use. The levels get harder as you go, right? There are tutorials or tips or early missions or challenges that show you how the game is played. World of Warcraft, one of Ashar's favorite games, is GREAT for this – the early missions teach you how to use weapons, how to interact with other players and non-player characters and more.
These experiences build on each other, and the game offers less and less direct advice as you go, instead leaving decisions more and more in your hands.
Does that sound like educational mastery? Onboarding in games has taught Ashar, who sometimes struggles with "putting things together," how to take her skills in one area and transfer them to new problems and questions.
Talk about learning how to learn! That's a skill that, even more so than math or history, will take her far in life.
Then there are the real-life discussions we have because we game together. What about violence? What about gender roles and gender depictions? What about the treatment of Native Americans? These are ALL conversations – deep ones – we've had as a result of our family gaming.
While our family doesn't enforce any video game "limits," I say often – and will say again – that it doesn't mean I think you should give your 10-year-old a copy of Grand Theft Auto: San Andreas and set 'em loose on their own. But Ashar is 14 (well on the way to 15, sadly!) and able to handle some pretty mature themes, which I'm glad to talk about openly with her.
And then there are the actual topic lessons, which are not insignificant. At an "unconference" earlier this year in nearby Harrisburg, PA, I was privileged to meet the founder of Submrge, a site dedicated to the classroom use of commercial games, which was amazing. Hearing from classroom educators who see the value in this really reinforced my thoughts and made me want to learn even more about learning through games of all types, and I highly encourage you to Google "learning with" your family's favorite games to see more of this type of material.
In fact, if my work schedule hadn't gotten in the way, I'd be spending next weekend at THATCamp Games, an unconference in Baltimore, Maryland, about humanities and technology, which I highly recommend if you're in the area!
Updated to add: I found a link the day after I published this post that I'd forgotten about – a short but good read on Lessons from Assassin's Creed for Constructing Educational Games on a site I like, Play The Past (about history and gaming).
Read more in The Big Book of Homeschool Ideas
You can find out more about all of the ways we learn from video games – and about a billion other topics – in The Big Book of Homeschool Ideas. Get your copy of The Big Book of Homeschool Ideas for just 99 cents!
The Big Book of Homeschool Ideas contains 103 chapters, more than 560 pages, from 55 authors. The digital e-book comes in three formats for Kindle and other mobile devices.
Get it for just 99 cents now!