Here are 10 of the many random bits of learning and life going on in our world recently. What's new in YOUR life?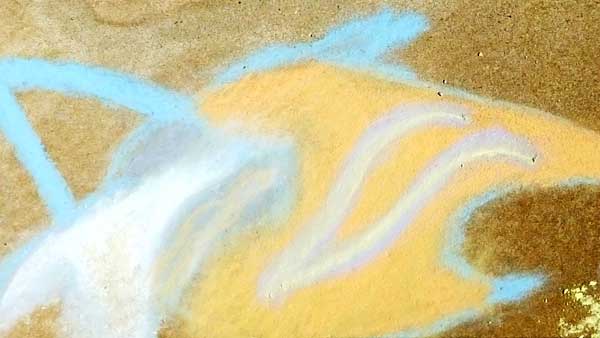 1. Inspired by a "design" I made by not power-washing my back step too well, Ashar decided to create some chalk art on the stoop. She traced my power-washing line and expanded on it to get the dragon you see above. His friend, another dragon, lives on our front walk, complete with mouth full of fire.
2. Ashar wrote to the City of York via their online form today, telling them her suggestion from last month for what she'd like to see at Kiwanis Lake.
Here's what she told them: "I am 12 years old and my family and I go to the Kiwanis Lake. I really like seeing all the birds. I came up with an idea for you to put animal feed dispensers for people to feed the birds down at Kiwanis Lake because the sign say no waterfowl feeding and some people ignore the sign. So if you provide food for the people to feed the birds what's right for them to eat, then it will be better for the birds. You could make money that way and get a lot more people at Kiwanis Lake. It will let younger kids be able to feed the birds what's right for them to eat."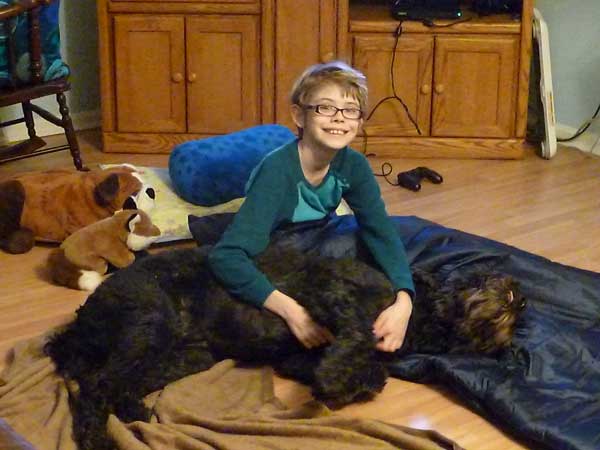 3. Ashar still absolutely loves the Phantom of the Opera, and we found our CDs of the Broadway cast recording. Here, she decided to camp out on the living room floor and listen to the full album – complete with sleeping bag – after 4-H last week. She pulled the dog's blanket over next to her, but he decided he'd rather lay on her lap.
4. We heard from Makedo, the company that provided the connectors that went into our recycled stegosaurus and the idea behind it. They asked for more photos and are considering featuring our story on their blog in the next few weeks!
5. Chris and Ashar took a day recently to get out and explore some new places in York County. They headed up along the Susquehanna River, near Brunner Island, and although it was a little cold, they enjoyed the scenery. Here's Ashar at the river (funny face because she's chilly).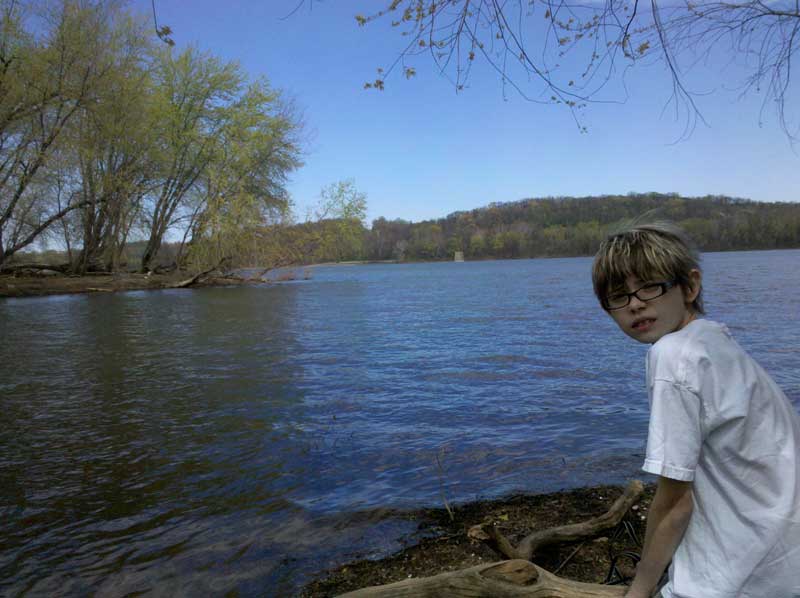 They also found an old tree stump, and Chris taught Ashar how to count the rings. This tree was around when the Declaration of Independence was signed, I believe they figured out! (It was definitely more than 200 years old.)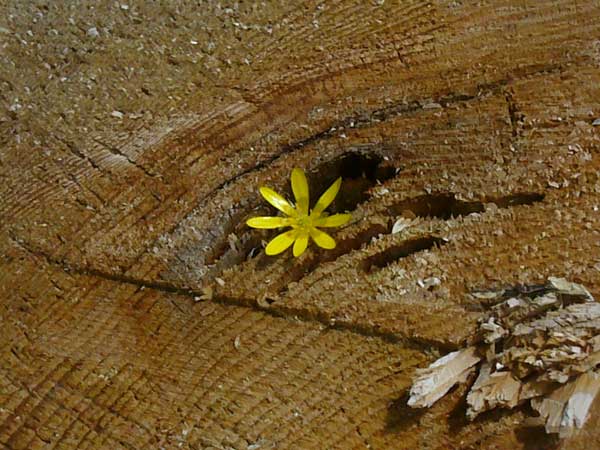 Ashar took this picture – after she gave the tree a flower. She's neat that way – very respectful of nature!
6. Today, Ashar's friend Danny came up to hang out for a while. They were talking and laughing, and Danny noticed our piano. "I take piano lessons every week," he said. "Can I play it?"
So he sits down and plays this song from memory – and not bad, either! I told him he can come play any time; he has a keyboard, but not a full-size one. I did that for many years, so I figure he can entertain us and practice here any time he wants!
Well, he went home, and Ashar sat down at the piano and starts playing. Kid has never had a lesson, other than bits and pieces of "these are the keys of the piano" in public school this year and last, and hearing me talk about things as I play. And what she plays sounds GOOD! I'm not saying she's a piano virtuoso. But she had an ear for what sounded good and what was dissonant, and she adjusted accordingly.
THEN, she says, "That's my song that's in my head. I'm going to write it down." And she writes the words to her song – which she says is a theme to the Hunger Games. We haven't seen the movie yet, though I'll probably take her. She and I have both read and enjoyed the books and I'm hearing OK things about the film.
Anyway, she ends up writing these song lyrics down, and they're good. They fit the theme of the film, and they fit her melody. Well, hello, music lover. I like this.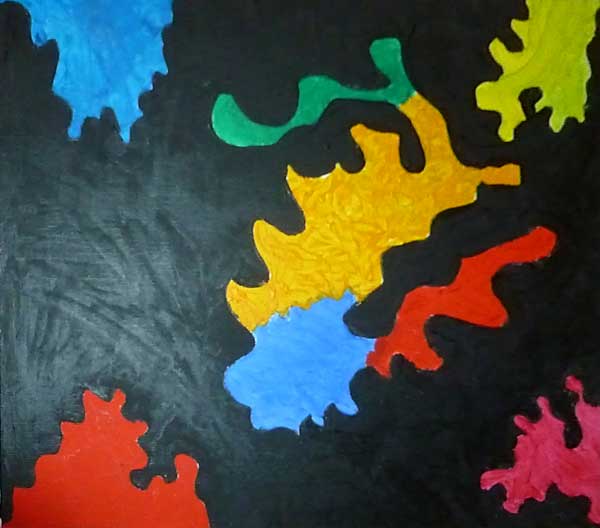 7. Ashar and I have been working together on this acrylic-on-canvas painting. She has loved to paint for several years, and has been experimenting more and more with different techniques.
To make this one, Ashar took a Sharpie to the blank white canvas and outlined the five shapes you see here in color. She and I painted those using the acrylics, then let it dry. Two days later, we went back and colored in the background using black acrylic to better offset the colors.
Now we just need to find somewhere to display it. Her bedroom and playroom are already quite a bit of an art gallery. Our wall space is becoming limited!
8. We're still working our way through a couple sixth-grade math workbooks, at a rate of about a page every other day. Today was probably our best example yet of Ashar being willing to try her best and to really care about whether she understood the pages or not.
What really surprises me are the number of math concepts she truly doesn't know. I'm not talking about math "facts." I'm talking about things like knowing (or, in her case, not knowing) that 16 times 2 is the same as 16 plus 16. In fact, I am planning a future Top Ten Tuesday post on "10 concepts you and your child should know about math in the real world," based on that theme.
As a math major, I feel like I'm pretty well positioned to say, "OK, this is something you JUST use in school or a technical job" versus "OK, this is an idea you need to be able to grasp to function in the world." Specifically, I feel like this would help me outline some of the areas in which I can encourage Ashar and maybe be pretty overt about trying to talk openly about them.
I also think there are a lot of "almost unschoolers" out there who really get hung up on the subject of math, and I'd love to be able to provide some clarity and some ability to relax; you know, "If you kids understand how to make change and how to price-compare at the grocery store, stop worrying!" That sort of thing.
Do you think this would be helpful?
9. Back to art… one of my favorite mediums is collage, using magazine words and pictures. I've made hundreds, probably, mostly dealing with words and phrases that really speak to me. I've sold a few, given others as gifts, decorated our house with others. (One was my wedding gift to Chris!)
So, the other day, while trying to clean the house, I found a bunch of magazines ready for the recycling bin, and I thought, "Hey, this is something I can do with Sarah!"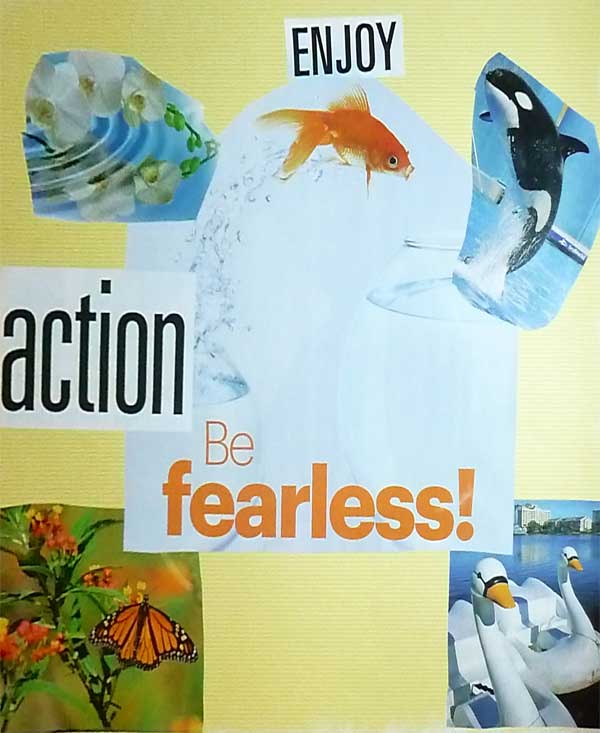 She decided it was like a poem: "Enjoy action. Be fearless!" So she wrote that down and also made a PowerPoint slideshow with that same saying on various backgrounds. This can be a GREAT low-cost activity that's creative – and will really teach you about what your kids like! (Can you tell Ashar likes animals and the color blue?)
10. We're watching two PBS specials this evening about the Titanic. During one break, Ashar asked me, "Mom, were any of our ancestors on the Titanic? You should go to ancestry.com and find out."
Well, it turns out you CAN search the known records of the Titanic via their site – for free! (Here's the link.) No records that seemed like they were from my mom's family, or my dad's; that said, while I was there, I got suckered into looking at 1930 Census records for both of my parents' families, which was kind of neat!
Not sure about my husband's forbears on the Titanic. They were certainly travelers, but we don't have any "family legends" to that effect, so they'd be distant relatives at best.
***
So there you have it, 10 ways we've been learning and doing in the past week or so, our week in review! It's weird; until I sat down to write this out, I was thinking, "We haven't done much lately." Turns out, we've done a lot, and it's been awfully fun.