So… it's been a while since I did an "official" wrapup, though I did share the biggest highlight of Ashar's December and January, her cross-country trip with Kaitlyn to Arizona.
I had mentioned at the end of December that I was looking for a new format for this wrapup, because it really takes me a long time to put together, but those of you who commented told me how much you like it. The downside is that when things get busy, like they did at the end of January and again at the end of February, I just can't finish a big post!
So this will mostly be a roundup of March, but I'm going to try to pop in some highlights from the end of January and February as well in order to get caught up. Then, who knows? MAYBE I'll do something crazy like post once a week in April so it's not so overwhelming. (Don't hold me to that!)
(As always, if you want a more frequent peek at what we do, you can always find me on Instagram and Facebook. You can also check out our archive of previous wrapups here.)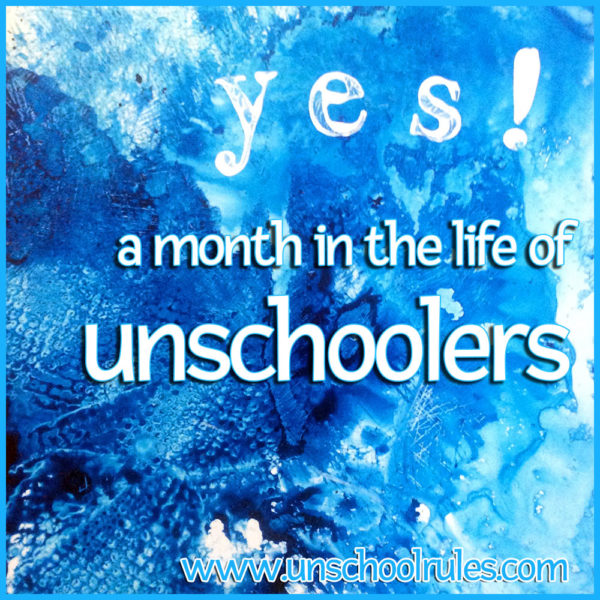 Outschool
By far the biggest new discovery for our family last month was Outschool. It's a platform for independent online K-12 classes taught by all sorts of people – from certified teachers to hobbyists to trade professionals – and it's amazing.
Disclosure: This post has some affiliate links. I only link to things we legitimately use and recommend, so if you see such a link, it's because we really do believe in the book or item!
We've been doing mostly single-session classes, which range in price from about $10 to $20 an hour, but a couple of weeks ago Ashar joined a six-session Shakespeare roundtable for teenagers, which is $75 for the full course. There are even some semester-long courses, but that's more than we wanted to bite off for now. You can search by course length, day and time, age level and topic.
So far, Ashar has taken:
… and of course, the aforementioned Shakespeare Roundtable is underway.
She's also signed up for "The Butterfly Effect" – Vincent Van Gogh; Meet People Who Have Changed The World on Thursday, April 5.
I cannot speak highly enough about Outschool, which has been super-fun for us. In fact, Kaitlyn and I have even talked about signing up to teach classes ourselves! Many thanks to my local unschooling friend Nikki for mentioning this to us.
Shakespeare and other theater
So of course you saw the multiple Outschool Shakespeare classes.
In addition to that, in the realm of theater in the past month or so, Ashar has also:
We also watched some cool videos about Shakespeare's use of meter:
And this cool mini-biography of Shakespeare:
On the topic of other performing arts, then there's this gem:
And finally, Ashar also shared this with me: A collection of celebrities reciting Poe's "The Raven" as part of a benefit:
As you can tell, theater was pretty much our big focus!
What comes next?
On the Unschool Rules Facebook page, I asked what everyone wants to read more about once Ashar finishes her compulsory school years – more stuff about unschooling philosophy and ideas, or more stuff about our day-to-day lives post-"school."
You're all incredibly unhelpful, because pretty much everyone said both. Yeah, I said it. Unhelpful. I was hoping for "clear direction" and I got "keep writing whatever you happen to think of," which … well, don't say I didn't warn you.
Anyway, there were a lot of people who want to know what's next for Ashar, and you MIGHT have noticed it's something I don't talk too much about. Sure, part of it is because we're sort of live-for-the-moment types, but part of it is…
… because we just don't know.
First of all, let me be clear that Ashar is her own person. Whatever she chooses to do – this summer, next year, five years from now – is going to be what she wants, not what Chris or Kaitlyn or I decide for her. We feel super-strongly about that. But it means that unlike a lot of kids, who are told "You have to go to college," or "You have to get a job," Ashar has to do the hard work of choosing. And honestly, she just isn't quite ready to decide yet.
But that doesn't mean we are hands-off. Our role is to talk with Ashar about responsibility, options and goals, and to put resources in front of her that might help. We've looked at a program called Transitions, part of The Janus School, which caters to students with learning differences. We're not sure yet if that's in the future, but we spent a day last month visiting with Ashar and trying to find out if it'd be a good fit as she tries to figure out adult life on the autism spectrum.
All I can say is, when Ashar knows, you'll know 🙂 Until then, I hope you'll be happy hearing about the day-to-day, because we really feel like that's where our focus should be right now, and it's where all the coolest stuff is happening!
Books
Movies and TV
Games
Recent rabbit trails
I mentioned in September's post on our unschooling planner system that our "rabbit trails" are the most fun we have in unschooling.
Here are just a few we touched on in the past few months:
Other fun stuff
Updates from around the family
Since our "curriculum plan" for this year featured not just Ashar but the other house adults, I figure I should give monthly updates on our progress too. So here's a look at what's new with the rest of us.
An update from the me, Joan
I'm still trucking along with two grad classes this semester, carrying a high A in both right now.
I managed to read six books in January, 10 in February and 10 in March. Tops among them were The Librarian of Auschwitz by Antonio Iturbe (which will make you cry exactly as much as you might guess a book with Auschwitz in the title would make you cry) and The Speckled Monster by Jennifer Lee Carrell, a great look at smallpox variolation in Britain and Boston in the 1700s.
If you'd prefer a fiction read instead, I'd say go for Eleanor Oliphant is Completely Fine by Gail Honeyman or Caleb and Kit by award-winning YA author (and friend of mine!) Beth Vrabel.
I mentioned in the last update that I started new medications for my bipolar, and they continue to be amazing, though I had to call an audible and request a dosage reduction because I was veering way too far into "comatose" for my liking. I'm more alert/awake/functional now.
I also got to go on my annual scrapbooking weekend with my best friend, Nina, and we have something like four or five scrapbooking days planned in the next two months. With all of those, I should be able to get 2017's album done by the end of May, then I can spend the rest of the year working on my current backlog project, a book of everything between when I was born in 1982 and when Ashar was born in 2000.
What's new with Kaitlyn
Kaitlyn says:
"In January, I spent a bunch of time catching up on work and freelancing post-Arizona trip. I hit a bit of a lull in reading books, and mostly worked through longer internet articles. The few books I did read were mostly disappointing, with exceptions in Eleanor Oliphant is Completely Fine [which Joan mentions above] and Almost Midnight by Rainbow Rowell. I also finally managed to watch Get Out, which was a great psychological horror movie."
Updates from Chris
Chris and Ashar have been doing a whole bunch of stuff lately, and he wrote me a pretty detailed update.
"One of the things Ashar and I did was focus on art, storytelling and creativity. We enjoy watching old Looney Tunes cartoons (especially Road Runner and Tweety & Sylvester), so we researched some images of cartoon characters and I did my best job of imitating the sketches, describing the process to Ashar as I made the art. It took a lot of patience, slow-going, and trial and error. But we were pleased with the final products, which included Wile E. Coyote, Tweety Bird, Pepe Le Pew and, switching to Hanna-Barbera, Shaggy holding a frightened Scooby Doo in his arms. So now we have some more art for our walls… We also like to do silly sketches and let our imaginations roam, which is how we ended up with a PG sketch of young Vincent Price with a tattoo on his bare buttocks."
Yup, Vincent Price's butt. #unschooling, friends.
"Another part of our creative efforts was co-authoring stories together. We use old postcards, chosen by Ashar, as our launching pad for whatever fictional stories strike our imagination. Back in December, we co-wrote a comic-romance piece about Napoleon – and then we completely changed gears in early March and wrote a ghost story. These are truly co-authored efforts. She comes up with the characters and settings and basic plot, and then I work to gently steer the whole thing into a viable short-story structure, asking her many leading questions and having her create much of the dialogue and other key moments. Then, when we're done, we create a 'book cover' for our story, using the original postcard as the starting-off point. Ashar brings a great sense of art direction and cool typographical ideas to the table."
More from Chris: "On my ephemera and history blog, Papergreat, some of the things I researched and wrote about in January and February included Lancaster humorist Jakey Budderschnip, the Great Blizzard of 1888 and old bookplates."
"Some of the books I've read since the beginning of 2018 include Stories for Nighttime and Some for the Day by Ben Loory [note from Joan: I recommended this!], Plutona by Jeff Lemire, Break Out: How the Apple II Launched the PC Gaming Revolution by David L. Craddock, Welsh Churches by H.C. Trengove and Cosmic Engineers by Clifford D. Simak. Plus a bunch of Ms. Marvel and Captain America comic books to round things out. In March I added The Only Harmless Great Thing by Brooke Bolander."
On the less-exciting front: "At work (LNP), the big event at the start of the year was the Philadelphia Eagles' victory in the Super Bowl. While I did not get to watch the game with Ashar, it afforded me the opportunity to share information about the newsroom workflow and efforts required to put out a newspaper on a very short deadline (we only had 90 minutes after the game ended) following the Eagles' triumph.
I must also add that in sad news, Chris was in a car accident (not his fault) that left his car totaled. That was not an exciting end to March!
My mom (also Joan) weighs in
Sort of pun intended, because she says "I think all we did in March is eat." She's not wrong. Also we started April by eating a TON when we all got together for Easter, so…
She and I also had a good time going to a tea with some of her friends, and she's been participating in a Bible study with ladies from her church every week. They just finished studying Titus and will pick up with another book soon.
Back in January, we also celebrated the end of one of my sisters' radiation treatments for breast cancer, so that was great news!
And Chris and Ashar got Mom a jigsaw puzzle of classic candy wrappers, and she and I worked together on that and completed it all in two nights at the end of March.
So what's new with your family this month? How is your 2018 starting out? Drop me a comment! I love hearing from all my "blog friends!"